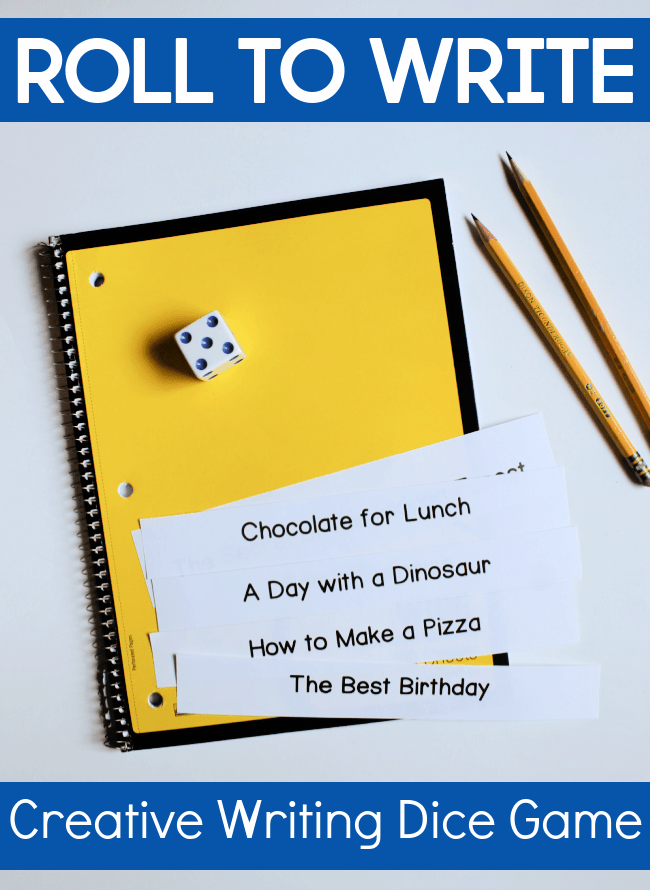 Today we tried an easy creative writing lesson: a creative writing dice game, Roll to Write.
I wanted to give the game a whirl because Elijah has been struggling with writing more than a few sentences each day. My goal is to find activities to boost his handwriting endurance and confidence. I also want to build creative thinking skills.
Creative Writing Dice Game Instructions
Print the story titles and cut them into strips.
To play you need:
two pencils

paper

a die (or two)

story titles
How to Play:
Randomly select a title (draw one out of a bowl).

Elijah

chose "Chocolate for Lunch."

Start the game by rolling the die and writing the corresponding number of words on the paper. If you roll six, write six words.

Then the next player rolls the die and adds the corresponding number of words to continue the story.

Do not write more or less than what the die says. Try to finish the story up as you fill the front of the paper.
Dice Game Story Titles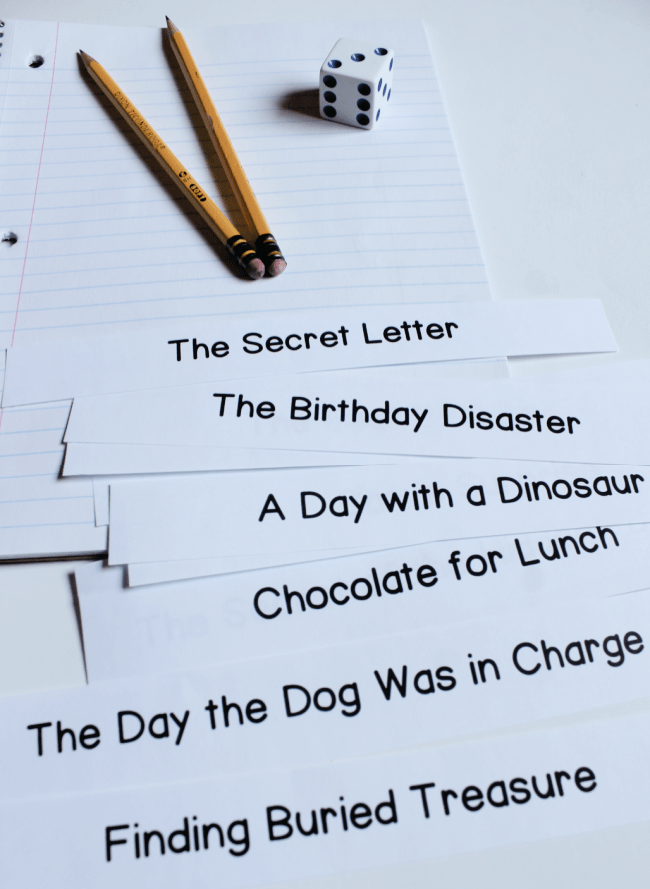 These 18 story titles are included in the printable file:
The Secret of the Hidden Forest
Chocolate for Lunch
Sam's Surprise
A Day with a Dinosaur
How to Make a Pizza
The Best Birthday
Journey to Jupiter
Wild and Weird Weather
A Tale of Two Lions
Escape from a Rumbling Volcano
The Runaway Pancake
How to Drive a Flying Car
Finding Buried Treasure
The Day the Dog Was in Charge
The Secret Letter
The Birthday Disaster
My Castle in the Clouds
A Flamingo in My Bathtub!
Creative Writing Dice Game Benefits
This creative writing activity was perfect.
Even though my son doesn't like to push his pencil, he didn't complain about writing (not ONE time). We laughed together. I also had the opportunity to explain when and why to add end punctuation.
Here is our sample story:
Chocolate for Lunch
One day I thought, "I should have chocolate for lunch."
I started out with a fat Hershey bar. Next, I ate a chocolate bunny. I also gobbled brownies with chocolate ice cream topped with delicious hot fudge sauce. For dessert I had chocolate covered pretzels. The next day I was feeling icky. I went to the dentist. He was not happy with me!
The End
Download Your Creative Writing Story Titles
Subscribe to Walking by the Way's Newsletter in order to grab this free creative writing activity.
More Writing Ideas for Your Student
If you are in the same boat, and if you need your student to build handwriting endurance and confidence, try more funny, engaging dice writing activities.