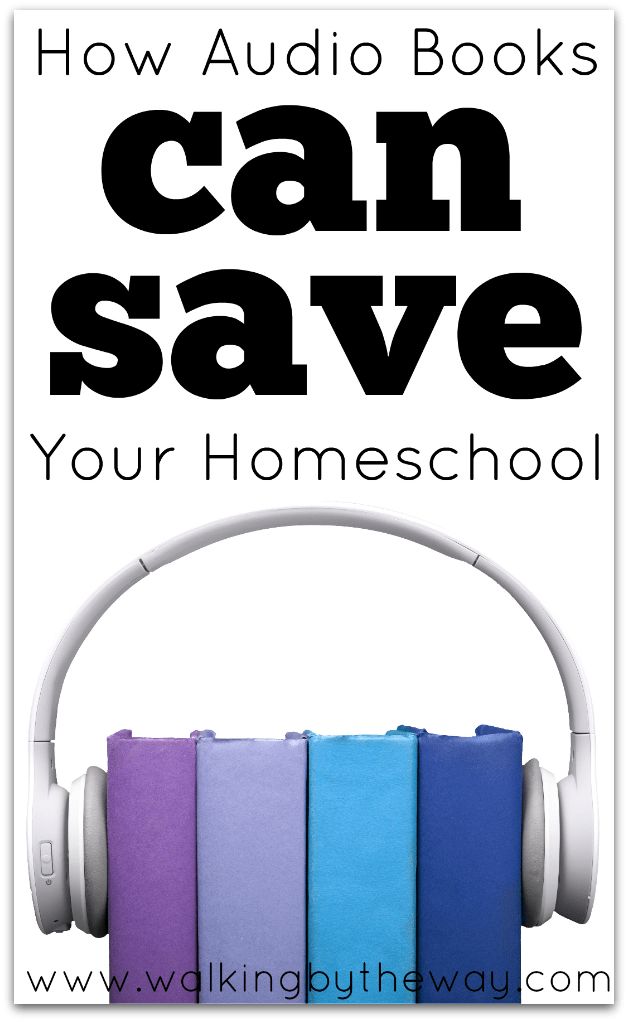 Within the past few months I have had four friends who homeschool approach me with different problems:
Panicked Mom
We've unschooled for several years, but now that my son is going to be entering high school, I want to "catch him up" in reading.
Desperate Mom
My middle school daughter is crying her way through a book for our homeschool co-op literature club.
Overwhelmed Mom
It's really hard to homeschool right now because of my morning sickness (or a death in the family or we are moving). I don't even feel like I am covering the basics.
Unsure Mom
Literature based education has been best for my oldest three children, but my fourth child is bogged down with all the reading.
In each scenario, my answer included my best secret weapon: audio books. Yes, audio books for homeschool.
Panicked mom can help her son solidify his reading skills by giving him a book and an audio book. He can follow the words in the book as he listens to the reader; this will build fluency and confidence.
I advised desperate mom to give her daughter an audio book. Like right this second. Audio books tend to lessen the weeping and gnashing of teeth. For many students, audio books are the key to unlocking a love of words and literature.
Overwhelmed mom can use audio books as a tool to cover read aloud, history, literature, and even provide a good foundation for writing skills.
I told Unsure Mom, "If a child is bogged down with reading, why not lessen the load with an audio book?"
But when I gave Unsure Mom my solution, she was still unsure. She looked at me with hesitation and an eye squint of doubt. I put my hands on her shoulders and my eyes into hers and insisted, "Audio books are not less than."
I wish I could put my hands on your shoulders and my eyes into yours, and tell you the same.
Audio books are not less than.
At some point in the history of education, we have incorrectly and indirectly been told: audio books are cheating.
It simply isn't true! Audio books are not cheating. Audio books are not less than. I want to take that belief and spin it around like a top and tell you what I told Unsure Mom.
"Audio books are not less than; they are more."
How can they be more? They can be more because they hold so many powerful benefits.
Audio Books Promote Listening Skills
We talk a lot about reading, and writing, but what about listening? I want my children to learn to listen. Part of the power of reading aloud is that it produces children who can listen; children who focus their attention on the words entering their brains through their ears. The same is true for audio books.
Audio Books Slow Down Fast Readers
I don't know about you, but I am a speed reader. I have produced two speed readers. Elijah can whip through 500 pages faster than you can imagine, and at the end he could pass any reading comprehension test on the planet. However, he is not digesting the language in the same way that he does when we use an audio book.
For our kids who are super-speedy, audio books slow them down and allow them to swallow and digest words. They aren't skipping over words. Whether they realize it or not (and likely not), the brain is savoring the language.
Audio Books Produce Great Writers
Because our kids are slowing down, the language goes in word by word, phrase by phrase, sentence by sentence. Their brains are absorbing the sequence of sentence structure and syntax; this is similar to what happens when they memorize poetry. All of these wonderful words and patterns enter the brain. Years later when our children pick up their pens or sit down to plunk on keyboards to write, the wonderful words and patterns flow out. Audio books help produce good writers.
Audio Books Enhance A Child's Ability to Read Aloud
Last fall while I was painting some trim in my dad's barn, Simon started reading aloud from Stuart Little. I remember sloshing the paint brush up and down and blinking my eyes up and down, too, to hold back tears of pride. Here was the kid who was my late reader, and I was mesmerized by the character voices and inflection in his voice. He was completely fluid. I truly enjoyed listening to the book read by my son. How in the world did this happen? Is it a natural gift? I don't think so.
You cannot imagine how many hours Simon has chosen to spend listening to audio books. Of course I have read to him from the time he was in my tummy, but I don't have character voices like he has. His read aloud skill is a direct result of listening to amazing professionals read to him.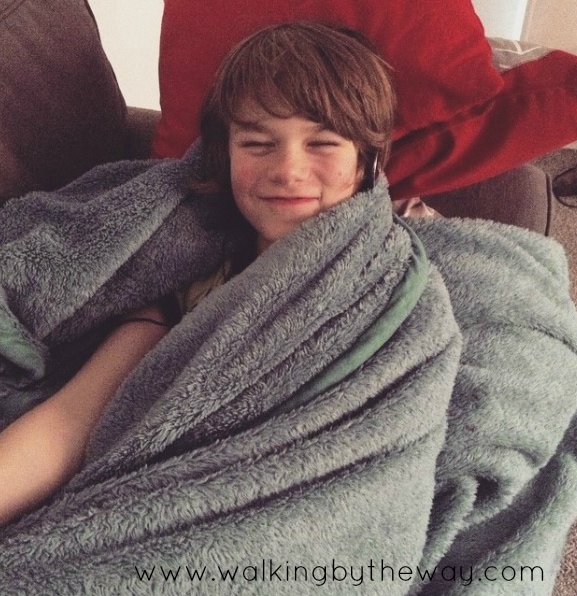 Simon in the middle of a audio-book-a-thon last winter.
Read alouds have been so, so valuable for our homeschool. I hope you will try them in yours, too.
If you aren't sure where to start, try a few of our favorite audio books for your homeschool!
The Miraculous Journey of Edward Tulane read by Judith Ivey
Have some Kleenex ready, mama. I chose audio for this one because I knew I would never make it through as a regular read aloud.
The Trumpet of the Swan read by E. B. White
It takes a moment to acclimate to his deep voice, but it is a beautiful tale complimented by the playing of an actual trumpet.
The Story of Doctor Dolittle read by Nadia May
This is an excellent choice for the younger crowd. Animal lovers everywhere will love the tale of Doctor Dolittle.
A Bear Called Paddington read by Stephen Fry
My boys both adored these stories written by Michael Bond and read by Stephen Fry. We have laughed and laughed and laughed together while listening to the adventures of Paddington.
The Green Ember read by Joel Clarkson
Simon says this adventurous story was one of his favorite audio books from last year (3rd grade).