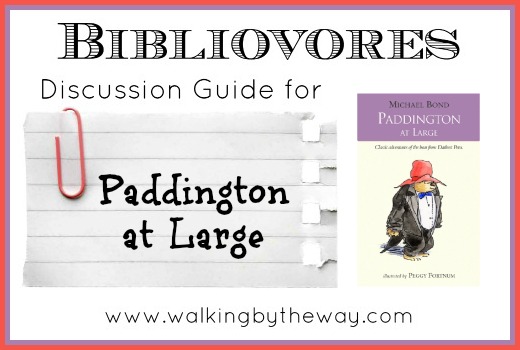 Note: I made a big mistake selecting this book. We are Paddington fans at our house, so I didn't want to choose the first book, A Bear Called Paddington, since we are so familiar with it. I should have, though, as most of the students were not familiar with Paddington. Another option would be to require both books to be read (they are shorter reads than many of the other books on the roster).
Our third book discussion revolved around the humor genre and a bear named Paddington. The book I chose was Paddington at Large.
Reactions
Pass out small papers and let students write one of the following on the paper: love it, like it, hate it. Collect and tally the vote on the board. Voting with the papers allows shy students to stay anonymous and yet give their true opinions.
General Discussion
1. Discuss the humor genre. Let each student (or 4-5, if you class is large) describe their favorite scene from the book, the one that had them laughing out loud.
2. We made a list on the white board with as many descriptors as we could possibly think of for the lovable, funny Paddington bear (from darkest Peru).
3. What is the setting of this book? How do you know? (ties-in to the next question below)
Words!
1. Discuss the British-English words used throughout the book. Ask your students what they think the following words mean (you may want to read them in context): lift (elevator), busby (hat), fairy cakes (small, iced sponge cakes), treacle (a blend of molasses, sugar, and corn syrup), spanner (wrench), sweet-meat (dessert), etc. We also discussed the British spellings (programme, behavior, favourite).
2. There are lots of different kinds of phrases in this book! We took some time to learn and discuss the differences. I gave the students more than one example, but I am only including one of each here in my notes.
Idioms
An expression that cannot be taken literally. The phrase has a meaning of its own.
Let sleeping dogs lie.
Meaning = Do not instigate trouble; leave something alone if it might cause trouble.
If you bring your laptop, you can take this quiz together as a class.

Proverbs
A wise saying.
All work and no play makes Jack a dull boy.
Meaning = If a person doesn't take time off from work, a person may become both bored and boring.

Puns
These add to the humor in this story. A pun is a play on words. (This is a good time to review puns in the children's classic, Harold and the Purple Crayon. Students may find something funny now that they did not find funny when they were 5-6 years old.)
We won't ask you to peruve that, but I suppose we must expect the bear facts tonight.
Examples of Great Writing
I tried to do this with multiple books–showing the students some examples of really great writing. I would read the passages and ask the students why would I highlight that particular passage as an example of great writing. Here are a few we discussed from Paddington at Large:
They all wore brightly colored uniforms with very tall balck hats made of fur and their instruments were so highly polised they sparkled in the sun like balls of fire.
Worse still, not only did the glass have a frosted appearance, but there were several tiny rivers of a rather nasty looking brown liquid trickling down them as well, and from a small, partly open window at the top, there came a steady cloud of escaping steam.