If you have reluctant writers, or creative writers who are writing simple, shallow stories, try this set of circus writing prompts.
The circus writing prompt cards provide guidance with the writing process. This is important for students who feel like they don't have any good ideas.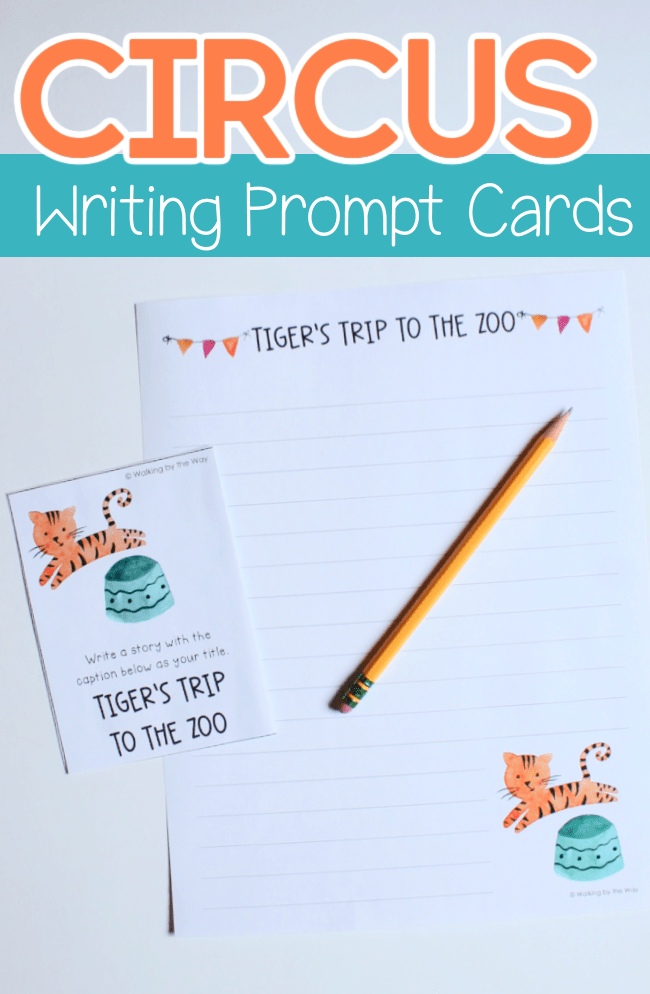 What's Included in the Circus Writing Prompts?
This printable file includes six task cards and six pages of matching stationery.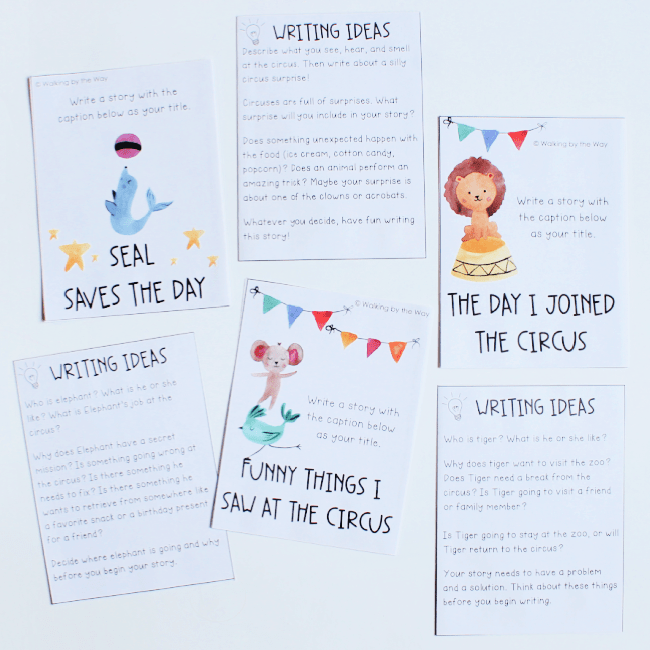 Each task card includes a creative writing prompt with a story title on one side of the card and a series of questions on the other.
The file includes:
Instructions for how to use each prompt over a three-day writing process. This includes prewriting, drafting, and editing. I would recommend that you ask your student to write one (and only one) story per week.
6 circus writing prompt cards
6 circus story stationery pieces to match the task cards
The stationery includes the same title prompts as the task cards.
The questions are provided to cause the writer to think about his or her writing throughout the prewriting process.
Through the prewriting, the writer will generate ideas that include setting, character, and conflict. Including these three short story elements helps your student craft an amazing story.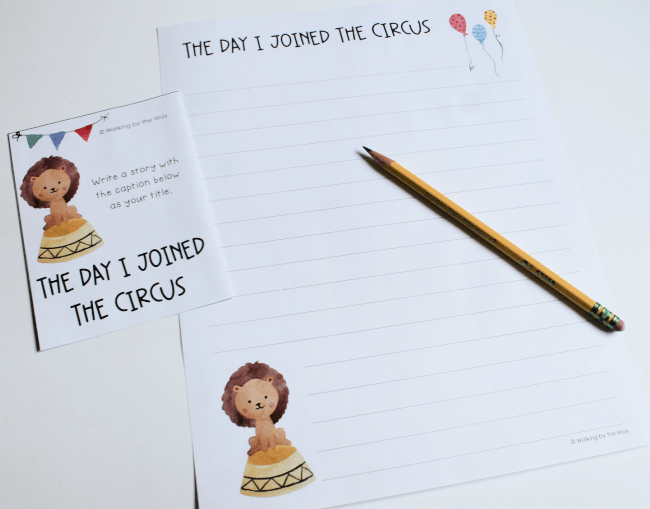 How to Use the Writing Prompt Cards
Assembly: Print the cards. Cut out cards. Fold them in half on the dotted line. Glue together. Repeat with all the cards. Laminate for durability, if desired.
Suggested Use:
Day One: Let your student choose one task card. If possible, read through the questions with your student and discuss ideas. Give the student a piece of paper to scribble all of his or her ideas. This prewriting process can be called a "brain dump," and it can be a place where the student answers the questions on the chosen writing prompt card.
Day Two: Ask your student to write a draft of a story.
Day Three: Review the draft with your student. Tell him what he has done well and give him a few suggestions. Have him write his final work on the stationery page provided (the one that matches the prompt card).
Note: If your student is not familiar with setting, conflict, or plot, I would review these short story elements before giving him his first story writing prompt card.
Circus Story Ideas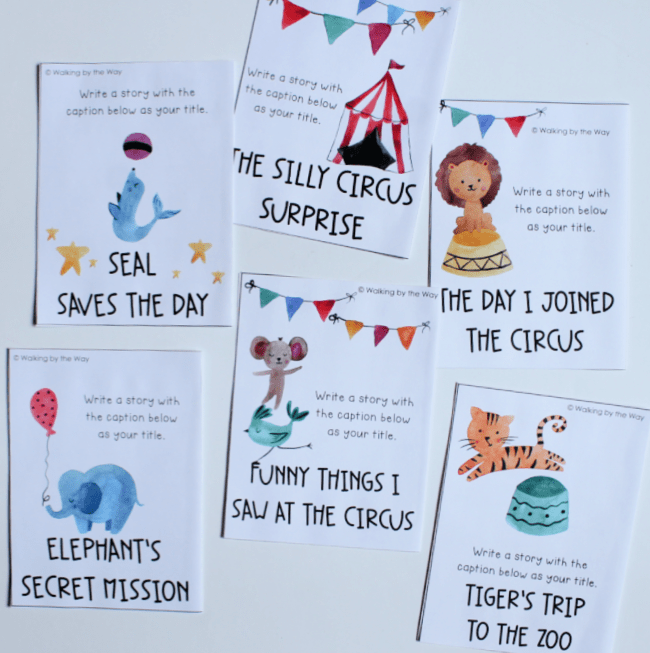 These titles are included in this set of circus writing prompt cards:
Tiger's Trip to the Zoo
Seal Saves the Day
The Day I Joined the Circus
The Silly Circus Surprise
Funny Things I Saw at the Circus
Elephant's Secret Mission
Sample Circus Writing Prompt Card
Here are the ideas and questions from a sample prompt card:
Title Idea: The Silly Circus Surprise
Writing Ideas and Questions:
Describe what you see, hear, and smell at the circus. Then write about a silly circus surprise!
Circuses are full of surprises. What surprise will you include in your story?
Does something unexpected happen with the food (ice cream, cotton candy, popcorn)? Does an animal perform an amazing trick? Maybe your surprise is about one of the clowns or acrobats.
Whatever you decide, have fun writing this story!
Are you ready to download your set of free story writing prompt cards?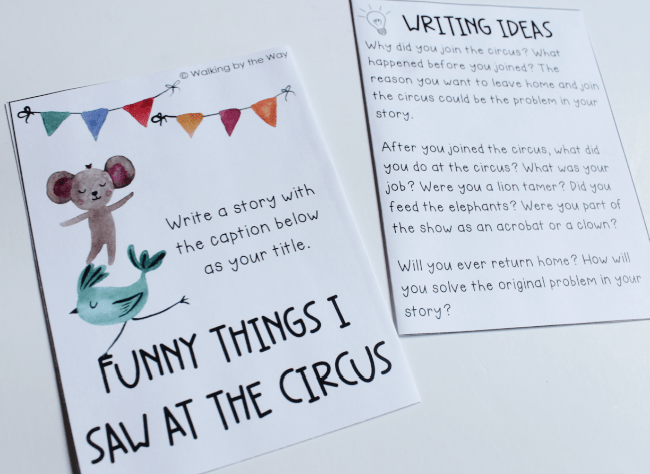 Grab Your Circus Writing Prompt Cards
Grab your free set of Circus Story Writing Prompt Cards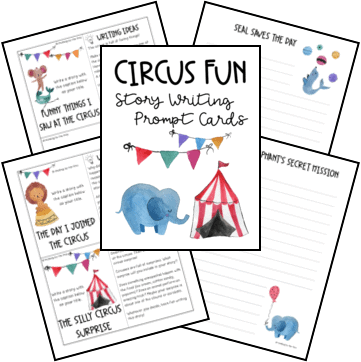 More Creative Writing Lessons and Resources
Are you looking for additional creative writing lessons and resources? Try some of these from my Tip-Top Printables Shop.