In the past I've shared some fun classes for preschoolers: Cooking Art, Little Builders, Pet Pals, and Let's Make a Mess. Those classes focused on science and art. What about a preschool class focusing on social studies? One easy way to do this is with a class about community helpers. Find people in your neighborhood (community) who are willing to come and talk about their occupations–your local librarian, a firefighter, and a nurse.
What a wonderful way to widen the world of a preschooler!
Initially, this class will take a bit of work as you coordinate the guest speakers. When you are scheduling speakers, ask them to bring interesting items that relating to their careers. Remind them that preschoolers will stay more engaged if there is a hands-on activity. The farmer who visited our co-op brought chickens. A barber could do a simple demonstration.
It's also a good idea to have some books on hand. Maybe the guest would like to read a book to the children. If not, you can read when the guest is done presenting. At the end of the class, the children can work on the Who Are the People in Your Neighborhood? Notebook (found at the end of this post). The notebook includes pages to color and also a page that asks the child if he would like to have the same career as the community helper who visited the class that day.
Sample Syllabus for Preschool Community Helpers Class
The sample syllabus below includes the class description, schedule, and cost.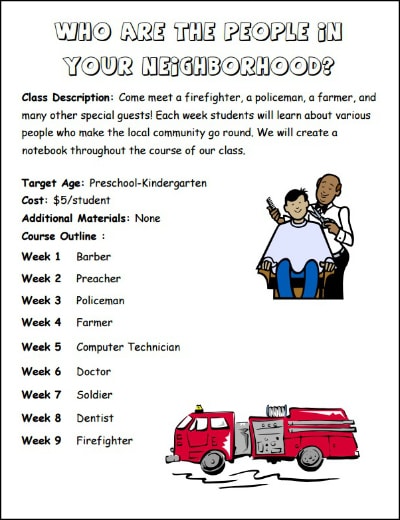 Download Who Are the People in Your Neighborhood? Syllabus
Book Ideas for Community Helpers
The list below provides ideas for community helpers to include in your guest speaker line-up as well as books to read to the preschool and kindergarten students in your class.
Who Are the People in Your Neighborhood? Community Helpers Notebook
Download Who Are the People in Your Neighborhood? Notebook