Are you looking for a writing lesson for your students? Try this creative writing lesson plan: Pourqoui Tale.
While writing a Pourqoui Tale, your student can put her imagination to work and create a possible answer to a nature question.
What Is a Pourquoi Tale?
Pourquoi [por-kwa] means "why" in French.
Pourquoi tales are old legends in which the storyteller invented answers to questions. The stories explain why certain things in nature are the way they are.
Why is the sky blue?
Why do we have rainbows?
Why does the giraffe have a long neck?
Why does snow fall from the sky?
Why does a camel have a hump?
Why is the sunset red, orange, and pink?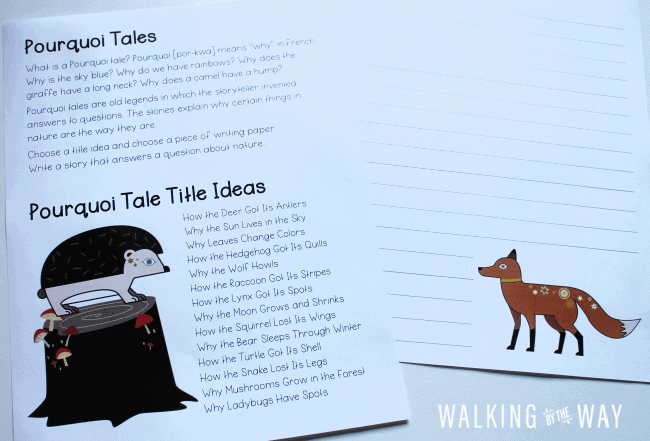 Creative Writing Lesson Plan: Pourquoi Tale
Pourquoi Tales are a fun writing assignment for students who are curious about nature and for students who love animals.
Here is a simple lesson plan for helping your student craft a Pourquoi Tale.
1. Print the Pourquoi Tales writing pages.
2. Read some Pourquoi Tales to your students.
Here are a few suggestions:
3. Discuss Pourquoi Tales. What common traits did the stories share? Read and discuss the information on the next page. Make an outline of one of the stories. Where was it set? Who was the main character? What was the conflict? What was solution?

Remind your student to consider these basic questions when drafting his own story.
4. Brainstorm nature questions. What phenomena in nature does your student wonder about? Can you think of questions about weather, animals, and plants?
5. Ask your students to create or choose a title idea and to choose a piece of writing paper. Help your students draft story outlines.
6. Instruct your students to write a story that answers a question about nature.
Pourquoi Tale Title Ideas
If you need some inspiration to get started with writing a Pourquoi Tale, here are some story ideas:
How the Deer Got Its Antlers
Why the Sun Lives in the Sky
Why Leaves Change Colors
How the Hedgehog Got Its Quills
Why the Wolf Howls
How the Raccoon Got Its Stripes
How the Lynx Got Its Spots
Why the Moon Grows and Shrinks
How the Squirrel Lost Its Wings
Why the Bear Sleeps Through Winter
How the Turtle Got Its Shell
How the Snake Lost Its Legs
Why Mushrooms Grow in the Forest
Why Ladybugs Have Spots
Pourquoi Tale Lesson Plan Printables
This printable pack includes instructions and woodland themed stationery pages for your students.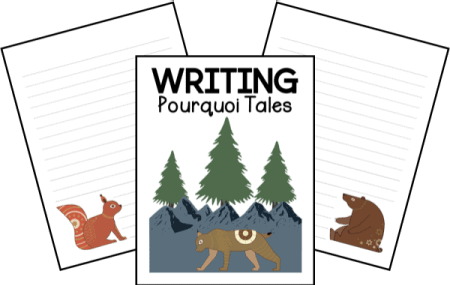 Subscribe to the newsletter using the form below to grab your Pourquoi Tale Creative Writing Lesson Plan.
More Creative Writing Lesson Plans
Grab more creative writing lesson plans on this page.