Creative writing lessons for elementary students don't have to be complicated. You can keep them simple and engage students with activities and games.
In this dialogue lesson plan for young writers, your goal is to simply introduce dialogue and it's purpose. You can also introduce the correct way to punctuate it.
Why Is Dialogue Important in a Story?
Dialogue is a conversation between two characters in a book. You can introduce young students to dialogue and discuss why it is important.
It creates real characters. Dialogue creates a story that we can believe because we get to see characters who have problems, frustrations, arguments, hopes, joys, and successes.
Dialogue moves the plot forward. It pushes the story to advance. I Want My Hat Back is a fantastic example as the entire story is dialogue.
It shows how the characters relate to one another. Think of your own interactions with your family. Do your conversations show how you get along? How you interact? Dialogue creates real relationships.
Dialogue Writing Examples
I Want My Hat Back by Jon Klassen includes heaps of simple dialogue between the animal characters. After reading the story, revisit it and ask your student to count the number of times Bear asks the same question. Discuss other dialogue examples.
Here are a few samples to get you started:
"Have you seen my hat?"
"No. I haven't seen your hat."
"OK. Thank you anyway."
"Have you seen my hat?"
"I saw a hat once. It was blue and round."
"My hat doesn't look like that. Thank you anyway."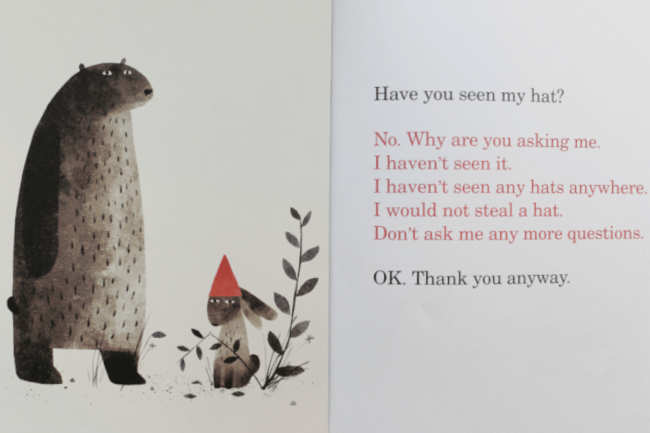 Additionally, you could use This Is Not My Hat by Jon Klassen for more dialogue examples.
Dialogue Lesson Plan for Young Writers
Introduce the importance of dialogue.
Read I Want My Hat Back by Jon Klassen. Ask students if they would know what the story was about if the animals did not have conversations. Discuss the examples from the book. Were any of the conversations funny?
Discuss how Jon Klassen shows that different animals are speaking. (He uses different colors for the words.) If desired, introduce your students to quotation marks and how to properly use them to show when a character is speaking.
After you are finished, play the Writing Dialogue Dice Game.
Writing Dialogue Dice Game
Students will need the printable page plus one dice.
You may need to demonstrate how to complete the dice activity page.
The student will roll one dice four times to decide an adjective, animal, verb, and object. Each roll will help him complete a sentence on the page provided.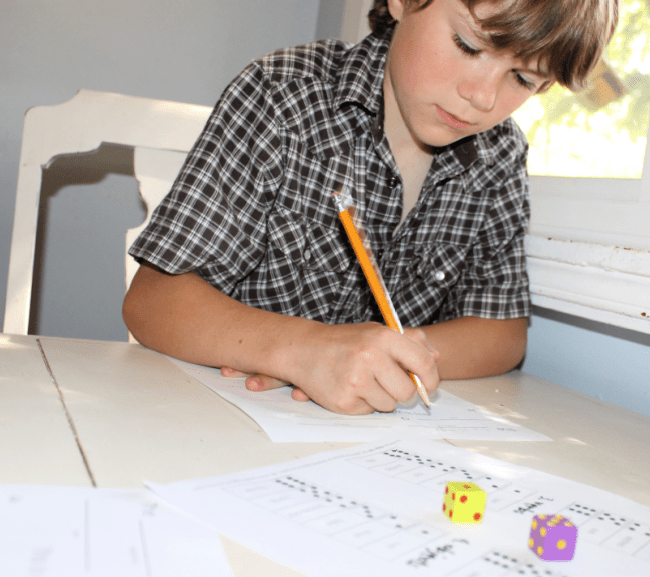 His finished sentence will look similar to this: The excited snake lost a shoe.
The final part of the game is to write some dialogue for the animal based on the sentence.
Here is an example for the snake who lost a shoe: "I will not miss that hideous boot with the brown spots!" he hissed.
Be silly and have fun with this. It will be more meaningful for the student if you join in the game, too!
Download Your Free Dialogue Dice Writing Game
Simply click on the link below to snag your dialogue dice writing game.
>>>Download the Dialogue Dice Writing Game<<<
More Dice Writing Activities
If your student enjoys this dice writing activity, try this one from the blog: Creative Writing Dice Game, or try the Fairy Tale Silly Sentences from the shop.
Happy Writing!