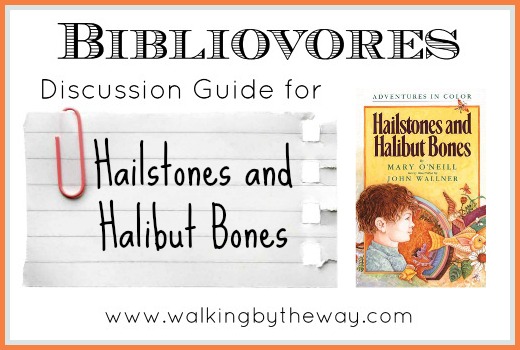 Our ninth book for the Bibliovores Class was Hailstones and Halibut Bones: Adventures in Poetry and Color by Mary O'Neill
Reactions
Pass out small papers and let students write one of the following on the paper: love it, like it, hate it. Collect and tally the vote on the board. Voting with the papers allows shy students to stay anonymous yet give their true opinions.
Experiencing Poetry
Poetry is a different kind of genre–it needs to be read aloud in order to hear all the wonderful things poets do with sound (repetition, alliteration, assonance, onomatopoeia, rhyme, etc.) Each student chose their favorite poem from this book and read it aloud in class. It was fun hearing their choices, and I pointed a few of Mary O'Neill's wonderful word choices (without tying the poem to a chair with a rope to torture a confession out of it).
Poetry Writing Activity
I put a variety of paint chips on the table, and each student chose a color. I asked them to describe the color using the senses, and I gave them a fair amount of time to do this. I find that it is a great idea to play some music in the background while students are brainstorming ideas; it takes the edge off!
What does this color sound like?
What does this color smell like?
What does this color look like?
What does this color feel like?
What does this color taste like?
After the pre-writing exercise, we talked a bit about poetry.
Poetry Discussion
How is poetry different than prose? We focused on the importance of word choice–every word counts!
We also discussed the importance of the use of image and sound.
I told them to take their words home and form them into poems. If your students look uncomfortable, give them some parameters (10-12 lines), so they won't feel so loosey-goosey. Students should bring their poems to class next week; those who are willing can share their poems aloud with the class.