Regular school takes a back seat this week to make room for fall fun!
I stole our first few fall fun ideas from Nature Detectives.
Make Like a Squirrel & Gather Nuts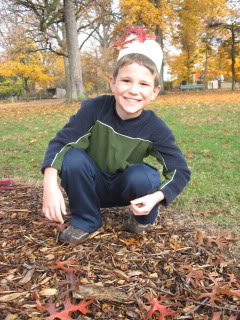 We found an oak tree and the boys grabbed up dozens of acorns. I told them to hide them like squirrels do. We then went on a walk through the park. Once we were far away from the hiding place, I asked the boys if they could find the acorns. They did!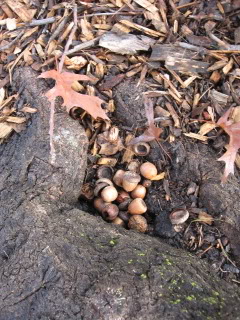 Leaf Crowns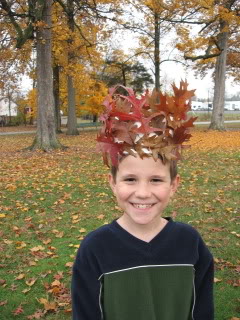 While on our stroll through the wooded park, the boys collected leaves. I made bands for each of them out of white poster board before we left home, and I took my stapler on our journey. As they found leaves they loved, I stapled them to their bands. By the time we returned home, each boy had a nice crown of leaves.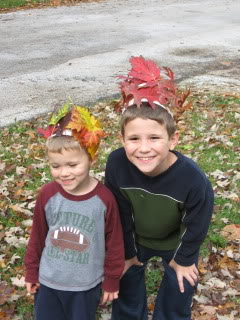 Fall Funny Faces
I found this idea last year. We had so much fun that we decided it should be a repeat. I guess it's a tradition in the making!
We took a bag with us to the park and we collected all sorts of fall nature: berries, pine needles, pine cones, leaves, bark, stones, nuts, etc. When we returned home, we drew some circles with chalk on the sidewalk and made our faces.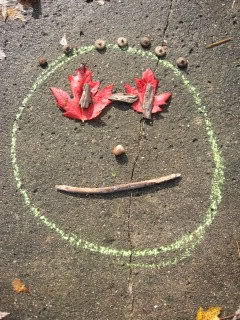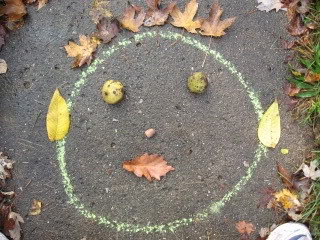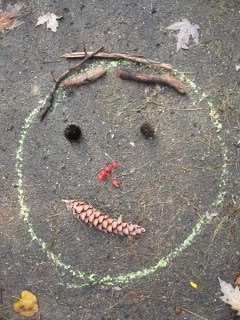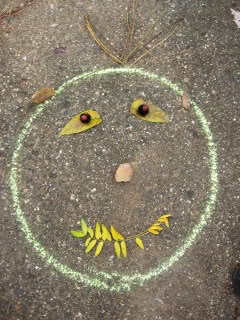 Salt Dough Leaf Prints
This idea came from That Artist Woman; please visit her blog for complete instructions. We made the dough & prints on one day. We painted, washed, and sealed them the next.
A few tips from me to you for this project- don't buy cheapy cheap thin leaves like I did (.30 a bunch at Family Dollar); they don't work super well. I painted some of the outlines of the leaves for Elijah so he wouldn't be so frustrated (because they were so hard to see). Don't use matte finish Modge Podge. Don't be afraid to let your preschooler do the brown wash or the Modge Podge part; they can't mess up!
Simon helped me mix up the salt dough.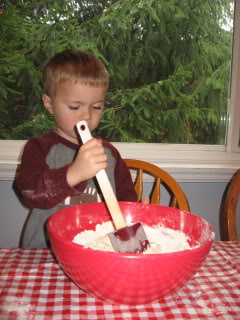 kneading and rolling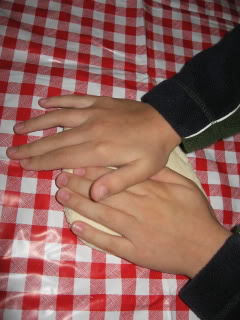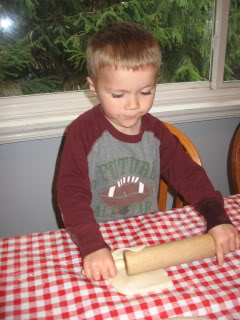 making the prints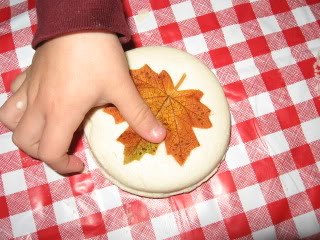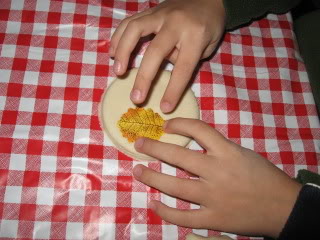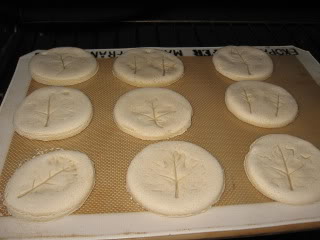 painting with fall colors and a brown wash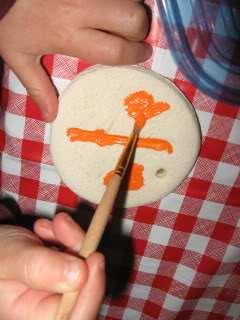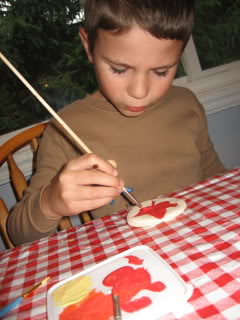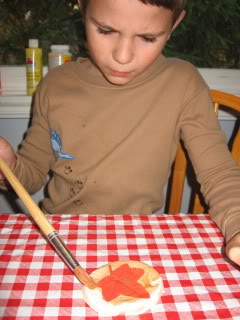 Simon painted his ALL orange. Once we got the brown wash on it, it looked fine (the veins popped out). I hope to add some magnets to the backs and let them don the front of the fridge.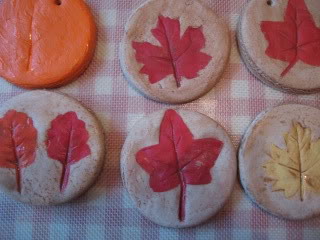 Pumpkin Sugar Cookies
It's not really fall unless the oven is baking a treat, is it?
We made the dough on one day. We made the frosting, baked them, and decorated them the next day.