I heart field trips. Not all of you heart field trips (and that's okay), but I hope you take at least a few each year. If you do, here are ten tips for making your field trip frenzied mornings go a bit smoother–leaving you less frazzled for the day ahead.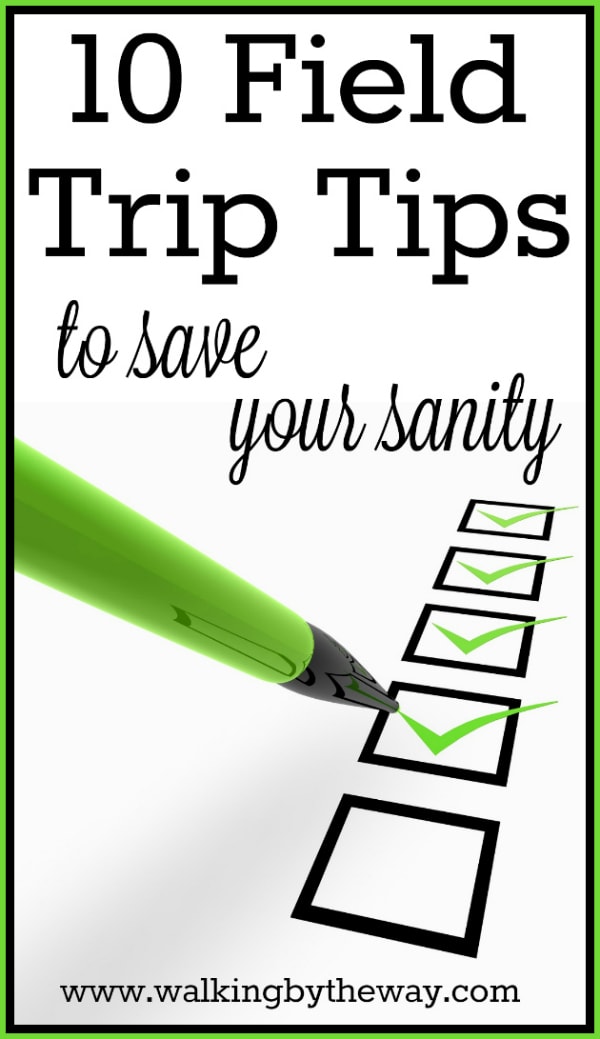 Of course, none of you have mornings like I do when you have to be out the door by 7:30 a.m. and kids are still snoozing at 7:21. And you slide through a puddle of orange juice while your youngest child whines about having to go (number 2) right this second, and the other can only locate one shoe. I'm sure you never fifty-yard-dash to the car (after a long treasure hunt for keys) only to find out that the gas is on E. No, those things never happen to you. But because those things always happen to me, I have learned to be prepared. If I prepare, our field trip days are typically much more amazing than if I don't.
If I take a little extra time to do these 10 things the night before our big day, everything goes more smoothly and mama is much happier (and so are the kids!). Three cheers for smooth and happy, right?
Night Before the Field Trip Checklist
1. Make sure everyone's clothes (including socks and shoes) are chosen and ready to go.
2. Pack lunches and snacks.
3. Put extra water bottles in the freezer. I will add these to the lunchbox in the morning.
4. Place an easy grab-n-go breakfast next to the kids' clothes. Ideas include: granola bars, LARA bars, apples, bananas, bagels, water bottles, etc. They can eat at the table or in the car
5. If it's a long trip, I put an audio book and other easy activites like travel games in a backpack.
6. Make sure the camera is ready which includes an empty memory card and charged batteries. I place it next to my purse.
7. Make sure I have the money (or tickets) I need in my purse.
8. Make sure everyone is clean.
9. Check the car for a full tank of gas. If I need gas, I go and get it.
10. Enter the address of my destination into the GPS.
If I do those 10 things, I can simply get up (get ready; wake up the kids; tell the kids to dress, tell the kids to grab their breakfast, grab out stuff; jump in the car) and go! I hope you will try some. And I hope it helps move you to the "I heart field trips" camp!