I don't know about you and your tribe, but we love to laugh around here. Reading aloud has been a staple for many years, but nothing delights my boys more than when I read a funny book.
Here are our top five picks for famously funny chapter book series. We hope they tickle your funny bone, too.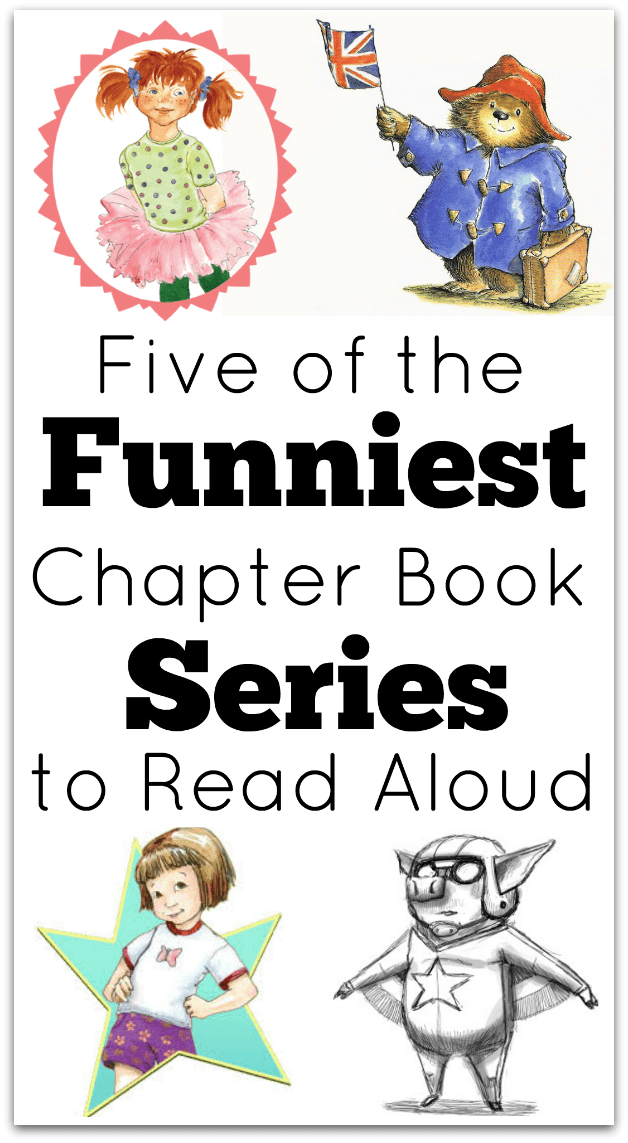 Pippi Longstocking

I read Pippi Longstocking aloud to Elijah. Five years later, I read Pippi again to Simon. Simon insisted I read the next two in the series as well: Pippi Goes on Board and Pippi in the South Seas. We purchased the Pippi audio. Both boys have read the books again and again. Why? Because they are hilarious, hysterical, impossible, and fun. It's no wonder Pippi is at the top of my list for funny chapter books. Don't miss Pippi.
Tommy and his sister Annika have a new neighbor, and her name is Pippi Longstocking. She has crazy red pigtails, no parents to tell her what to do, a horse that lives on her porch, and a flair for the outrageous that seems to lead to one adventure after another!
The Adventures of Nanny Piggins

The first summer my boys ever participated in a summer reading program, the library gave books as prizes (fine by me!). Each week the boys each got to choose a book. Elijah was struggling to pick and the librarian suggested The Adventures Nanny Piggins. I was doubtful. A funny chapter book about a talking pig? Ridiculous. When we started reading this one, I laughed until I cried. I have never had to pause so much to laugh as I have with the talking pig which really is ridiculous. Nanny P also wins a place at the tippy top of my list; she is so dang funny. And also a good excuse to eat chocolate cake. (Not that we needed one.) I read the first three books aloud to the boys then they took off on their own through the rest of the series.
This book follows the story of the three Green children who are cared for by a nanny pig. Yes, a pig. A fabulously sassy and impeccably dressed pig as a matter of fact! With her insatiable urge to eat chocolate, her high-flying spirit, and her unending sense of fun, Nanny Piggins takes Derrick, Samantha, and Michael on a year of surprises, yummy treats, and adventures they'll never forget.
The Ramona Collection

Oh, the joys of siblings! Both of my boys can relate to Ramona's ornery, spirited antics; they nominated this choice for funny chapter book. I cannot tell you how many times the audio books have been played and replayed in our home.
Kids everywhere feel connected to Ramona's unique way of looking at the world as she tries to adjust to new teachers, feels jealous about Susan's curls, and is secretly pleased by Yard Ape's teasing. The scrapes she gets herself into—like wearing pajamas to school or accidentally making egg yolk shampoo—are funny and heartwarming, and sometimes embarrassing. No matter what—Ramona's lively, curious spirit shines through.
A Bear Called Paddington

A Bear Called Paddington is the first book in another beloved series nominated by my boys as one of the funniest chapter books we've ever read. It's also another book we've listed to over and over again. Paddington is just a lovable marmalade-loving bear from darkest Peru that gets into the worst of situations which produce big giggles from little kids.
Unfailingly polite and affecting a rather shabby charm Paddington the Bear has dozens of adventure. He was discovered at the train station and the story delivers his first few days acclimating to life with the Browns as well as numerous episodic chapters filled with humorous mishaps.
I have a free discussion guide for Paddington at Large.
Gooney Bird Greene

Oh Gooney! By the time you finish the first book, you will want to have Gooney Bird Greene over for a play date. From her name to her socks, this girl has a unique and endearing style that is sure to make you smile your way through the book. All thumbs-up from my clan for this funny chapter book (and that's absolutely true). If you enjoy this book, be sure to check out the others in the series, too.
From the moment Gooney Bird Greene arrives at Watertower Elementary School, her fellow second-graders are intrigued by her unique sense of style and her unusual lunches. So when story time arrives, the choice is unanimous: they want to hear about Gooney Bird Greene. And that suits Gooney Bird just fine, because, as it turns out, she has quite a few interesting and "absolutely true" stories to tell.
What are your favorite funny chapter books? We'd love to know! We'll give them a whirl!