Are you looking for a simple way to help your elementary students generate a spooky tale?
Try these flip, mix, and match Halloween Story Writing Prompts.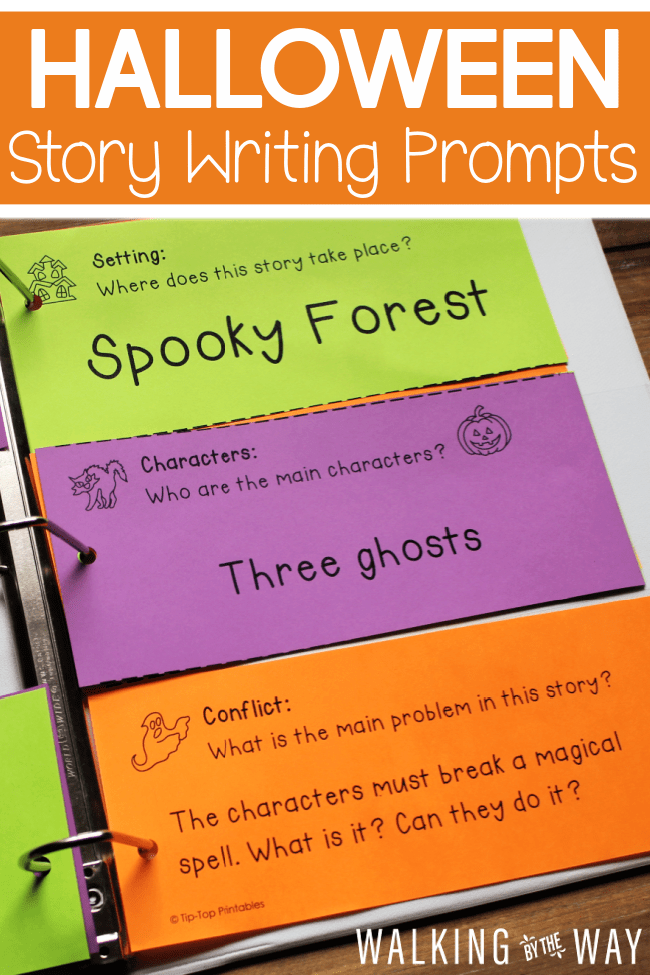 What's Included in the Halloween Story Writing Prompts?
This set of prompts is unique. It includes five setting options, five character options, and conflict options.
After you assemble the pages and put them in a notebook, your student will be able to flip, mix, and match until she has chosen the setting, characters, and conflict she wants to create her story.
You can use this creative writing activity to teach your student about these three basic short story elements.
Setting
Setting is the time and place of a story.
The settings included in this printable pack are:
Spooky Forest
Haunted House
Pumpkin Patch
Graveyard
Muddy Swamp
Character
A character is a person, animal, or creature in a story.
The characters to choose from in this pack are:
A witch, a black cat, and a rat
A skeleton and a monster
Three ghosts
A bat, an owl, and a spider
A mummy and an angry pumpkin
Conflict
Conflict is a struggle between opposing forces.
The conflicts in this story writing activity include:
One of the characters ate a strange looking root and turned into a goblin.
The characters must break a magical spell. What is it? Can they do it?
Someone took all of the Halloween candy! Who did it? What will happen?
One of the character's nightmares is becoming real!
The characters hear a scream and have to decide what to do.
How to Assemble the Spooky Story Prompts Notebook
Follow these simple steps to get started with your Halloween Story Writing Prompts:
1. Print the pages on a sturdy paper such as cardstock. For interest and variety, print on colored paper.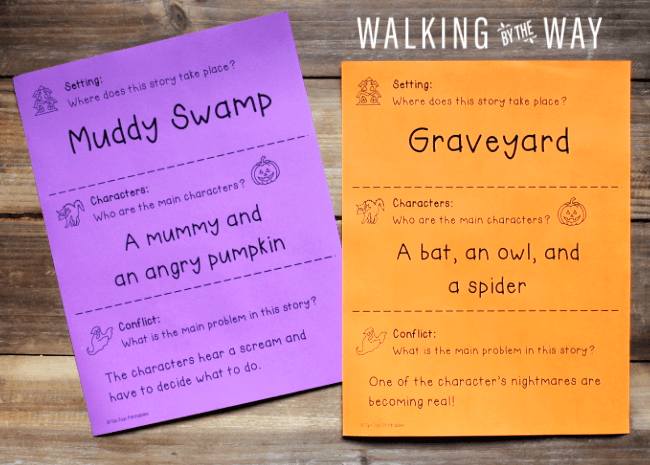 2. Hole punch the pages.
3. Using the dotted lines as your guide, cut each page into three strips.
4. Put in a three-ring binder.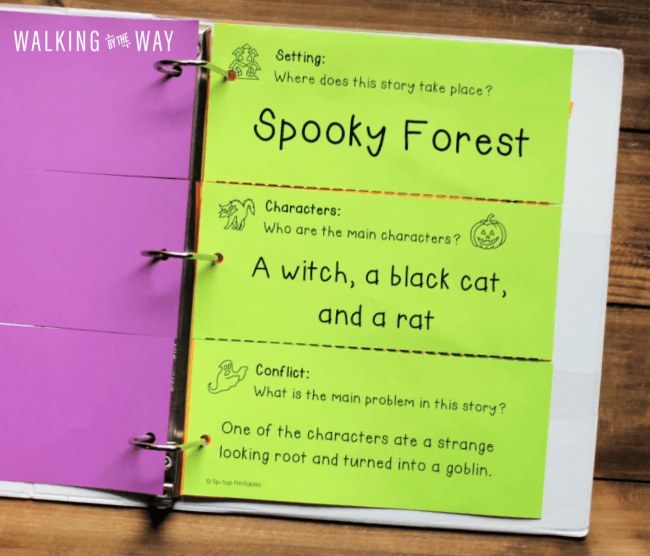 Note: A blank page has been included in the file so that your student can add some of his own prompts! Brainstorm more spooky things together and add them to the notebook.
How to Use the Halloween Story Writing Prompts Notebook
After the notebook is assembled, teach your student the three basic story elements of setting, character, and conflict.
Demonstrate how to flip, mix, and match to choose prompts to write a story.
If desired, choose three, and use them for an oral storytelling exercise. Work together to create a spook-tacular tale!
Let your student use the notebook to choose story elements and compose his own stories.
Download the Spooky Story Writing Prompts
Simply click the link below to grab your set of short story writing prompts.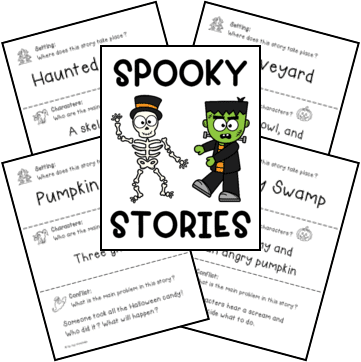 <<< Halloween Story Writing Prompts >>>
More Story Writing Prompts
If you like this activity, try Super Stories: Short Story Writing Prompts.
Super Stories includes 34 pages (yes, that's 34 MORE settings, 34 MORE character options, and 34 MORE conflicts!) of story writing prompts.
You can add these to the notebook you've already started and give your student HUNDREDS of story combination options.
You can also mix and match these creative writing prompts with the Christmas Story Prompts.
If you need even more creative writing lessons, try these.
Happy Writing (and Happy Spooking)!