Elijah chose Science Fiction Literature to study his freshman year. For his sophomore year, he picked American Literature to match his American History choice.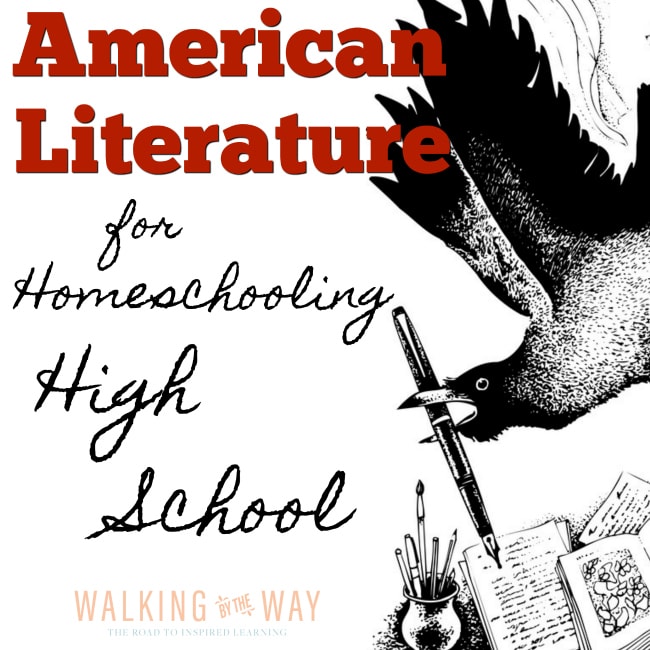 This is not a typical American Literature course where you simply study the famous authors in order. I included biographies and books to match the time periods being studied in American History because I wanted the reading to enhance what he was learning in his history explorations.
American Literature Reading List
The bulk of the work Elijah did for this course was reading. He loves to read, and I wanted to take advantage of that (and keep it simple!) by keeping reading as the main component of the course.
You could alter this list in whatever way you see fit to match your student's reading level, reading interest, etc.
Here is his reading list:
Children of the Longhouse by Joseph Brucac
Native American short stories: "The World on the Turtle's Back," "The Iroquois Constitution," and "Coyote and the Buffalo"
The Log of Christopher Columbus
Of Plymouth Plantation by William Bradford *excerpt
The Last of the Mohicans by James Fenimore Cooper
Selected poems by Anne Bradstreet
The Crucible by Arthur Miller
Selected sermons by Jonathon Edwards
Excerpt from Benjamin Franklin's Autobiography
Hang a Thousand Trees with Ribbons: The Story of Phillis Wheatley by Ann Rinaldi
"Speech in the Virginia Convention" by Patrick Henry
"The Crisis" by Thomas Paine
"The Devil and Tom Walker" by Washington Irving
"Rip Van Winkle" by Washington Irving
student selections from The Portable Poe
"The Birthmark" by Nathaniel Hawthorne
"The Minister's Black Veil" by Nathaniel Hawthorne
"Young Goodman Brown" by Nathaniel Hawthorne
The Scarlet Letter by Nathaniel Hawthorne
Sacajawea by Joseph Brucac
excerpt from "Self-Reliance" by Ralph Waldo Emerson
excerpt from Walden Pond by Henry David Thoreau
Choose one: Incidents in the Life of a Slave Girl or Narrative of the Life of Fredrick Douglas
Poetry for Young People: Henry Wadsworth Longfellow
Choose a novel by Mark Twain
The Call of the Wild by Jack London
"To Build a Fire" by Jack London
The Red Badge of Courage by Stephen Crane
"The Open Boat" by Stephen Crane
The Boys' War by Jim Murphy
Poetry for Young People: Walt Whitman
Up from Slavery by Booker T. Washington
Download the corresponding American Literature/American History schedule
Additional American Literature Course Requirements
The Journal
I decided not to require too much beyond the reading for this course. I can't stand busy work, so I did not want to give daily assignments that would likely be meaningless to him and likely never graded by me. Instead, I gave him a list of journal prompts and asked him to use his journal to respond to his reading twice each week. Through the journal prompts, Elijah learned various literature terms and elements.
Download the Reader Response Journal Prompts
Poetry Memorization
You don't think I'd give this up in high school, do you? I am a big believer in the power of memorizing poetry. Elijah worked hard on "The Raven" by Edgar Allan Poe and he also memorized "O Captain! My Captain!" by Walt Whitman.
American Literature Timeline Project
I had every intention of asking Elijah to create a timeline to put the notable authors and their famous works in order by literary movement (Puritanism, Romanticism, Realism, etc.). However, Elijah decided to tackle the American Lit CLEP test, and I determined this project would not be necessary since he needed to master the authors, works, and movements for the test.
That's about it. Let me know if you have any questions (by dropping a comment)!
More Help for Homeschooling High School
If you need more help for homeschooling high school, try this page.