We got homeschool, yes we do.
We got homeschool, how 'bout you?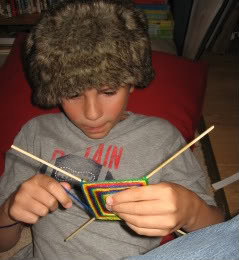 Seriously. That's about all that comes to mind when I look at this picture. Of my son. On the floor. Making an Ojo de Dios while wearing a racoon hat that is missing its tail. In the middle of the day. When most kids are probably doing math problems. At a desk. Without a hat.
I frequently remind my kids not to do this or that because . . . because people will think they are homeschooled (said in a mysterious whispery way). My kids remind me that they ARE, indeed, homeschooled. Yes, but we don't want people to gather that information from all the crazy quirks, plaid with stripes, or snow boots in the summer time, do we? Um, no. 😀
I promise that more substantial posts are coming. Later. Next week.