A huge thanks to my friend and co-op cohort, Heidi Rider, for contributing her gigantic list of Indiana field trips; she spent hours and hours compiling the trips around our great state. Another thanks to the Interest Led Homeschooling Facebook group as well as the IAHE Facebook group for sharing more great field trip ideas. Feel free to thank these people in the comments below!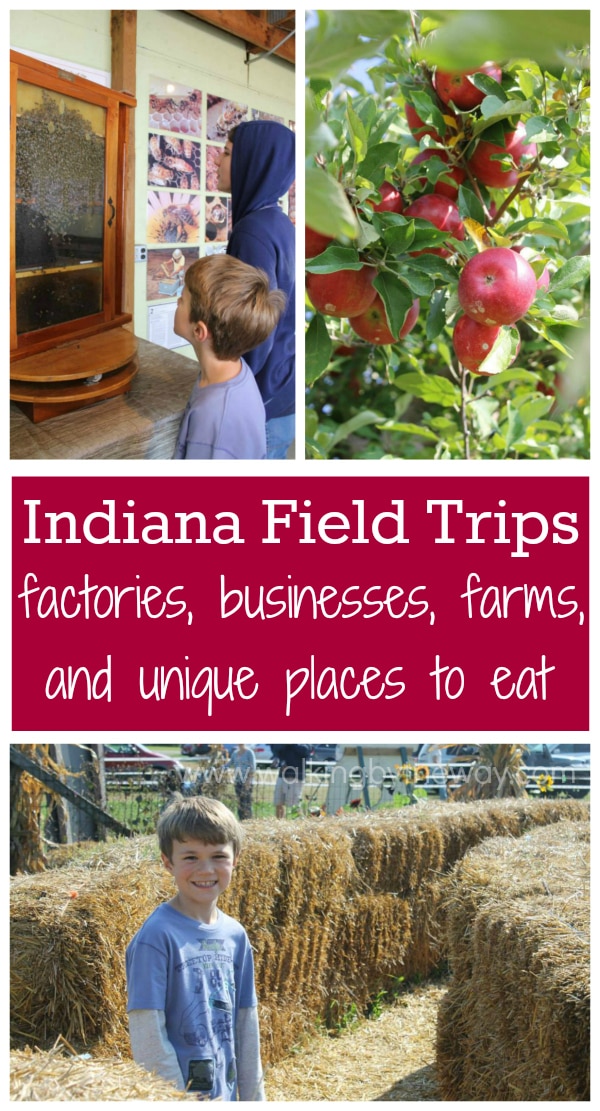 Factories and Businesses to Tour

Abbott's Candy Shop (Hagerstown)
Abbott's has been making candy since 1890! Schedule a tour to watch them make homemade chocolates and caramels.
Albanese Confectionary (Merrillville)
For over 30 years Albanese has been making the World's Best Gummies & Candies right here in the United States.
Annie Oakley Perfumery Studio (Ligonier)
View where the creative perfumery process takes place on your perfume factory tour, including the bench lab where fragrances are created and blended, and the factory where they are bottled and readied for distribution. You will experience first-hand perfumes being hand-made and have an amazing sensory experience
Aunt Millie's Bakery & Factory (Ft. Wayne)
Offers tours for ages 8+.
Clabber Girl Museum & Bake Shop (Terra Haute)
Visit the Clabber Girl Museum to learn about the history of one of the oldest and most beloved brands in America. You can also try to attend a culinary class during your visit. Clabber Girl Bake Shop is a fun place to stop and get a tasty breakfast or lunch.
Conn-Selmer Musical Instrument Factory (Elkhart)
Cook's Bison Ranch (Wolcottville)
Cook's Bison Ranch is an historical treasure located in beautiful Northern Indiana Amish Country; you can schedule tours for groups of 20+.
Dallara IndyCar Factory (Speedway)
At the Dallara IndyCar Factory, Indy Racing Experience joins forces with Dallara Automobili—an Italian manufacturer of competitive racecars that has been designing, building, and supporting professional IndyCars for more than 40 years. The 100,000-square-foot structure towers over the town of Speedway, Indiana, and houses the first Dallara factory outside of its hometown of Parma, Italy. Inside the interactive facility, visitors can watch technicians build cars for IndyCar racing teams before experiencing a race themselves on an advanced simulator or on a high-speed ride through the streets of town in a genuine IndyCar two-seater.
DeBrand Fine Chocolates (Ft. Wayne)
You'll enjoy a short video on the history of DeBrand and view our chocolate making kitchens where you'll see the artisan process involved in making our coveted chocolates along with tasting several gourmet chocolate samples.
Goat Milk Stuff Farm (Scottsburg)
Our farm tours are designed to give people a chance to see where their soap, candy and cheese is made and to meet the goats.
Good's Candy Shop (Anderson)
Each day, Monday thru Friday, are opportunities to see a different technique in the amazing ways Good's makes delicious chocolates.
Greenfield Mills/New Rinkle Flour (Howe)
Tour Indiana's oldest, commercial water-powered mill.
Kokomo Opalescent Glass Factory (Kokomo)
Kokomo Opalescent Glass (KOG) has been in continuous operation since 1888. We are America's Oldest Art Glass Company!
Moody Radio (various cities)
Not Just Popcorn (Edinburgh)
In May of 1989, Carol Buck started her dream with only 8 flavors of popcorn. Now 18 years later, she has over 240 flavors, which makes Carol's product unique. She formulated every flavor from scratch and all processes are done by hand.
Schimpff's Confectionery & Candy Museum (Jeffersonville)
G.A. Schimpff's Confectionery is one of the oldest, continuously operated, family-owned candy businesses in the United States. It was opened in its present location in 1891 by Gustav Schimpff Sr. and Jr. Find tour information here.
Sweetwater Musical Instrument Store (Ft. Wayne)
Take a tour of the instrument store; they also have an arcade in their facility as well as a cafeteria.
Toyota Motor Manufacturing (Princeton)
Twin Rocker Handmade Paper (Brookston)
Established by Kathryn and Howard Clark in 1971, Twinrocker was pivotal to the renaissance of hand papermaking in America. Twinrocker makes paper by hand from cotton the way paper was made in the 1600's in Europe. Small and large groups up to 70 people are welcome to visit Twinrocker and take a tour of the handmade paper studio.
WISH-TV (Indianapolis)
Zimmerman Art Glass (Corydon)
Call to set up a tour.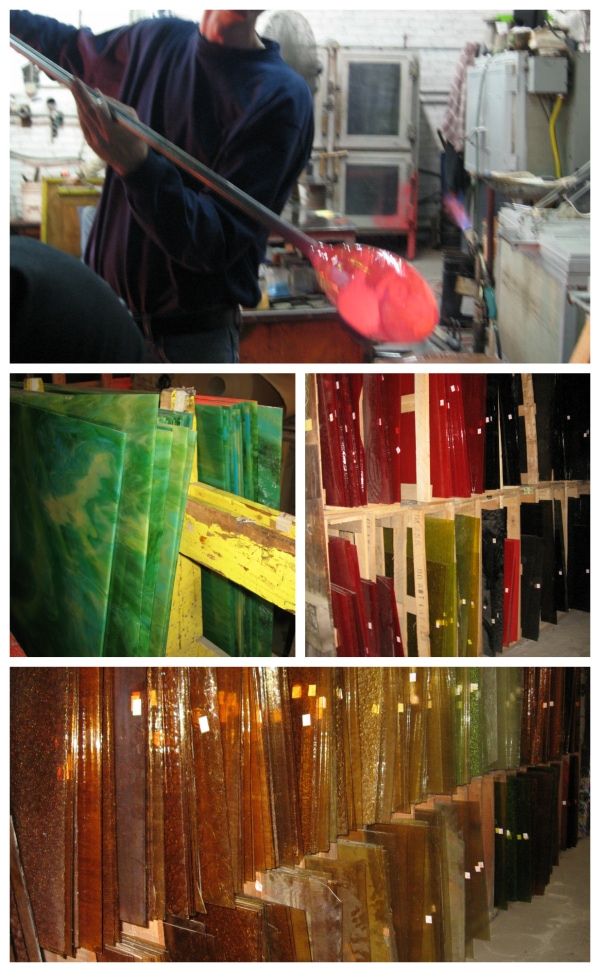 Farms & Orchards

Amish Acres Historic Farm (Nappanee)
Listed in the National Register of Historic Places, Amish Acres is a rural farmstead hotel with laid-back accommodations, plus a theater, and restaurant. You don't need to spend the night to visit Amish Acres. They offer a guided house and farm tour as well as Amish horse and buggy rides.
Fair Oaks Farms (Fair Oaks)
So much to do. Please check the website. Two of the main programs are The Pig Adventure and The Dairy Adventure.
Farm at Prophetstown (Battle Ground)
A 1920's farmstead highlighting sustainable agriculture, homesteading, heirloom gardening, and farm to table cooking.
Huber's Family Farm (Starlight)
Great place for a family visit or a field trip (larger group) visit.
Hunter's Honey Farm (Martinsville)
Take a tour of Hunter's Honey Farm and learn about honeybees and the wonderful world of honey.
Kelsay Dairy Farms (Whiteland)
Bring your students for a fun, educational visit to the farm! We would love to share our farm with your students!
New Generations Dairy Farm (Owensville)
Orchard Hill Farms (Kendallville)
Tour information here. A typical tour begins with a wagon ride through the orchard with stops along the way to point out different methods of grafting, pest management, pruning techniques, correct picking and handling of the fruit, etc.
South Bend Chocolate Company (South Bend)
Call and ask about the Inside Scoop Tour.
Trader's Point Creamery (Indianapolis)
We offer different tour options allowing you the opportunity to come and learn how our healthy, delicious products are created from pasture to table.
Tuttle's Orchard (Greenfield)
A favorite central Indiana farm featuring: greenhouses, store, special events, upick activites, play area, and more!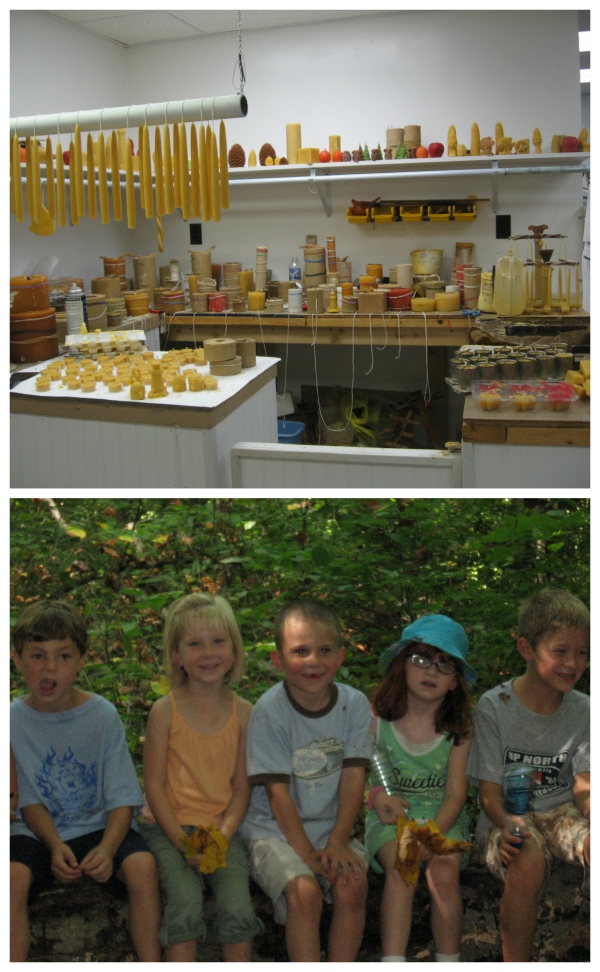 Unique Places to Eat

The Firehouse BBQ and Blues (Richmond)
You're invited to east central Indiana's most unique dining establishment! Enjoy hickory smoked BBQ in Richmond's oldest firehouse.
The Log Inn (Haubstadt)
The Log Inn was built in 1825 as a Noon Day Stage Coach Stop and Trading Post. We have been officially recognized as the oldest restaurant in Indiana. While visiting the Log Inn, you can dine in the same original log room that Abraham Lincoln visited in 1844.
Mayberry Café (Danville)
The Mayberry Café is a friendly family restaurant in Danville, Indiana. Since 1989, owners Brad and Christine Born have welcomed diners to take a step back in time for home-cooked food just like Aunt Bee put on the table for Andy and Opie Taylor on the Andy Griffith Show.
Zaharako's Ice Cream Parlor (Columbus)
Step inside Zaharakos to find an ice cream parlor of stained glass, carved oak, and marble. Look for the Tiffany-style lamp and the double soda fountains. Listen to the rich, full sound of the Welte orchestrion. Learn about soda fountains and mechanical music when you visit the museum.
Looking for more Indiana Field Trip ideas?
Check out The Ultimate List of Indiana Field Trips