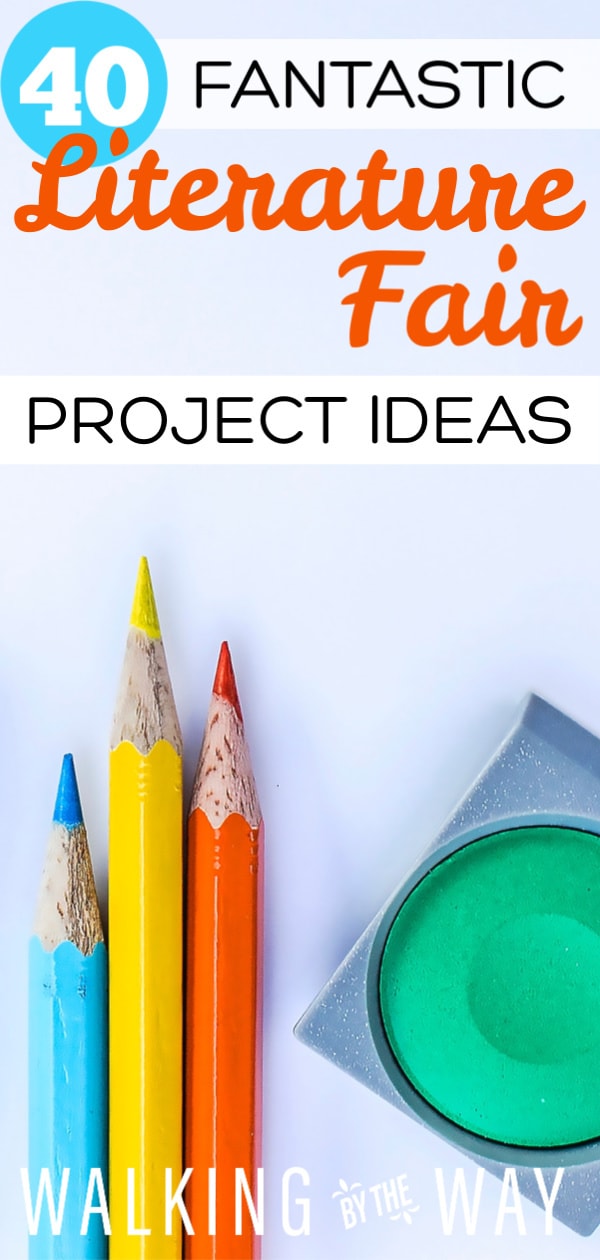 This past year we participated in a literature fair for homeschool students in our county. It was a wonderful night of learning and inspiration; students are already choosing their books for next spring!
Simon chose The Hobbit, and he couldn't wait to talk to people about his book.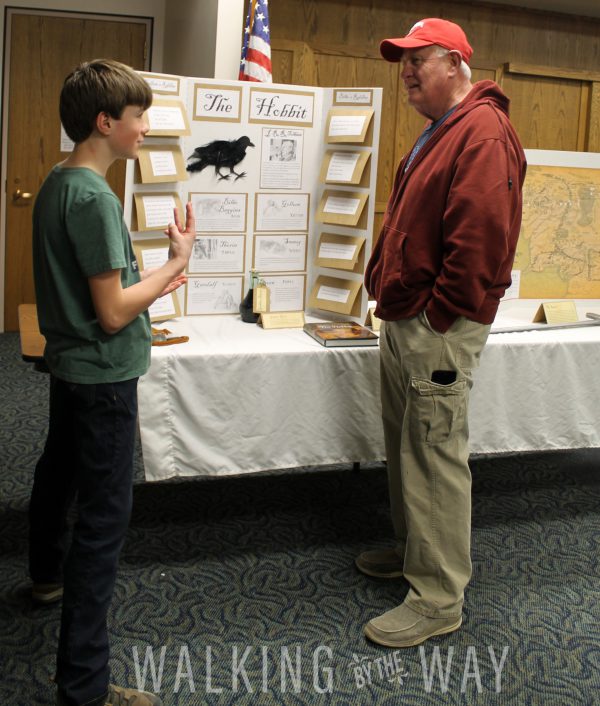 Since my Geography Fair Project Ideas post has been helpful to my readers, I decided to create this Literature Fair Project Ideas post, too.
These literature fair project ideas are divided into setting, characters, plot, author, and other ideas. If you don't know where to start, encourage your student to choose one idea from each section.
Setting
Draw a map of the setting.
Paint a picture of the setting.
Build a model of the main character's home (you could even use LEGO bricks). This would be a blast for a book like Swiss Family Robinson!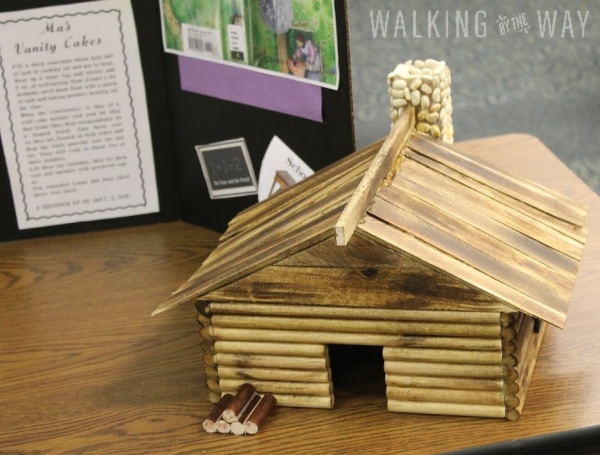 Log Cabin Model Home for Laura Ingalls Wilder Display
Make a salt dough map based on the setting of the story.
Print a map of the setting and add it to your display.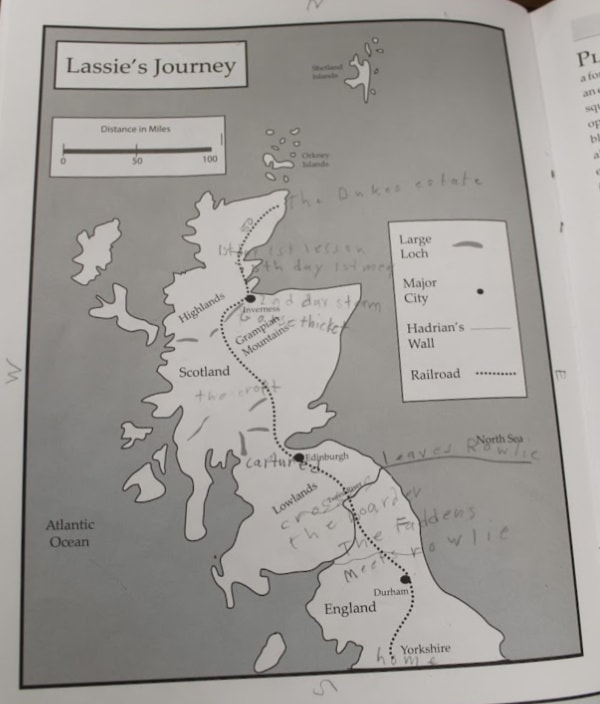 Map for Lassie Come Home
Create a map for the story and label the main character's journey.
Complete a country lapbook (if the story is set in a certain country).
If your story has a historical setting, research the time period and add historical facts and artifacts to your display.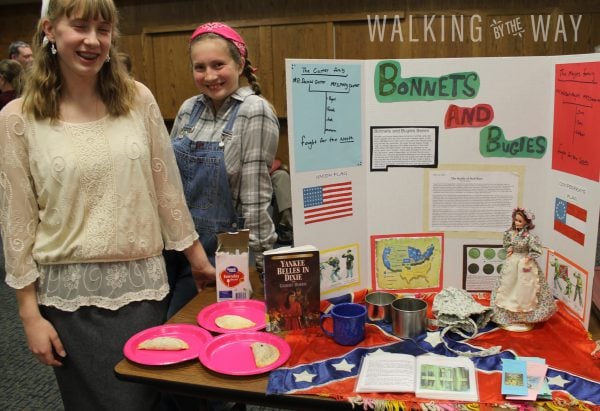 Bonnets and Bugles (series) display with a historical focus
Characters
Create character trading cards.
Draw the main characters and add them to your display board or make a booklet.
Make copies of character images from the book and color the characters for your display.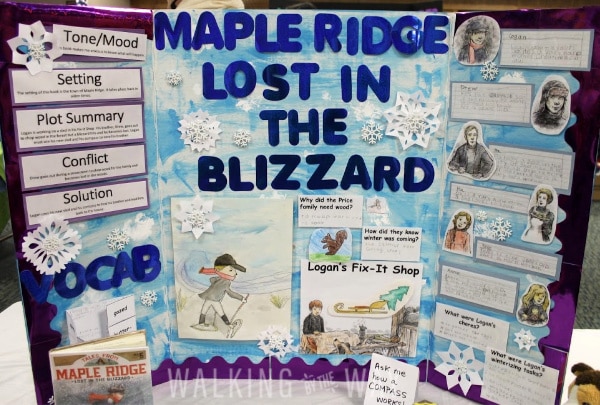 Participant painted a character and colored copied images of other characters
Sculpt the characters out of clay.
If your book includes animal characters, display stuffed animals to represent the characters in the book.
Dress in costume as one of the main characters.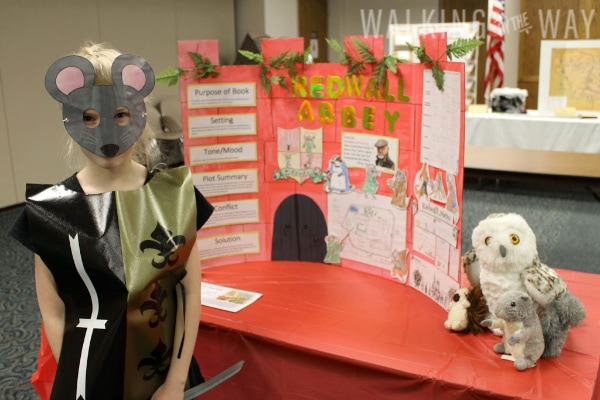 Donning a costume for Redwall
Create a PowerPoint presentation that includes the main characters.
If your book has related characters, add a family tree to your display.
Use props to help a character come to life.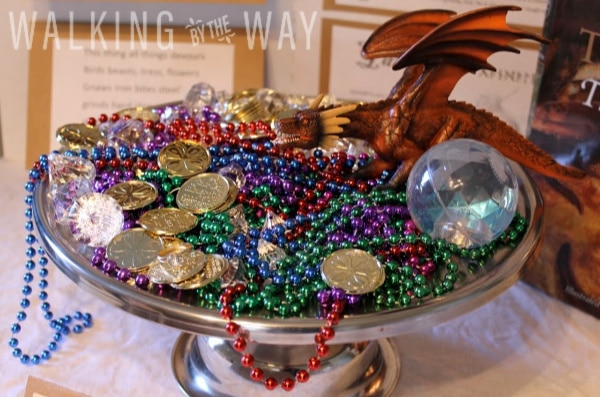 A dragon, coins, jewels, and beads depict Smaug (from The Hobbit)
Plot
Construct a diorama based on a favorite scene in the story.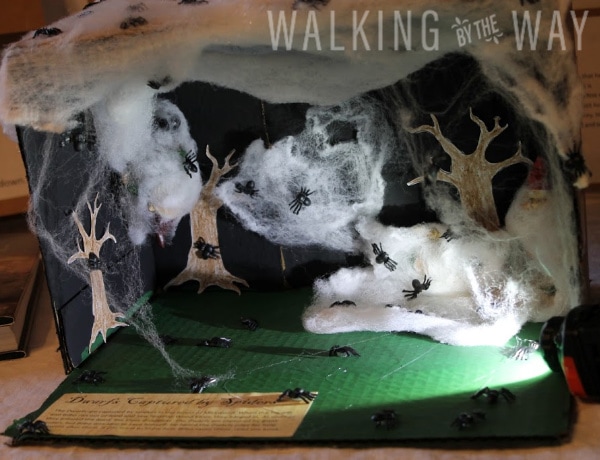 Dwarfs Captured by Spiders Diorama (Can you spy the dwarfs?)
Sketch or paint your favorite scene from the story.
Design a plot diagram and add it to your display.
Create a simple game based on your book's plot (or another aspect of your book) and let guests play.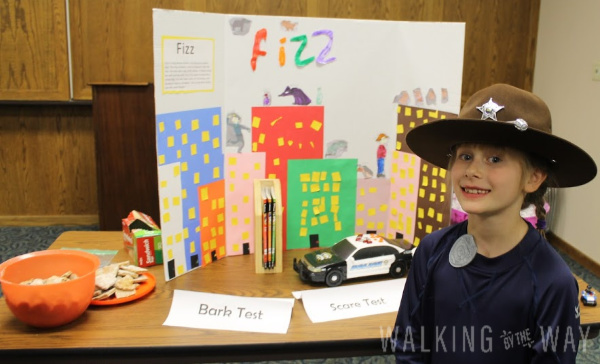 Fizz display has a few different games (labeled as tests)
Generate a video (like a movie trailer) for the book, and play it for guests to view.
Make a stop motion video based on the plot, and play it for guests to view.
Author
Research the author and write a biographical paragraph about his or her life.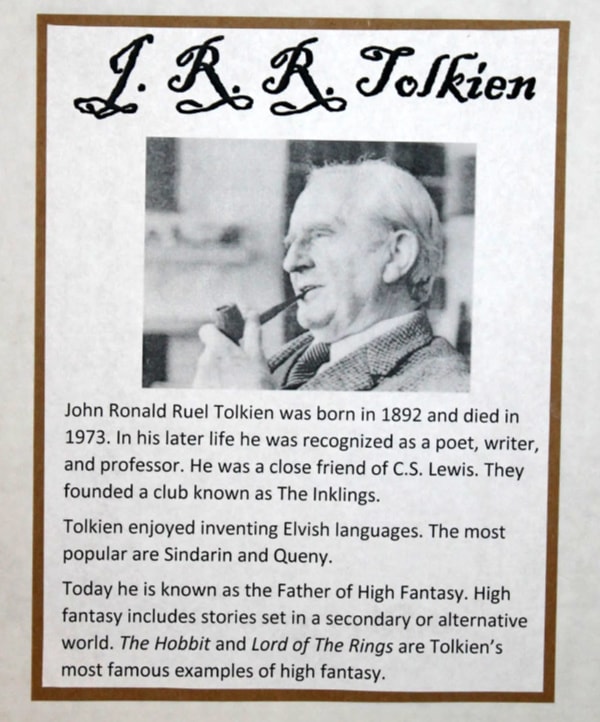 Short biography of J.R.R. Tolkien
Design a PowerPoint presentation about the author and add it to your display.
Create a short movie about the author's life and play it (on a laptop) for guests.
Highlight the author's other famous works and include them as part of your display.
Publish a timeline showing when the author was born, when your book was published, and what other famous world events were happening at the same time.
Other Literature Fair Display Ideas
Serve food that is relevant to the story and offer it to the guests at the fair.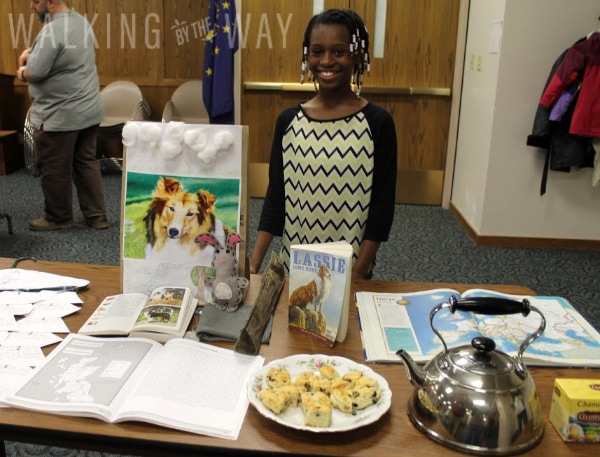 Serving scones and tea as a connection to England for Lassie Come Home
Design a bookmark. Make copies to hand-out at the fair.
Make a Best Quotes booklet using the great quotes from the story.
Many books include symbolism. Display various symbolic props with brief explanations.
Display other important objects from the story (a sword, pocket watch, umbrella, instrument, etc.). Could you craft the item?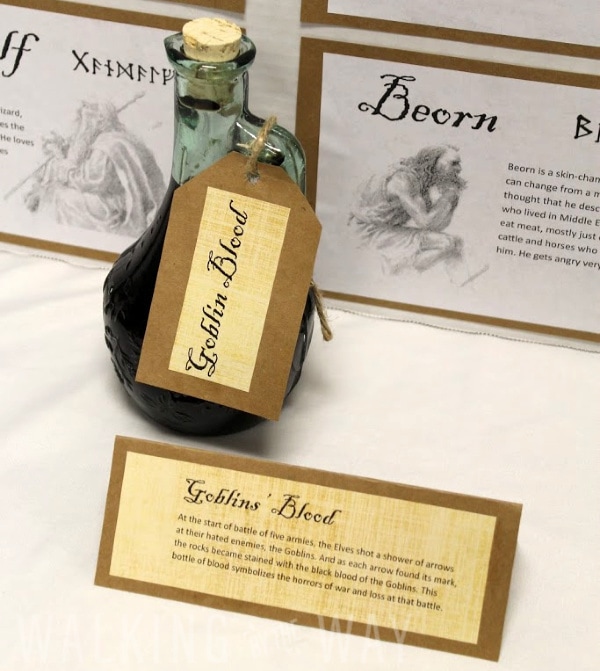 Displaying a bottle of goblin blood for The Hobbit
Use a triarama to help display setting, a scene, characters, or animals mentioned in the story.
Research plants or animals included in your book and add interesting information to your display.
Create a short trivia quiz for fair guests to complete (make sure to have pencils handy!).
Construct an electric quiz board with questions and answers based on your book.
Encourage questions. Put an object in your display and add a note such as: "Ask me why this is here!" or "Ask me how this works!"
Offer prizes for correct answers to random trivia questions.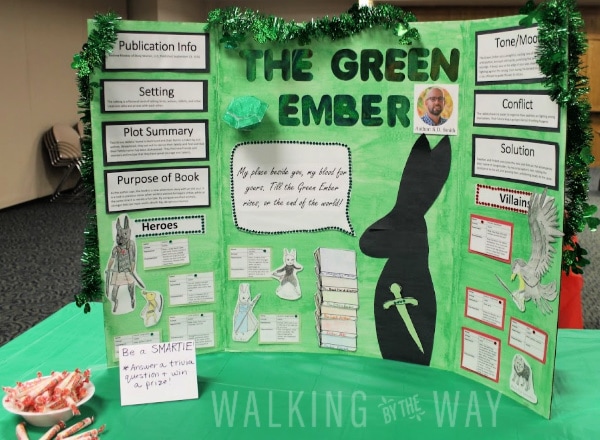 Students at The Green Ember display offered a candy reward for answering a trivia question.
What interests and talents do you have? Do you sew, knit, paint? Do you like carpentry, pottery, or music? How can you include your talents with your display?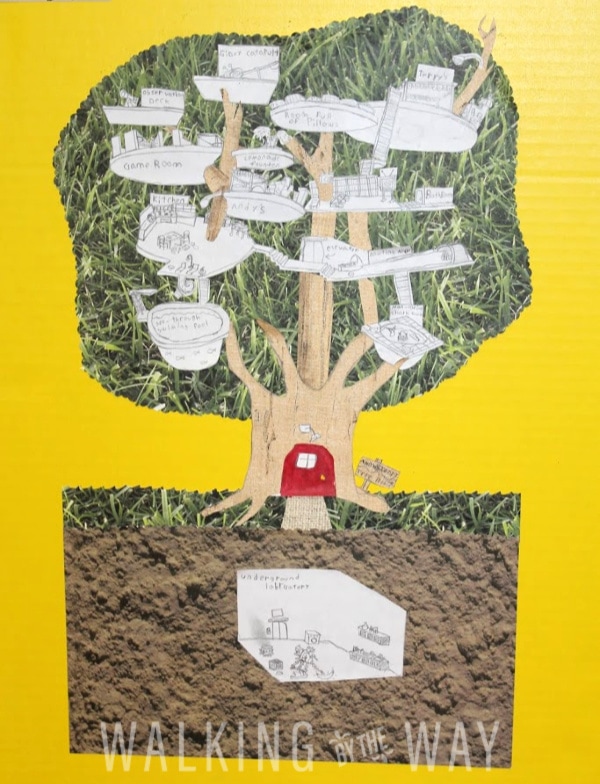 This student used his amazing art skills to recreate the treehouse in The 13-Story Treehouse.
Design a scrapbook based on your story.
Don't forget to display your book!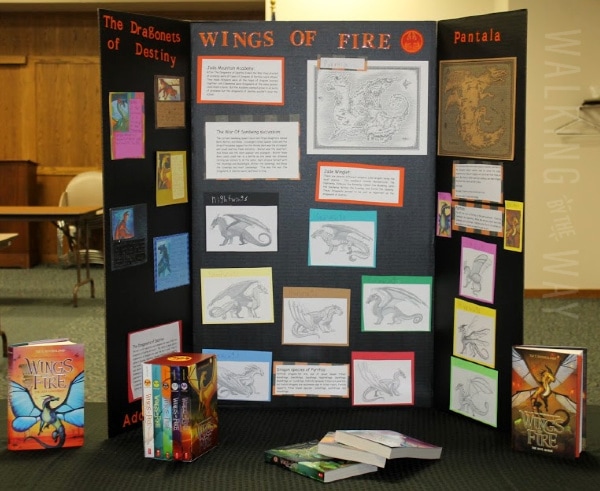 Multiple books displayed for Wings of Fire (series)
If you have additional literature fair project ideas, please leave a comment, and I will get your ideas added to the list.
Happy Reading!