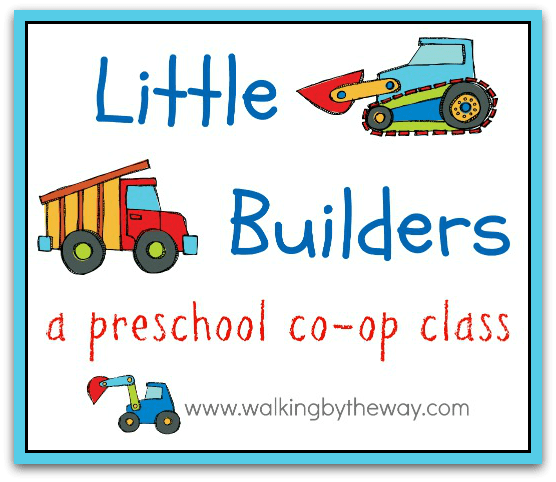 Looking for a fun preschool class that will keep them learning, busy, and having fun? Little Builders fits all three categories!
We started every class with a book about building. Here was our line-up:
Week 1: I Want to Be a Builder
Week 2: Mike Mulligan and His Steam Shovel
Week 3: The Toolbox
Week 4: Roadwork
Week 5: Cross a Bridge
Week 6: Alphabet Under Construction
Week 7: Dig a Tunnel
Week 8: Building a House, This Is the House That Jack Built
Week 9: The Three Little Pigs
Week 10: Into the Sky
Weeks 11-12: Review favorites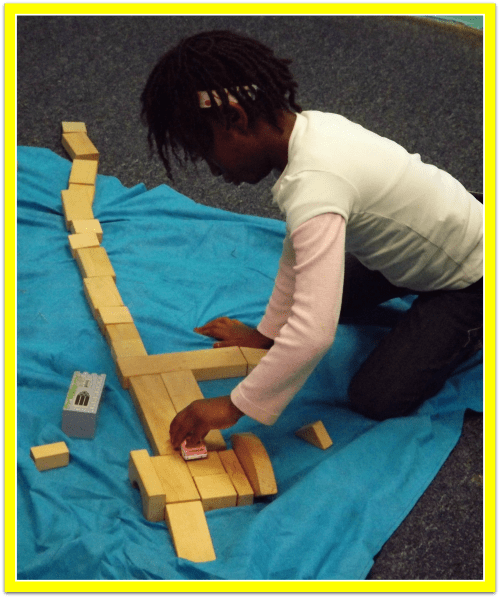 Each week had a theme and after reading and discussing the story, we would start on our activities. I tried to link as many of the activities as possible in the class syllabus.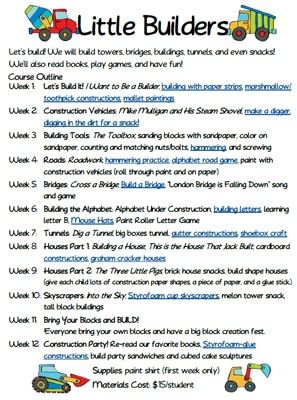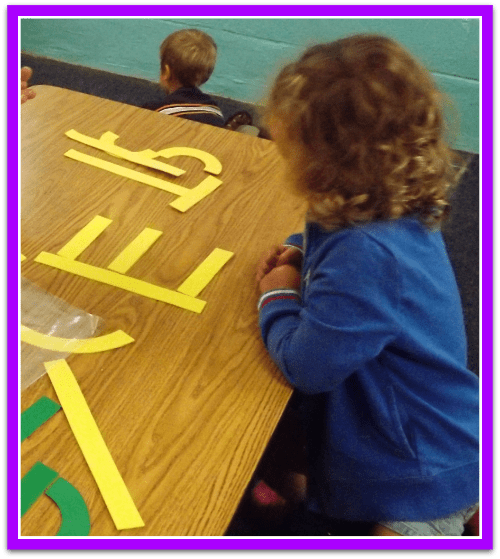 Additional Notes:
For sanding the blocks, you can probably get some scrap wood pieces at a hardware store for free.
Lowe's also provided our child-sized hammers for free; we just had to ask.
We pre-drilled holes for using the screwdriver, but the children used a real screwdriver with a real screw.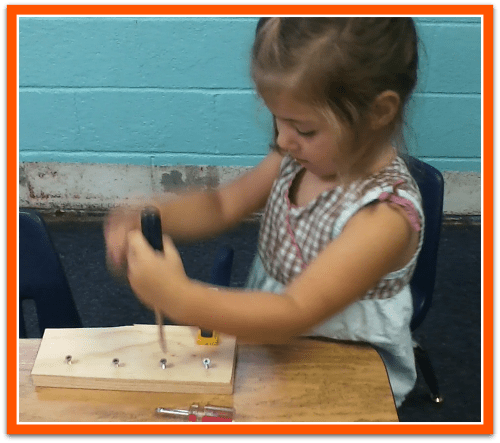 Paint Roller Letter Game: Draw large letters on the pavement with sidewalk chalk. Give each child a wet-with-water paint roller and let them wash off the letters as you call out the letter names.
We didn't make our big tunnel out of boxes. We used a table and blankets instead (easier!).
The following snacks: brick houses, melon towers, party sandwiches, and cubed cake sculptures were all found in Cooking Art, a fantastic recipe book for kids.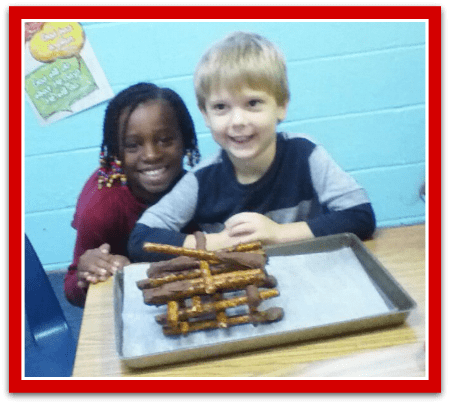 Always have different kinds of blocks on hand in case you have extra time. The kids LOVED simply building with blocks! We brought in Duplo, wooden blocks, Lincoln Logs, Kid K'nex, etc.
The cost of this class should probably be $20 and not $15.
I have a Let's Build It! board on Pinterest where I pinned many of the ideas for this class, and where I continue to pin other preschool building fun!