Do you need a fresh creative writing activity for your students?
Motivate your students to think and write creatively with these monster creative writing prompts.
Monster Creative Writing Prompts
The monster writing prompt cards include these twelve imagination-boosting writing prompts:
You visited a castle and found a monster in the dungeon. Record your conversation with the monster.
You need to disguise your pet monster as a human. What will you use for its costume? Remember, you need to cover it from head to toe. How will you hide its smell?
One of your monster's yellow fangs is infected and your monster needs to visit the dentist. Write about what happens at the dentist.
If you meet a monster, what are three rules you should follow?
Write a description for your monster's favorite sandwich. Use details.
Cyclops the monster is going to visit his cousin, Splonk. What is Splonk's house like? Describe one of the rooms at Splonk's house.
You go out into the woods to find Bigfoot. What do you discover?
Write about four things that scare monsters.
Your pet monster isn't tired and won't go to bed. What will you do to get your monster to sleep?
You draw a monster with a box of magical crayons. It comes to life. What does it look like? What does it act like? Will you use your magical eraser to erase your monster, or will you keep it?
Write about a monster who ate everything in your refrigerator! Use details for the sights, smells, sounds, and tastes.
A funny monster lives under your bed. What does she do every night to make you laugh?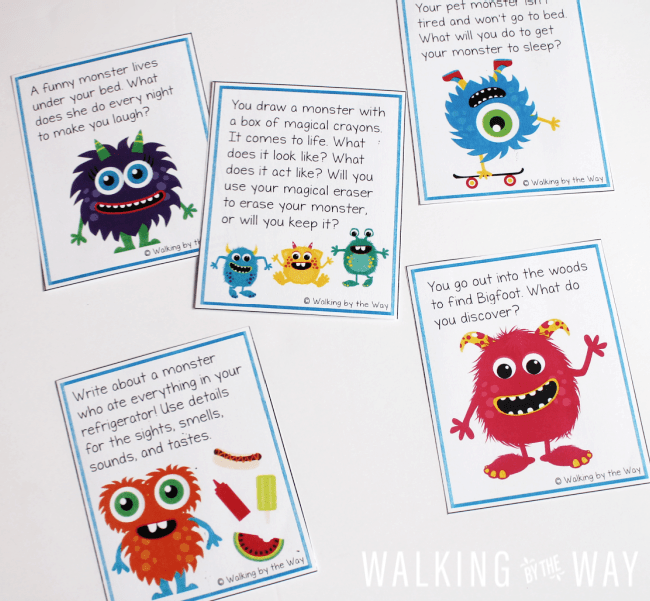 How to Use the Monster Creative Writing Prompts
You can use these monster writing prompt cards with a variety of ages.
Directions:
Print the word bank card and prompt cards and cut out the cards.
Laminate the cards for durability. If desired, hole punch the cards and add them to a metal ring.
Consider reading a monster book (or books) to your student.
Let your student choose a card. (If you are homeschooling, you could add a bit of mystery by putting the cards in a jar and letting your student draw a card.)
If your student has a hard time writing, ask questions and dialogue ideas together before your student begins.
Decide if you want to give your student a guideline (This needs to be at least four sentences.) If you do, be clear about your expectation.
Write!
Inspire Creative Writing with These Monster Books
To give your students extra inspiration for their responses to the monster writing prompts, try reading some of these picture books before writing time.
Download Your Monster Writing Prompts
Subscribe to Walking by the Way's Newsletter in order to grab this free creative writing activity.