Do you need a new creative writing activity for your students?
Motivate your students to think and write creatively with these mystery writing prompts.
What's Included in the Mystery Writing Prompts?
The mystery writing prompt cards include these twelve imagination-boosting writing prompts:
You discover a wooden box in the woods. What's in it? How did it get there? Will you find the rightful owner?
All the pets in town are being kidnapped—one by one. First, it was Mrs. Lyon's poodle. Next it was Callie's cat. Even Stella's guinea pig has been taken. Which pet will be next? Who is doing this? Why?
Riley keeps receiving letters written in invisible ink. What do they say? Who are they from?
Every night you hear digging in your back yard. One day, you finally muster up enough courage to take a shovel and find out what has been buried. What is it? What will you do with what you find?
Jessy is looking through her grandma's cookbook and notices a recipe for something that isn't food. What are the ingredients? What happens when she makes the recipe? Why does her grandmother have this recipe?
Your family moved into a new house. Each morning you find a new object on your nightstand. What are the objects? How are they connected? Who is leaving the objects and what are they trying to tell you?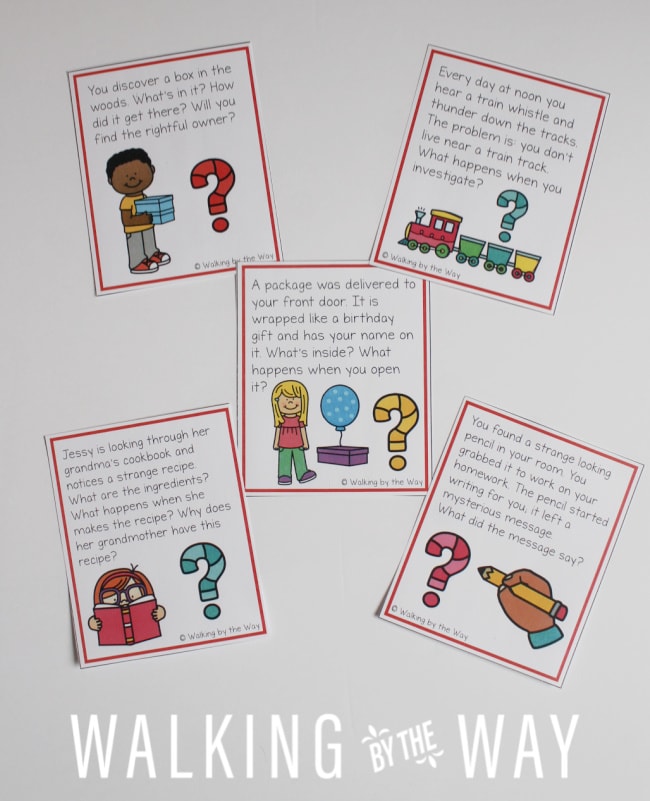 Every night at midnight Nick hears a wolf howling. Will he go out and investigate? What does he find?
Ben is given a pet parrot. Every day the parrot gives him a strange clue. What are the clues? What is the parrot trying to tell Ben?
A package was delivered to your front door. It is wrapped like a birthday gift and has your name on it. What's inside? What happens when you open it?
Every day at noon you hear a train whistle and thunder down the tracks. The problem is: you don't live near a train track. What happens when you investigate?
While on a hike, you notice a small door on a tree. As you continue walking, you see three more tiny doors. What happens when you open one? What do you see?
You found a strange looking pencil in your room. You grabbed it to work on your history homework. The pencil started writing for you; it left a mysterious message. What did the message say? What does it mean?
How to Use the Mystery Writing Prompts
You can use these mystery writing prompt cards with a variety of ages. Younger students may want to use them to tell you a story without writing it down. Older students can dictate, write, or type their responses.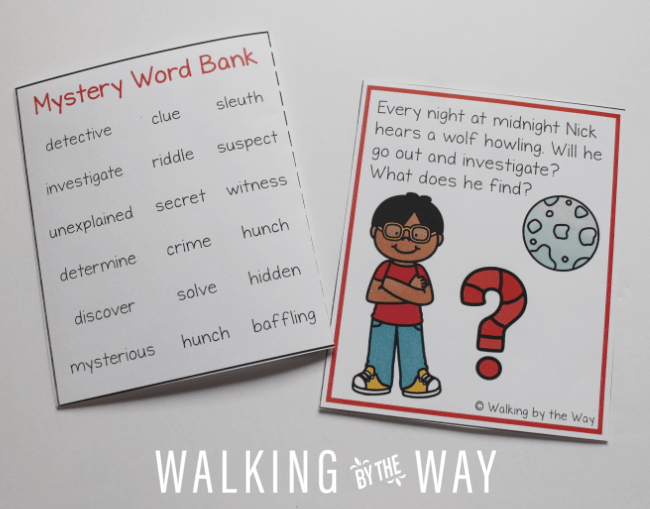 Directions:
Print the word bank card and the prompt cards; cut out the cards.
Laminate the cards for durability. If desired, hole punch the cards and add them to a metal ring.
Consider reading a mystery based book (or books) to your student.
Let your student choose a card. (If you are homeschooling, you could add a bit of mystery by putting the cards in a jar and letting your student draw a card.)
If your student has a hard time writing, ask questions and dialogue ideas together before your student begins.
Decide if you want to give your student a guideline (This needs to be at least four sentences.) If you do, be clear about your expectation.
Write!
Inspire Creative Writing with These Mystery Books
To give your students extra inspiration for their responses to the mystery writing prompts, try reading some of these books before writing time.
Younger students may enjoy these mystery picture books:
Download Your Mystery Writing Prompt Cards
Subscribe to Walking by the Way's Newsletter in order to grab this free creative writing activity.