I like this project for many reasons:
1. It's easy
2. It helps keep the crayon bucket clear of too small pieces
3. You get to recycle something useless into something useful
4. It's fun
5. Did I mention it's easy?
Before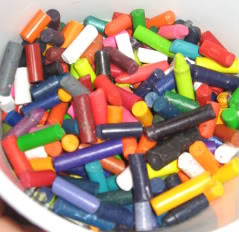 After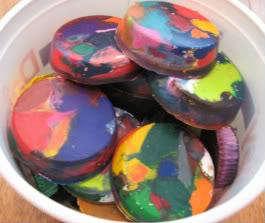 Simon brought me some old crayon cookies we'd made in the past and asked if we could do this again. I told him the deal–we can do this IF you will do all the paper peeling. He agreed. So, I dug a bunch of too little crayons out of the box and Simon peeled all the papers off.
I gave him an old muffin tin (do NOT use a good muffin tin for this project), and he separated the crayons.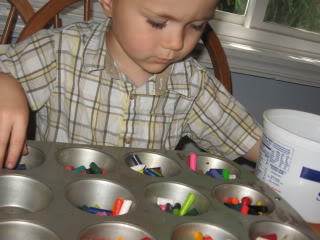 The pan went in the oven at 250 degrees. Simon kept watch and let me know when we had liquid rainbows in the tins. I turned the oven off and opened the door. I didn't move the pan out of the oven because I didn't want the colors to mix together more. I left it in the oven until the crayons cookies were solid (this requires much patience–especially for an eager 4 year old!).
New crayon cookies!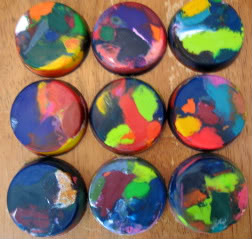 Happy little artist!