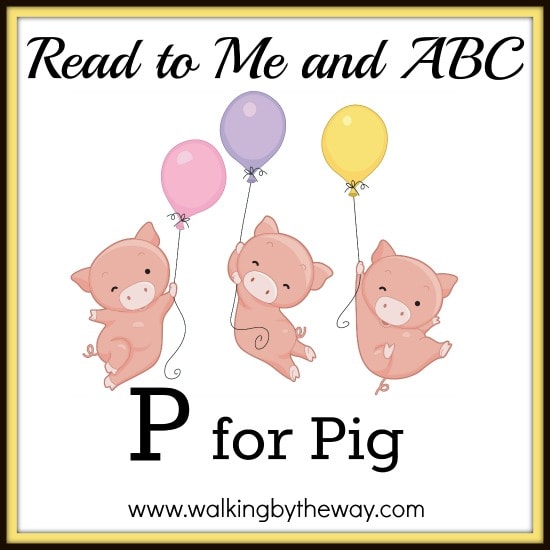 If you are new to Read to Me & ABC, please start here.
Read to Me
Our book of the week was If You Give a Pig a Pancake by Laura Numeroff.
Alphabet Art- Purple Polkadotted P
Supplies
P Pattern (I used the large capital P)
purple paint
q-tip
Let your student polk-a-dot the p using the q-tip and the purple paint.
Lessons & Lapbook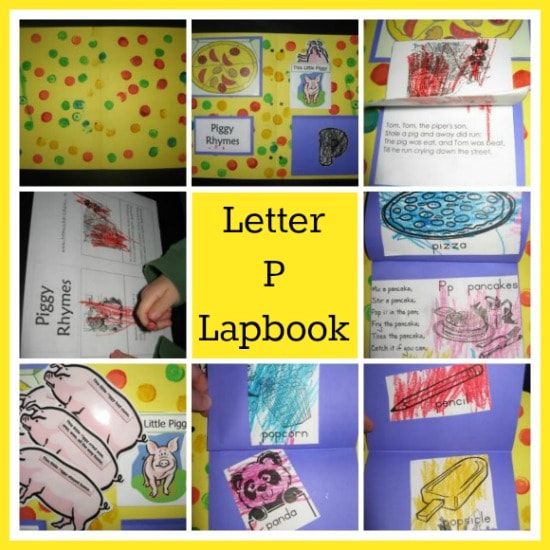 I used some of the lessons from the Pig Unit at HSS and the printables from the Alphabet Notebook. We went easy on the lapbook this week and heavy on the literature and hands-on projects.
Simon polk-a-dotted the inside of his lapbook with his Do-A-Dot markers.
Let's Make a Memory ~ Painting with Popsicles!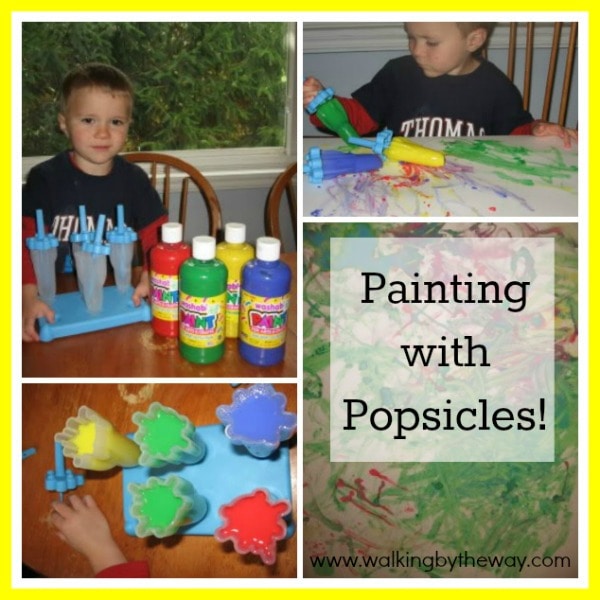 For this project you need popsicle molds, tempera paint, and a poster board.
First, figure out how much liquid each mold holds. Then fill each one with a half-paint, half-water mixture. I'm sure your tot will be ready to help you mix the solution. Once your molds are full, stick them in the freezer. You may want to prep your preschooler ahead of time that it takes a LONG time for the paint popsicles to freeze.
Two things to remember before pulling the pops out of the freezer:
1. It takes about 10-15 min. for the popsicles to thaw enough to slide out of the molds. You might want to do this when your preschooler is not looking so you won't have 10-15 min. of "Can I paint now, momma? Can I paint now, momma? Can I paint now, momma?"
2. Remind your kiddo that these are not for eating; they are for painting!
Let's Make Another Memory ~ Prickly Play-doh Porcupines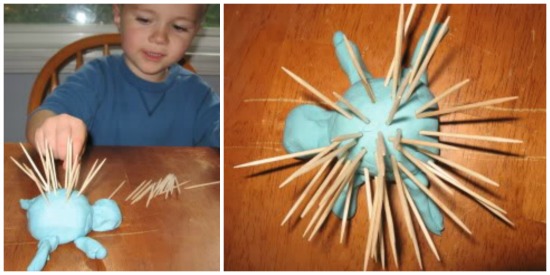 This was super simple. I gave Simon some play-doh and toothpicks. I helped him shape a body while he worked on a head and legs. Then I let him add the spines, spines, and more spines! Be prepared for your preschooler to ask to make another prickly play-doh porcupine . . . and another and another!
Let's Make Another Memory ~ Piggy Pancakes
These were EASY. You could probably make them much cuter, but I wanted something simple. I just mixed up my regular batter and poured regular round pancakes on the griddle; then I used the squeeze bottle to add on triangle shaped ears. I made some smaller round pancakes for snouts. Right before serving, we added chocolate chips for eyes and nostrils (you know you want to eat chocolate nostrils!).
You don't have to make piggy pancakes. You have SO many options for P: pumpkin pancakes, pumpkin bars, pumpkin pie, popcorn, pizza, etc.
Book Basket

The Three Little Pigs (various versions)
The Good Little Bad Little Pig by Margaret Wise Brown
How to be a Pig by Ima Swine
The Little Pig by Judy Dunn
If You Give a Pig a Party by Laura Numeroff
Pajama Time by Sandra Boynton
The Poky LIttle Puppy by Janette Sebring Lowrey
Harold and the Purple Crayon by Crockett Johnson
Shopping List
purple paint

q-tips

toothpicks (porcupine project)

play-doh (porcupine project)

tempera paints (popsicle project)

popsicle molds

grocery items to make your favorite P foods (popcorn, pumpkin pie, pig pancakes, etc.)