We are just a hop, jump, and skip away from finishing Read to Me & ABC. What comes next for Simon? Lots of fun!
Handwriting Without Tears — Get Set for School
I can't wait to Hokey Pokey, bark through the alphabet, create play-doh letters, and wiggle my toes with Handwriting Without Tears. I obviously had too much fun with HWT the first time around, and I am ready for the second round.
Before Five in a Row
I have the sweetest memories of using Before Five in a Row with Elijah. I know Simon and I will enjoy snuggling up and reading these great books together.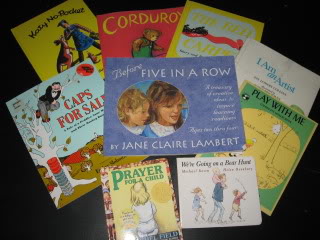 I plan on using ten of the titles for unit studies with Simon this fall. We will make lapbooks for some of the books, and I have these ready to go in my brain box.
Bible & Bible Memory
We've been using and will continue using The Really Big Book of Bible Story Coloring Pages for Simon. He loves to color, and the illustrations are perfect for preschoolers. Each one comes with an easy-to-understand Bible story that Elijah and I take turns reading to Simon.
Simon and Elijah will memorize the same passages of scripture together. Right now we are working on Psalm 121.
Family Math for Young Children
This is something new for me to try (thanks to my friend, Wende!).
It is full of easy-to-implement mathy ideas to launch mathy thinking in little peoples' brains. I'm hoping to use it 2-3 times a week. I will be sure to give reviews as we start working our way through it.
Read-Alouds
Hearing Andrew Pudewa speak on Nurturing Competent Communicators convinced me that I must read aloud more to the boys. Simon was having a hard time sitting through some of my selections, so I started giving him his own read aloud time. He loves it!
Here are some books on tap for Simon:
Animals, Animals illustrated by Eric Carle (poetry)
Here's a Little Poem (poetry)
The Children's Book of Virtues by William Bennett
Uncle Wiggily's Story Book by Howard R. Garis
Winnie-the-Pooh by A. A. Milne
The House at Pooh Corner by A. A. Milne
Paddington books – We've listened to A Bear Called Paddington twice this week. The second time at Simon's request. I must find more!
The Complete Adventures of Curious George by H. A. Rey
James Herriot's Treasury for Children by James Herriot
(more) Mother Goose (for poetry memorization)
Stories from Around the World by Heather Amery
A Treasury of Children's Literature by Armand Eisen


Other than the basics, these are the plans for Simon. I'll post about Elijah (the soon-to-be 3rd grader) soon.
I'd love to see what you're planning to do with your kiddos this fall. Feel free to leave a comment with a link to your blog!