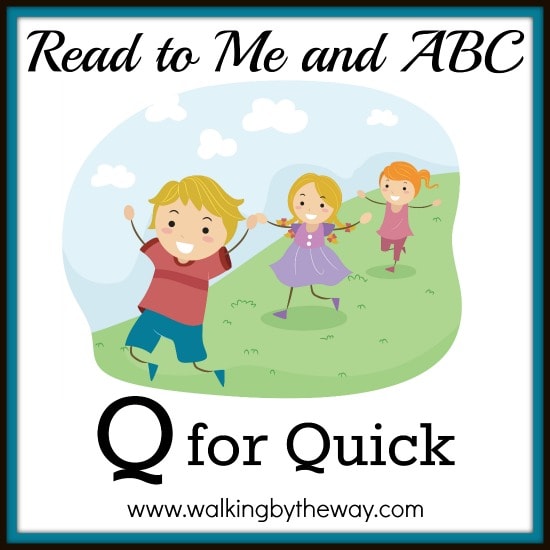 If you are new to Read to Me & ABC, please start here.
Read to Me
Our book of the week was Quick as a Cricket by Don & Audrey Wood.
Alphabet Art- Quilted Q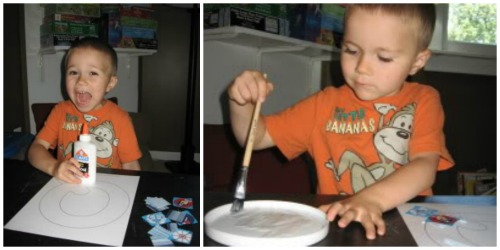 Supplies
Q Pattern
fabric scraps
glue
paintbrush and lid (optional)
I cut the scraps with pinking shears to give them more of a fabric look (whatever that is!). I don't love this alphabet art, but don't tell Simon because he's quite proud! Those of you who sew could make this quilted Q much cuter.
I think you know what to do: glue & stick. I let Simon use the paintbrush with some watered-down glue because it works better for him.
Lessons & Lapbook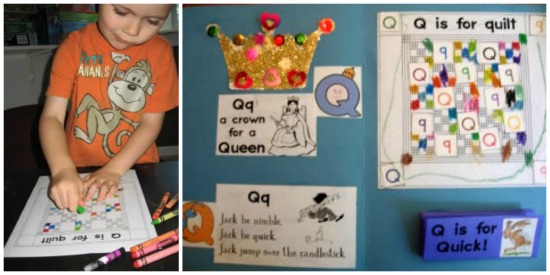 I used some of the lessons & printables from the Quick as a Cricket unit I created for Homeschool Share.
Let's Make a Mess Memory ~ Queen of Heart Tarts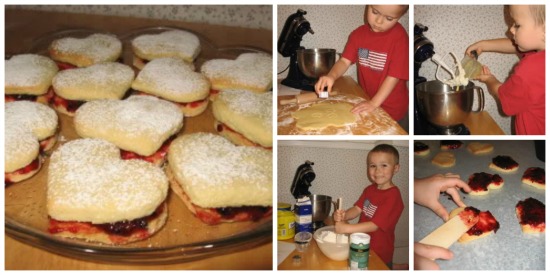 Ingredients
2 1/4 cups flour
2 teaspoons baking powder
1/4 teaspoon salt
1/4 cup shortening
1/4 cup butter
1 cup sugar
2 eggs, beaten
1/2 teaspoon vanilla
1 tablespoon milk
jam (Your choice! We used blackberry because we made a fresh batch last week)
Directions
Sift together flour, baking powder, and salt in a medium bowl.Using a different bowl, cream together shortening and sugar. Add eggs, vanilla, milk, and sifted ingredients. Mix well.
Roll out on a floured surface. Cut with a medium sized heart-shaped cookie cutters. (We started with a small one. . . no one wants to eat tiny tarts!)
Bake at 375 degrees for 8-10 minutes. Cool.
Spread some jam on each cookie and top with another cookie. Dust the tops of the cookies with powdered sugar (because they clearly don't have enough sweetness already!).
We sat down for a Mother Goose tea-time and started with the obvious:
The Queen of Hearts,
She made some tarts
All on a summer's day.
The Knave of Hearts,
He stole the tarts
And took them clean away.
The King of Hearts,
Called for the tarts
And beat the Knave full sore.
The Knave of Hearts
Brought back the tarts
And vowed he'd steal no more.
Book Basket
The Very Quiet Cricket by Eric Carle
Little Quack by Lauren Thompson
The Random House Book of Mother Goose ("Queen of Hearts" pg. 74)
Shopping List
fabric scraps

glue

ingredients for Queen of Heart Tarts