Friday is here and so is your fifth installment for preschool activity bags.
This activity introduces simple graphing skills as well as visual discrimination skills. It also helps your little student understand that one color comes in a variety of shades. An older student could even put the chips in order based on gradation (from the lightest shade to the darkest shade).
Supplies Needed:
paint chip cards- the ladder kind are the best size for this (you will need cards for pink, orange, green, blue, and yellow; you will need FIVE different shades for each). If you choose the ladder kind of cards, you will only need 5-10 cards.
color graph printed on cardstock (laminate for durability, if desired)
Shades of Color Preschool Busy Bag Assembly:
1. Print the graph.
2. Cut it out so it will easily slide into your Ziploc bag.
3. Cut paint chips down to size so they will fit on the graph.
4. Laminate the chips, if desired.
5. Add small magnet pieces to the backs of the chips, if you like. I do this so that my son can place the graph on a cookie sheet and then add the chips. They "stick" which makes it a little bit more fun (and less frustrating) for my son.
6. Put everything (25 paint chips and graph) in your Ziploc bag and attach label with packing tape.
Shades of Color Busy Bag Option:
If you would like to choose your own five colors for this activity, you can download this free customizable template and type in the color names you would prefer. You will need to save it to your computer before you can customize it.
Shades of Color Custom Graph Template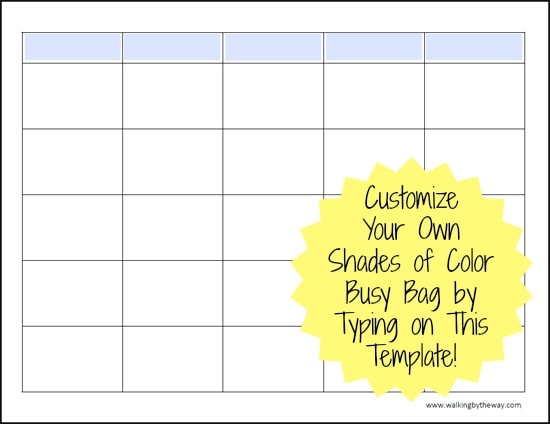 Looking for more ideas? You can find all of my Preschool Activity Bag ideas here on the blog, and you can also check out my Pinterest Board.