Our co-op decided to have a geography fair this year. We wanted to give family & friends a chance to see some of the work our students do; we also wanted to give our students a chance to shine.
When I asked Elijah what country he wanted to do, he was insistent on Canada. I offered a dozen other suggestions to try to change his mind. It didn't work. He was stuck on Canada, and I decided to back off and let the boy go with his own interest.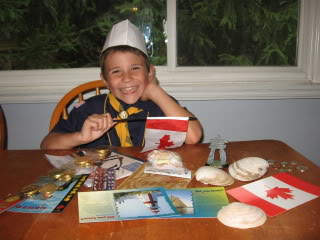 On online homeschooling friend from Nova Scotia graciously sent us a package of goodies from Canada. Elijah was SO excited when it came. It was jam-packed full of stuff that we were able to use for his Canada display! A huge thanks to Jen for helping out a little boy who wanted to learn about her country.