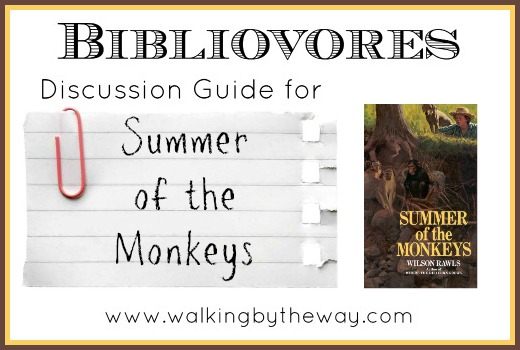 Our fifth book for our Bibliovores Class was Summer of the Monkeys by Wilson Rawls.
Reactions
​Pass out small papers and let students write one of the following on the paper: love it, like it, hate it. Collect and tally the vote on the board. Voting with the papers allows shy students to stay anonymous yet give their true opinions.
Discussion Questions
1. After reading about growing up in the 1800s in Oklahoma, would you rather live in rural Oklahoma or at your current location? Would you rather live in the 1800s or in the present day? Why?
2. What were the various plans to catch the monkeys? Did you think any of them were going to work? What would you do?
3. What did you think each family wished for when they stepped inside the fairy ring?
4. Was the ending of the book satisfying? Why or why not? Did the ending make Jay Berry's sacrifice seem like less than it was?
5. Why didn't Jay's grandpa directly tell Jay to give the money to Daisy for her operation?
6. Read Papa's advice:
"I believe a boy can have anything in life that he wants once he starts working for it. The main thing is not to give up. It makes no difference how tough things get just bow your back, keep working, and put your heart and soul into it. You go along your way, live a good clean life, don't hurt anyone or anything, and always be honest."
Would you add anything to Papa's advice? If so, what?
Literary Device: Simile
Review simile with your students (a comparison using like or as).
Wilson Rawls is such a fantastic writer; he incorporates many similes into the text and uses them to paint pictures for the reader. Review some of these with your students and discuss the richness similes bring to writing.
It made me feel as big as those Ozark Mountains around our log house

Something that felt like a thousand-legged centipede jiggled its way up my spine

My throat got as dry as the ashes under Mama's old washpot

His eyes were as blue as a robin's egg.

Swimming like a muskrat

(referring to how skinny Jay Berry is) You look like a fishing pole

I perked up like our old hens did when a chicken hawk came flying around

Every nerve in my body was twanging like the "e" string on a fiddler's fiddle

It was starched as stiff as a gingerbread man

My head felt as big as a wagon wheel

I saw that my hands were so wet with sweat they looked like they did when I washed dishes for mom

I had never been in a place that was as still as it was in that library. If someone had batted an eye it would have sounded like a fire cracker went off.

She wouldn't say a word; just stare at me with her mouth clamped shut as tight as a snapping turtle.
Do your students notice anything about the similes? Rawls incorporates objects (Ozark Mountains, fishing pole, chicken hawk, wagon wheel, fiddle, etc.) that reinforce the setting of the story (Oklahoma in the 1800s).
Literary Device: Allusion
An allusion is a figure of speech that makes a reference to a place, person, or something that happened. This can be real or imaginary and may refer to anything, including paintings, opera, folk lore, mythical figures, or religious manuscripts.
Jay Berry and Daisy make references to characters from literature and history.
Jack and the Beanstalk

She was a twin sister to the cow that jumped over the moon

Jesus walking on the water

Thor (lightning god)
Can your students remember any of them? What does this tell you about Jay and Daisy?
Fun with Idioms
Since the monkeys in this book were such characters, I decided to introduce the students to some monkey idioms. An idiom is an expression that cannot be understood from the meanings of its separate words but must be learned as a whole. The English language has a slew of monkey idioms. Here are a few examples: a barrel of monkeys, monkey business, monkey suit, and monkey wrench.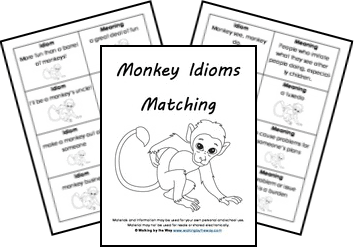 Print one copy of this file for every two students in your class. Cut apart the cards and give them to paired students for a matching activity.