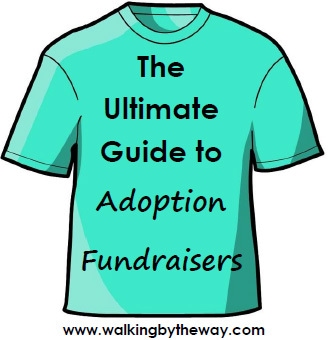 When I started looking for fundraising ideas last spring, I dreamed of bumping into a list like this. Now that I've baked hundreds of giant cookies, sold fair trade jewelry from around the globe, had the largest garage sale in the history of the world (that may or may not be a slight exaggeration), and spent hours scouring Google for good ideas, I feel qualified to make this ultimate list of adoption fundraisers.
Food, Food, Food



Cake Pops
This mom sold cake pops and she gave classes on how to make cake pops. Two ways to earn money for adoption!
Chicken and Noodle Dinner
Cookie Dough!

My sweet friend, Jen, did this for our family to raise funds for our adoption.
Equal Exchange

~ Fair Trade Chocolate, Coffee, Cocoa, and Tea; they do work with adoptive families–just send them an email!
Restaurant Fundraisers
Check your local restaurants to see if they will let you work the clean-up crew for one evening and collect a percentage of the sales.
The Matthews Family had fundraisers at The Pizza Ranch.
This family, who adopted two children from Congo, had fundraisers at Chick-fil-A
This family had a fundraiser at Orange Leaf.


Garage Sale



Giveaways and Auctions



Ask your boss if you can "auction" off a prime parking spot at work
Auction a picnic lunch for local friends (Facebook is a great place to do this!)
Auction homemade dinners for local friends (again, auction them off on Facebook)
Host a dessert auction; ask friends and family to donate their best home baked goods (You could compile the recipes and sell a cookbook at the auction!)
Dessert Auction Ideas
Online Auction
A HUGE auction put together by friends of the adopting family. You will probably be surprised at how many of your crafty family and friends will be willing to donate items to your raffle or auction. Just ask and see!

Another example: Handmade Auction


Homemade and Handmade
Adoptive families are creative and they make and sell just about anything and everything. There is something special about handmade items, so if you are crafty ———-> go for it!
Digitally Designed Valentine Cards (You can only see these if you have a Pinterest account as the original blog post has been removed.)
Soap by The Burgess Family
Note: Sometimes it can be expensive (too expensive) to set-up at a craft fair. Consider starting your own holiday market or summer fair. Secure a location that will donate their building and then find 15-30 vendors (however many will fit) to pay $25 each to be at the market. If you find 30, that's $750 for your fund PLUS whatever you make from your own booth. Make sure you advertise really well to make the event a grand success for all. Use social media to your advantage!
Note: A quick search on Pinterest will give you a bazillion more ideas for things you can make and sell for your adoption.


Jewelry and Pre-purchased Stuff
Delicate Fortress ~ jewelry, accessories, bags, bath & body products; learn more about fundraising here; up to 25% profit
Once Was Lost ~ fair trade jewelry, toys, and accessories; 50% commission
Zoe Clothing Company ~ friends and family order clothes from this online company and you make 25% profit for your adoption fund; learn more about fundraising here


Marathons and Sporting Events

Cut-A-Thon (hair cuts!)
Find some stylists that want to help you out, plan a date, and go for it. Read about how the Hogeland's used "Hope Cuts" to help fund their adoption ($2,600!).
Scrap-A-Thon (Crop 'Til You Drop)
Host a scrapbooking party that lasts all day! Charge a set amount for each attendee. Invite a Stampin' Up consultant or a Creative Memories consultant to demostrate new techniques. Solicit door prizes from friends; have plenty of snacks or ask each attendee to bring one.
Skate-A-Thon
Organize an event at your local roller rink. This would be a good event for kids who want to have a part in helping your adoption. They need to get sponsors and then skate, skate, skate!

As a twist on this, you could ask your local rink to donate a day. Then have a skating party and charge admission to raise funds for your adoption.
Family Fun Day or Family Fun Night
Ask a local bowling alley or mini-golf course to donate a day to your cause. You could also create your own family fun time at a church (popcorn and a family friend movie; board games to play; lots of fun snacks).

If you are really ambitious and if you have the support of lots of local friends, hold a carnival with a duck pond, dunk tank, cake walk, and other fun games with prizes. Be sure to have a concession stand at the carnival, too!

Here is the Hogeland family's blurb about their Memorial Day Weekend Family Fun Day.

One family even chose to do a Barn Dance! Another idea is Karoke Night.
Other creative ideas: Dance-A-Thon, Dribble-A-Thon, Shoot-A-Thon, Swim-A-Thon, Hula-hoop-A-Thon . . . any A-Thon you can think of!


Services To Provide



Both Hands Fundraiser
This is an awesome opportunity to serve widows and advocate for orphans at the same time!

Gift Wrapping


Ask permission to set up a booth at a mall during the holiday season, enlist some friends to help, and take donations for gift wrapping.


T-Shirts



Chrome Buffalo ~ choose a shirt design, sign-up for a ten day drive, and make $11 from each shirt you sell.
Design Your Own!




One way to offset the cost and make more money is to ask businesses to sponsor a spot on the back of the shirt.
Zoe Clothing Company

~ friends and family order clothes from this online company and you make 25% profit for your adoption fund; learn more about fundraising

here
You could also choose to

sell totes

instead of tees!


Other Creative Ideas

Beard for Glory
So unique; be inspired! What creative idea can you concoct?
Cha-ching for Ting
This family made banks out of glass jars. Inside the jars they tucked a note of explanation and some chocolate hugs & kisses. Families who took the jars threw all their spare change inside.
Cook Books
The Curtis Family is selling a Coming Home Cook Book filled with adoption stories and favorite ethnic recipes!


No Risk Opportunities

Sometimes you don't have a lot of money to invest to get a fundraiser going. This list is for you! The following fundraisers are NO RISK.
Both Hands (see video in Services to Provide section)
Give One, Save One ~ each week they feature different families adopting, asking their readers to give $1 to the family. You can contact them if you would like to be a featured family.
Hope Suds
Hope Suds features one adoptive family per month and gives them 50% of the proceeds from each bag of soap sold! Apply to become a Hope Suds Family.
Just Love Coffee ~ learn more about fundraising here; feel free to order something from our shop!

She Does Justice ~ This is an affiliate opportunity. Put a button on the sidebar of your blog. If anyone purchases through your link, you will receive 25% commission on that sale.
Shoot My Kids! ~ every time you refer a mom who attends a Shoot My Kids! workshop, you receive $25 for your adoption; you do not have to be local as she offers online web-based workshops. Fundraising information here.
See Restaurant Fundraisers (in the Food, Food, Food section)
Zoe Clothing Company

~ friends and family order clothes from this online company and you make 25% profit for your adoption fund; learn more about fundraising

here


Fundraisers that help TWO causes at one time

Lots of our fundraisers (Apparent Project, Kwagala Project, and Threads of Hope) were win-win fundraisers. They are the best. People love to support a good cause (I sure do), and people doubly love to support two good causes. Most of these are already mentioned throughout the post, but I wanted to compile them in one place for those of you who love the win-win fundraisers!
The Apparent Project

(paper bead bracelets from Haiti);

read

my blog post

about this fundraiser


cause you are helping: Haitan artisans ~ education, housing, help taking care of their children
Both Hands (see video in Services to Provide section)


c

ause you are helping:

widows and orphans
Delicate Fortress ~ jewelry, accessories, bags, bath & body products from around the world; learn more about fundraising here


c

ause you are helping: survivors of human trafficking, modern day slavery, extreme poverty, and exploitation
Forget Us Not ~ keyfobs, camera strap covers; fundraising information here
cause you are helping: 50% of the profit goes to establishing sewing centers in Kenya & Uganda
KHMERkrafts ~ purses from Cambodia; learn more about fundraising here
cause you are helping: at-risk young women in Cambodia
Threads of Hope ~ learn more about fundraising here
cause you are helping: Filipino artisans provide for their families


Direct Sales



Locate a friend who sells

Usborne,

Pampered Chef, Tastefully Simple

, etc. and a

sk them if they would support your adoption by donating commission from a party (one that you host!) to your fund.
Anne is a Thirty-One consultant, and she is willing to give 100% of her commission to your adoption fund.

​



Michelle with Usborne Books will give you 100% of her commission for your adoption fund if you host a party with her.


Look how the Walser Family took this idea to the next level with their

Vendor Blender!


Have you done or are you doing a fundraiser that isn't on the list?
I'd love to add it! Please leave a comment.