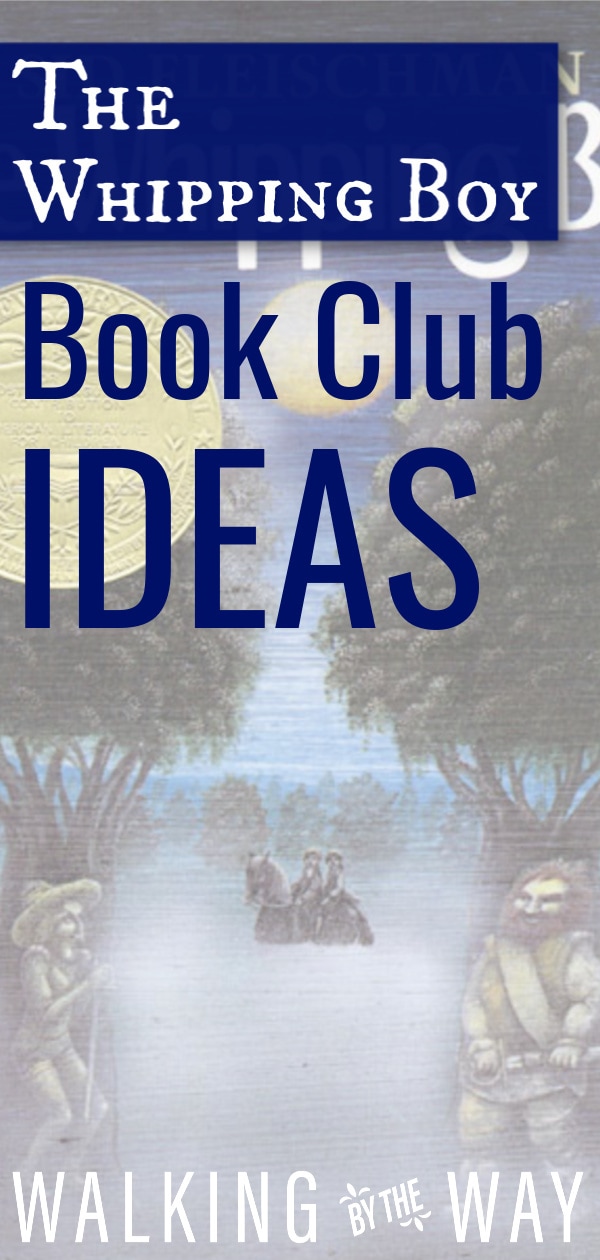 This The Whipping Boy book club was for 3rd-5th grades.
My goal for this age group is to give them a book based experience while lightly learning literature concepts.
Discuss Setting
The first thing we did was discuss setting. I gave the kids a quick description of what setting is.
The setting of a piece of literature is the time and place in which the story takes place. The definition of setting can also include social statuses, weather, historical period, and details about immediate surroundings.
We determined the setting for The Whipping Boy was the Middle Ages (a historical period).
I asked the kids to look through the illustrations in The Whipping Boy to pick out details about the Middle Ages. They did a great job with this! Each child found at least one detail. They mentioned the clothing worn by characters, the furniture in the houses, the prince/king (feudal system in the Middle Ages), the quill as a writing utensil, and the food.
Make and Bake Apple Tarts
We glanced through A Medieval Feast by Avi to continue our discussion about food. This book is fascinating: black birds flying out of pies and peacock feathers as a garnish!
You can do so much with this book and food. If you have the resources and energy, I highly recommend creating a Medieval Feast for your book club kids. You could include:
Meat Pies (pot pie)
Fruit Tarts
Herring (tinned herring is sold at many grocery stores)
Crusty Bread (loaf of French bread)
Hot Potatoes
Warm Milk (serve hot vanilla)
Roasted Pheasant (rotisserie chicken)
I did not have time to pull together a mini-feast, so we made apple tarts.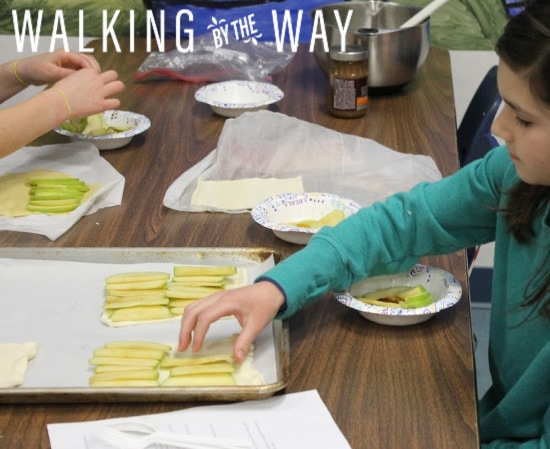 We used an apple tart recipe that called for puffed pastry. It was so easy. And so delicious! While the tart was baking, we continued with our activities.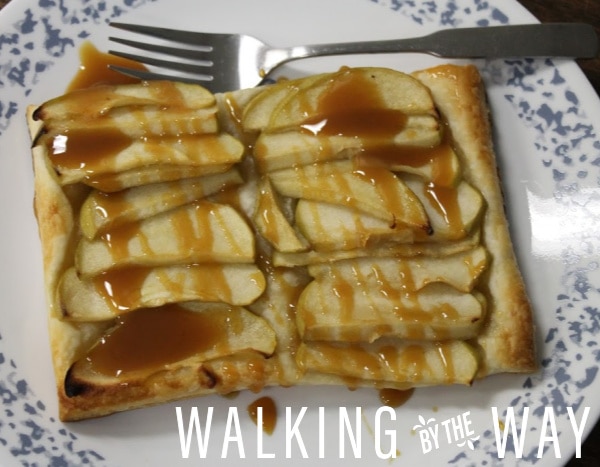 Notes: I pre-cut the apples and added the lemon to make things go a little bit faster. You will probably need 1 apple tart recipe for every four students.
Writing with Quills
We revisited the illustration with Gemmy writing the ransom letter. We also talked a bit about Prince Brat and how he squandered his education–he couldn't even write his own name!
Before book club, I printed a page for each student with his or her name in an Old English-ish font.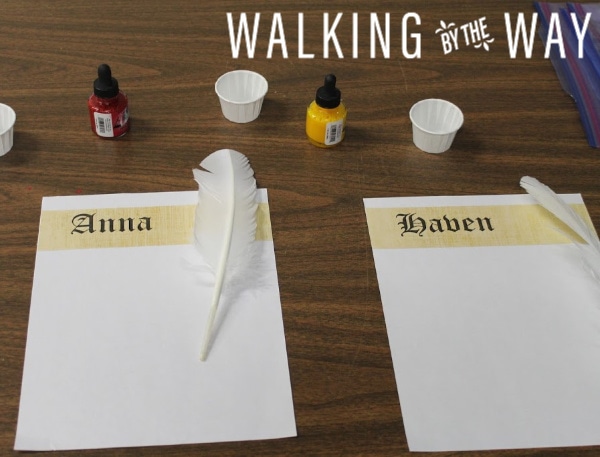 We cut quill feathers at an angle and students used ink to try writing their names.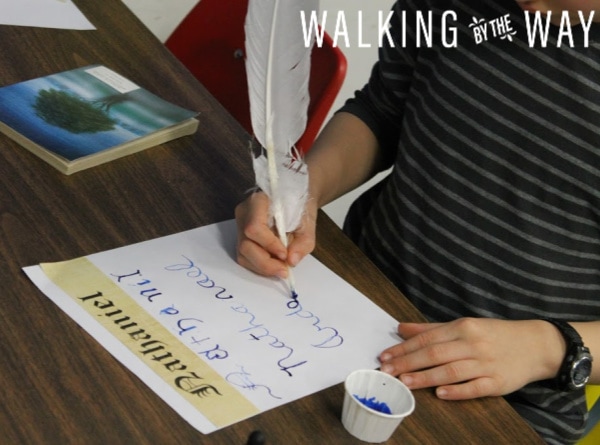 Crowns and Characters
I wanted to discuss the characters in this book with the kids, but I also wanted to do a simple craft, so I combined the two ideas.
We started with a discussion of Hold-Your-Nose-Billy. I had herring and garlic in a brown bag and let students smell the smell! WOO-WEE! Stinky.
Then I gave the students crowns.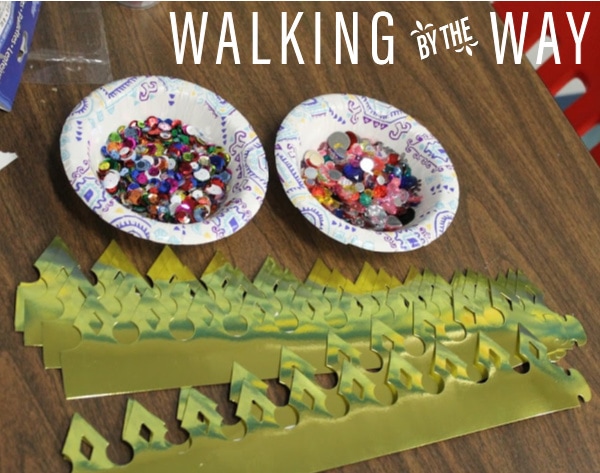 I told them they had to "earn" jewels. Each time one of the kids told me a character trait of Prince Brat or Gemmy, they received a gem. This worked really well!
After everyone had lots of jewels, the kids glued them to their crowns!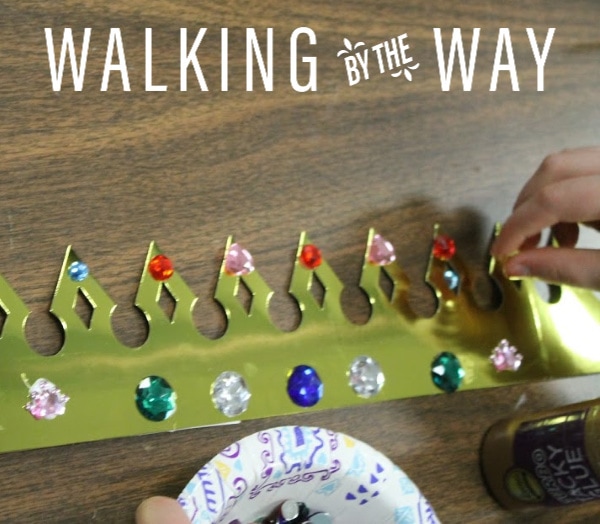 Wrap-Up
After the crowns were complete, we put the final touch (the caramel sauce!) on our tarts and devoured them. While we were eating, I wanted to include a final discussion question.
I read the end note to the kids, and I asked them what they thought about whipping boys being real individuals. Would they want a personal whipping boy to take their punishments for them?
Supply List
If you'd like to have a similar book club, here is a supply list cheat sheet!
Apple Tart:
3 Granny Smith Apples
1 Lemon
1 whole sheet puffed pastry, cut in four pieces
1 cup brown sugar (you can use a lot less)
1 jar of caramel sauce
parchment paper
mixing bowl, mixing spoon
cookie sheet
Writing Activity:
quill feathers (easily found at Hobby Lobby)
ink (or food coloring with a wee bit of water mixed in to use as "ink")
paper (or papers printed ahead of time with student names)
Crown Craft:
crowns
gemstones
glue