**Update**
I plugged in the numbers at random.org and #3 is our winner. Congratulations, Judith! I will be emailing you.
I know it's taboo to blog about not blogging, but I do want you to know that I've been busy — new dog (a sweet St. Bernard/Boxer puppy), teaching a new round of co-op classes, starting a jewelry fundraiser, taking a trip to the Midwest Homeschool Convention, choosing new curriculum, starting our spring garden, and who knows what else!.
I'm coming back with a bang, though. A GIVEAWAY. Oooooh! I just love giveaways!
I'm going to give away one copy of The Whole Family Cookbook.
You will want this book if you can answer yes to any of the following:
1. You have kids.
2. Your kids like to cook.
3. Your kids like to eat.
4. You are trying to find ways to get your kids to eat a bit better.
5. You try to stick with whole foods.
6. You want tips about eating locally grown foods.
We tried out a recipe from the "Mom-Approved Treats" section of the book. It was delicious. And easy. Let's not forget the easy part. Did my kids like it? Well, the first proclamation was, "It tastes like lemonade and sunshine." I agreed.
I get to share this recipe with you today and that makes me happy because I love to share lemonade and sunshine.
Lemon Buttermilk Sherbet
You'll need
1 quart low-fat buttermilk
4 large lemons
1/2 cup sugar (I must admit . . . we added a generous 1/2 cup of sugar probably closer to 3/4 cup)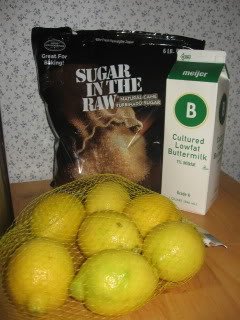 That's it. Really.
Directions
Before starting this recipe, make sure that the bowl for your ice cream maker is frozen (the book also includes ideas for what to do if you don't have an ice cream maker).
Measure the buttermilk and pour into a medium-sized measuring bowl.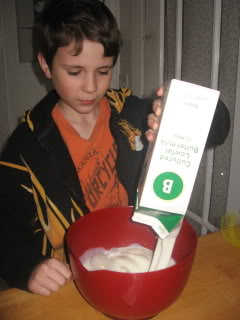 Zest the lemons and cut the zest into small pieces with a knife.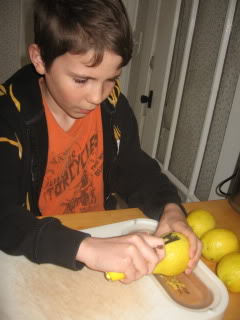 Cut the lemons in half.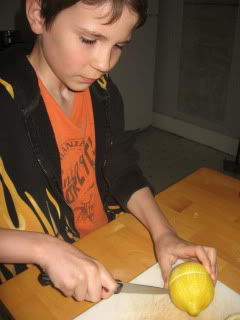 Juice the lemons and measure 1/2 cup juice. Be sure to pick out any stray seeds.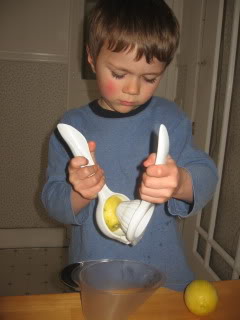 Pour the lemon juice into the buttermilk.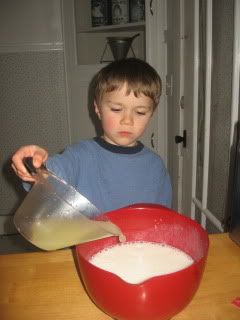 Measure sugar and add it to the lemon-buttermilk mixture. Refrigerate for 15 minutes, or until the mixture is very cold and the sugar dissolves. (We used a whisk to help the Sugar in the Raw along.)
Pour the cold mixture in to the frozen bowl of an ice-cream maker and process for 20 minutes, or according to the manufacturer's directions. (If you don't have an ice-cream maker, pour the mixture into a sturdy bowl or container and put it into the freezer.)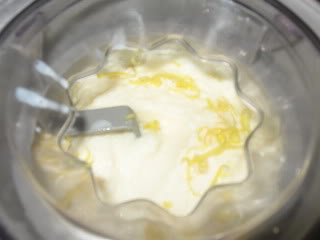 Note: We accidentally added the zest after the 20 minutes. In the original recipe, you add it at the end and give it a vigorous stir. I don't think it hurt the recipe, though.
Remove from the freezer and stir vigorously every 45 minutes, for up to 3 hours.

Um, yum! I even served it as a side dish for lunch.
I like this cookbook; it's going to get a workout here in our kitchen, for sure. There are some recipes I know we won't try, but there are plenty we can't wait to try!
Here's our list of must-try soon . . .
Mini Frittatas
Strawberry Yogurt Parfait
Banana Sunshine Smoothie
Corny Raspberry Muffins
Baked Apple Puff
There's Turkey in My Pocket
Salty Pretzel Pillows
Wish-for-a-Fish Pasta
Turkey Toes (!)
Kale Chips
Potato Latkes
Mediterranean Quinoa Salad
Oven Fried Zucchini Sticks
. . . and many more!
If you'd like a chance to win a copy of this cookbook, please post a comment. For an additional entry, please join Michelle's Facebook page and post that Walking by the Way sent you. Then come back here and let me know that you did that. I will post the winner on Tuesday, April 12th.
If you'd like to learn more about this book, you can find additional information at Michelle's website, What's Cooking With Kids. You will find her book, The Whole Family Cookbook, for sale at Amazon.com.