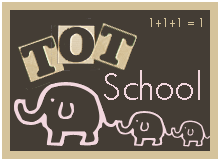 More workboxes. More fun. More memories with my tot!
Simon's "Sprinkles" Project


I put some contact paper and leftover hole punchings in a workbox. I had to open the contact paper for Simon, but he took over from there and made this "sprinkle" rectangle. He wanted it in Jason's Father's Day card (act surpised, honey!), so in it went!


I did the books in a box thing again. This is a series he has loved from the time he was just months old.

We also love Sandra Boynton. I found most of these at a second hand shop before Elijah was even born! They've been loved to death by both boys.


We read Who Said Red? together and then we went on a red hunt all over the house. Simon filled this workbox will all his red finds.


Another easy idea is to fill a box with fun foam scraps (cut into shapes) and let your tot take a glue stick and stick, stick, stick until everything is sticky he has a beautiful picture.


Elijah had a great clay experience this week and Simon wanted to tag along. Here are the eight snakes he made. I think he did great!

The tadpoles he has been caring for~


Simon never tires of painting


Here he is with his collection of "ships" (spaceships) that he made one day while I was working with big brother.