I originally wrote this post for Homeschool Share. Trying to clean up the site, and moving this one here.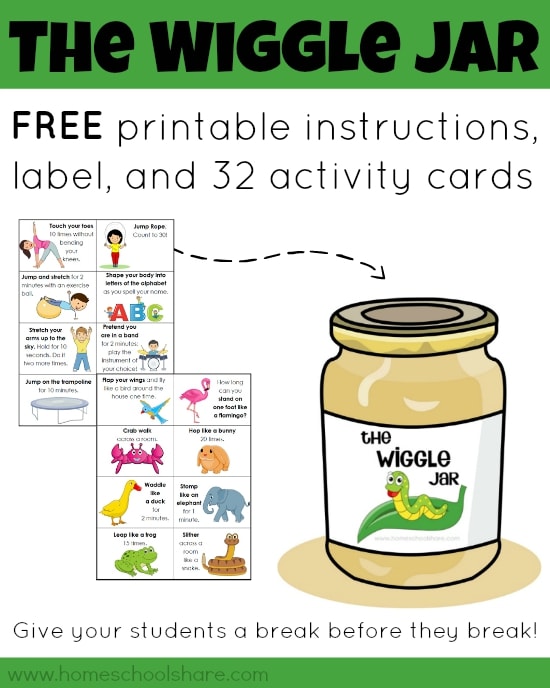 Sometimes in the middle of a four digit subtraction problem, I find one of my children on the verge of a brain meltdown–as in brain juice is starting to run out of his eyes, or leak out of his ears (or something like that).
I have learned to catch him pre-meltdown and ask him if he would like to ride his bike around the block or jump on the trampoline.
He has proven over and over that he does need physical movement in order to get his brain unstuck.
Other kids tend to have lots of wiggles they need to work out. And some tend to grow sluggish and slumpy (or grumpy!) by early afternoon.
My friends, Kelly and Candace, had similar students in their own homeschools.
After some discussion on the topic of kids who need to wiggle, I took Kelly and Candace's great ideas, combined them, and made 32 different activity cards for a Wiggle Jar.
Some of the ideas include:
toe touches
jumping rope
shape your body into the alphabet
stretch your arms
pretend you are in a band
flap your wings
stand like a flamingo
hop like a bunny
jog in place while you sing
Most of the ideas don't require any equipment, but some do. Here are the items needed:
jump rope
hula hoop
something to make a circle (you could use yarn, your hula hoop, or your jump rope)
You can use the free cards to create your own Wiggle Jar.
Whenever you find your student needing a break, bust out the Wiggle Jar.  I hope they will help your student through those brain meltdown moments.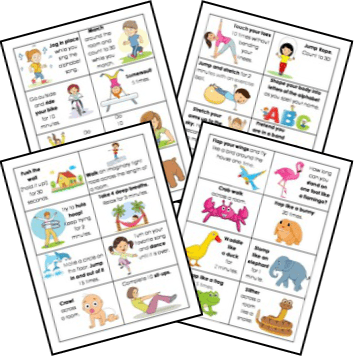 << Download Your Free Wiggle Jar Label and Activity Cards Here >>