Did you know you can build your student's creative writing skills long before he can write?
Creative writing doesn't happen without creative thinking. You can build your student's creative thinking skills by diving into wordless books.
Use this wordless book lesson plan to help your students strengthen their creative thinking which will help them to become better creative writers.
Wordless Book Lesson Plan
Journey, Quest, and Return by Aaron Becker are magically illustrated stories told without any words. They are perfect for activities that boost creative thinking.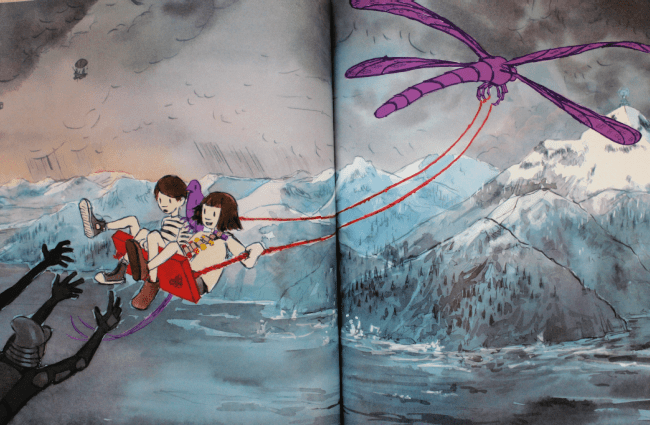 Follow these steps for the wordless book lesson plan:
Show student the cover of the book. Identify the name of the illustrator. Show students the inside title page. Discuss why illustrations are important to the story.
Explain to your students that some author/illustrators tell stories without any words! In a wordless book, the entire story is told through the pictures. Aaron Beck is one of these authors.
Before you adventure into the stories, use the printable questions (found in the file below) to prompt imaginative and creative thinking skills with your student. Answering the questions will help connect them to the book.
Some of the sample questions include:
What would you draw with a magical red crayon?
If you opened a door to a new land, where would you be?
You are on an amazing flying ship, who owns it?
Wordless Book Activity Instructions
The questions for this activity will help spark your student's imagination. Here are simple instructions for using the cards.
Print the pages on cardstock.
Cut apart the cards.
Place the cards in a stack.
Take turns drawing cards and asking one another the questions.
Encourage your student to turn on his creative thinking cap. Being able to think creatively is the first step in being able to write creatively.
<< Download the Wordless Book Activity: Questions to Spark Imagination >>
Creative Writing Extension
The illustrations in Journey, Quest, and Return are rich. The pictures may inspire your student to write a story. If your student is able, let her go for it.
If she needs help, let her dictate the story to you while you type for her. This is an activity I used frequently with my boys, and it helped them to develop great story writing skills.
If you have already introduced the basic elements of a story, use these wordless books to review:
What is the title? How does the title make sense for this story?
What is the setting?
Who are the characters?
What is the conflict?
What is the solution?
More Creative Writing Lessons
If your student is ready for more, try these creative writing lessons and activities.
Your student may also enjoy another lesson from a picture book, Teach Parts of a Story.