The other day I noticed Simon snuggled in on the couch reading another fantasy book. Reading the same genre is okay. Really. But I want my kids to at least take a bite of books from other categories.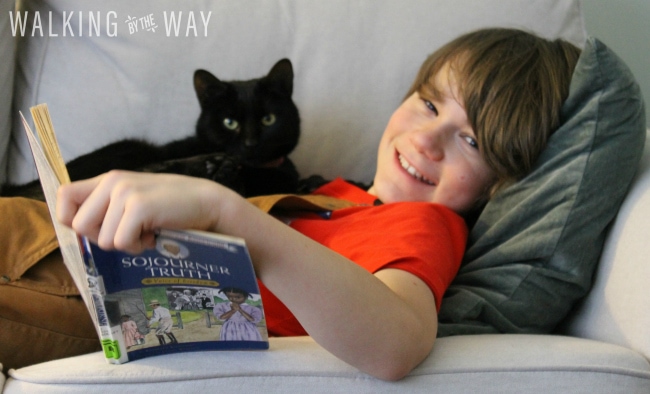 I remember creating some book challenges for Elijah after he had read about fifteen-million mystery books. The trick worked–he began reading many different genres. Although he is a big fan of fiction, he'll read just about anything I throw at him.
Simon is a good sport, too, and a bit competitive, so I decided to give him a challenge he wouldn't be able to resist: Read 25 biographies.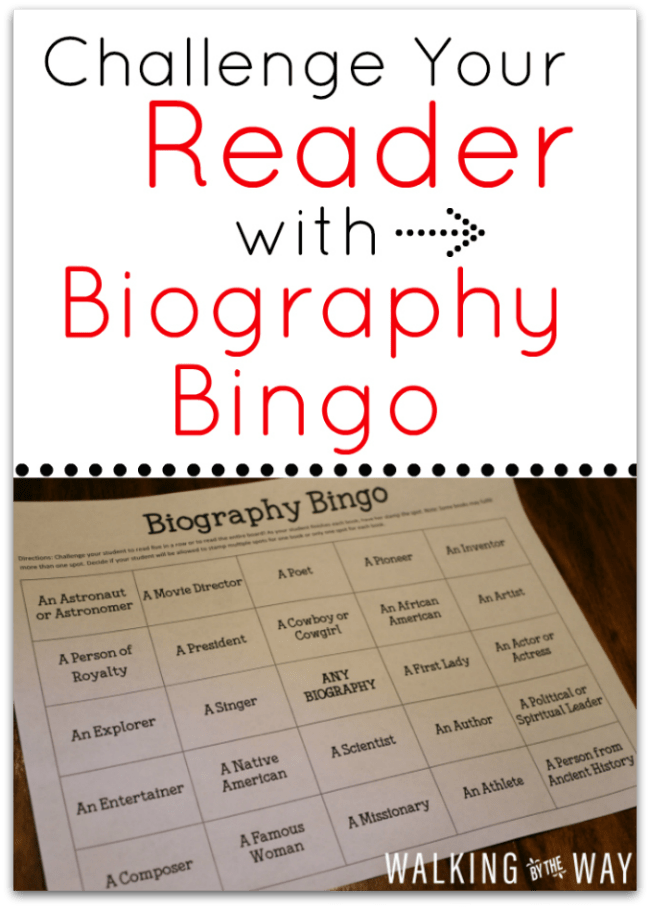 This challenge comes in the form of a reading bingo game.
How Biography Bingo Works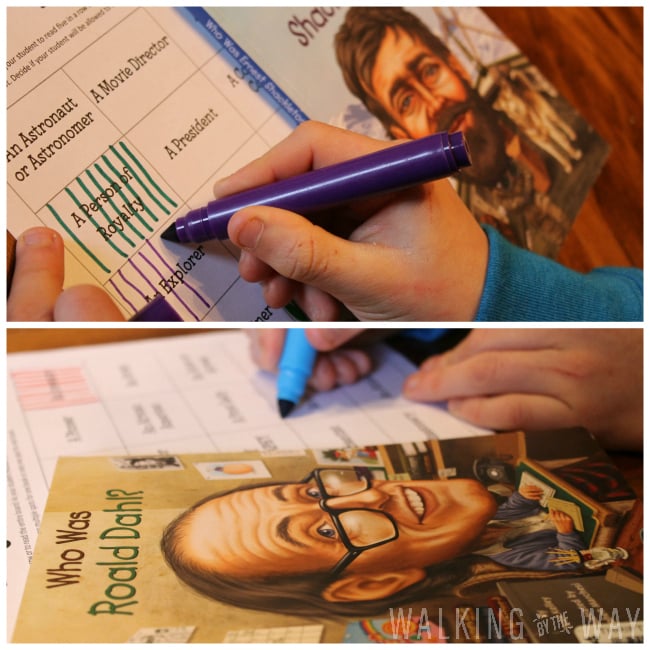 Print the Biography Bingo Board
Determine if you will give your student a prize for his work.
Let your student decide if he wants to read five in a row (a traditional bingo), or if he wants to accept the challenge of reading the entire board.
Go to the library and get some books!
Have your student mark them off as he reads. You can be fancy and use a bingo marker, but we just used plain-old-markers because we aren't fancy.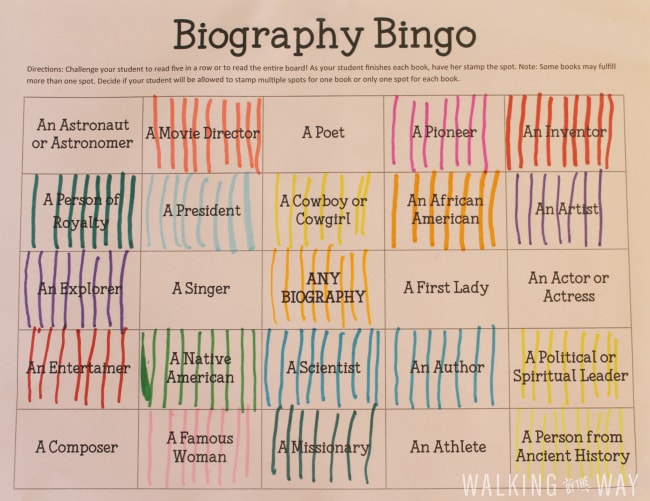 Our Favorite Biography Series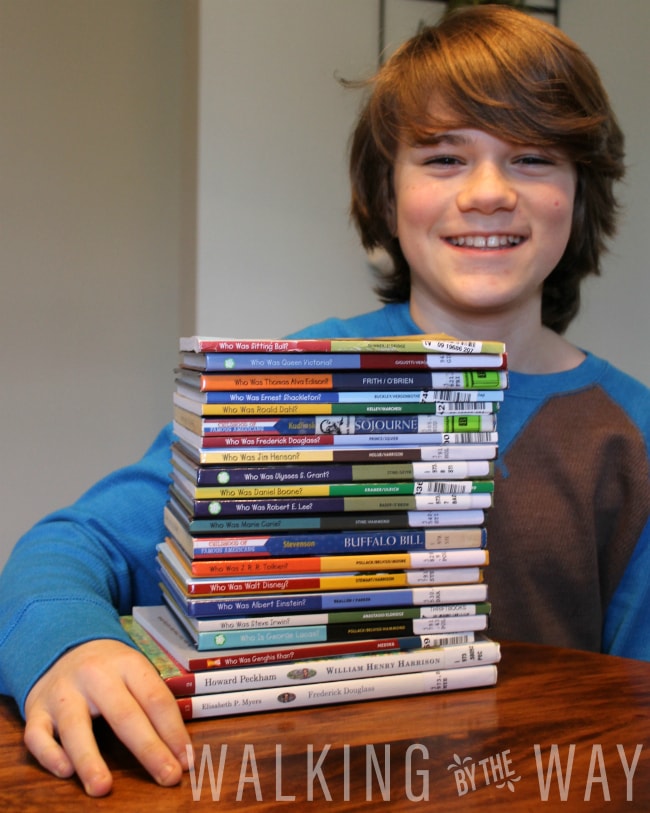 Through the years my voracious readers have read a lot of biographies. These series have stood out above the rest, and you will be able to find options for every category if you use these series:
Biography Bingo Book Suggestions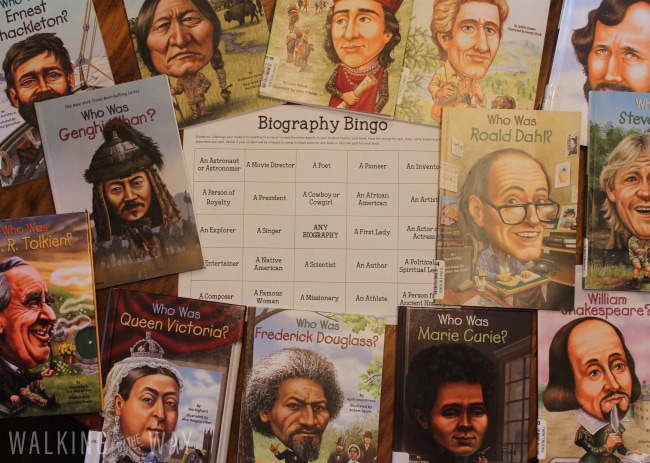 Here are some suggestions for your student for his bingo board:
Astronaut or Astronomer: Neil Armstrong, Maria Mitchell, Galileo, John Glenn
Person of Royalty: Princess Diana, Queen Victoria, Henry VIII, Marie Antoinette
Explorer: Leif Erikson, Ernest Shackleton
Entertainer: Harry Houdini, Jim Henson, Ray Charles, Louis Armstrong, Charlie Chaplin
Composer: Mozart, George Gershwin
Movie Director: George Lucas, Alfred Hitchcock
President: Thomas Jefferson, Harry Truman, William Henry Harrison, Andrew Jackson
Singer: Mahalia Jackson, The Beatles, Elvis Presley
Native American: Sacagawea, Geronimo
Famous Woman: Amelia Earhart, Anne Frank, Helen Keller, Clara Barton
Poet: James Whitcomb Riley, Langston Hughes, Maya Angelou
Cowboy or Cowgirl: Annie Oakley, Buffalo Bill
Scientist: Albert Einstein, John Audubon, Jane Goodall, Marie Curie, George Washington Carver
Missionary: Mother Teresa (or any from the YWAM series)
Pioneer: Laura Ingalls Wilder, Daniel Boone
African American: Harriet Tubman, Phillis Wheatley
First Lady: Martha Washington, Eleanor Roosevelt, Abigail Adams
Author: Maurice Sendak, Louisa May Alcott, Mark Twain, Jane Austen
Athlete: Jesse Owens, Wilma Rudolph, Pele
Inventor: Ben Franklin, Alexander Graham Bell, Thomas Edison
Artist: Leonardo da Vinci, Claude Monet, Pablo Picasso, Andy Warhol
Actor or Actress: Christopher Reeve, William Shakespeare, Lucille Ball
Political or Spiritual Leader: Ghandi, Pope Francis, Winston Churchill
Person from Ancient History: King Tut, Julius Caesar, Alexander the Great
Simon hasn't finished the challenge yet, but he has read oodles of biographies, and he's still interested in reading more! He snuck in a fantasy book today (Twenty Thousand Leagues Under the Sea), but I don't mind one bit.
Happy Reading!