Though he contributed to The Elements of Style and The New Yorker magazine, Elwyn Brooks (E. B.) White is most well known for his children's books: Stuart Little, The Trumpet of the Swan, and my favorite, Charlotte's Web.
Because of my sheer love for the pig and spider, I'm offering a free copywork packet of quotes from Charlotte's Web.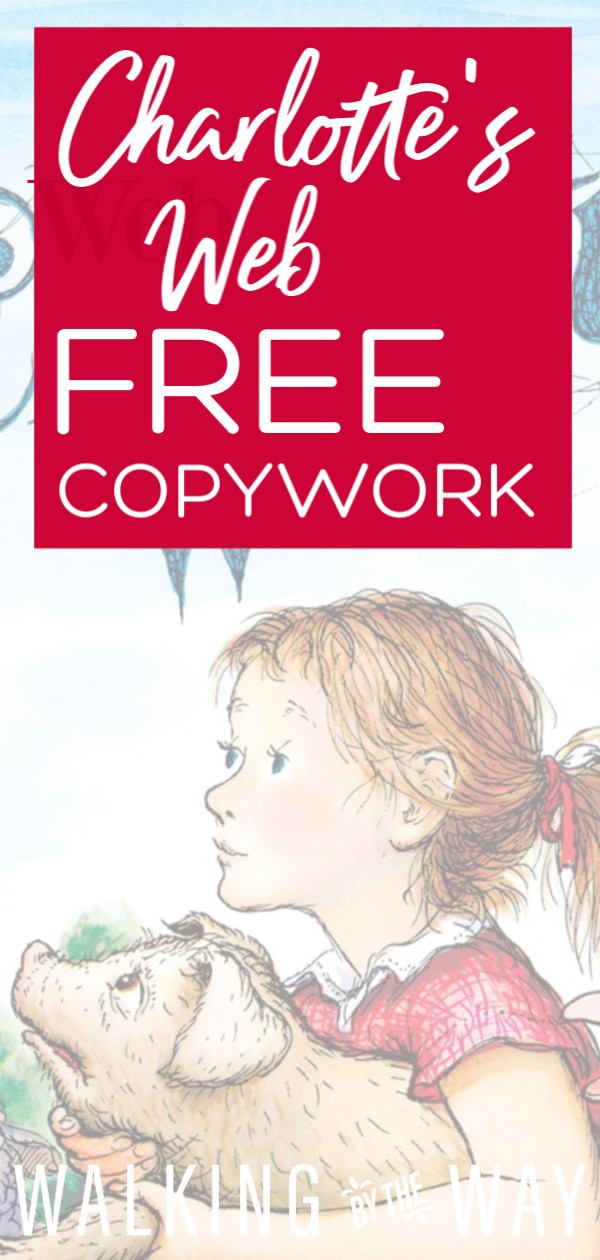 The language and the ideas in Charlotte's Web are rich and well-suited for a read aloud.
If you haven't read this classic with your student, I encourage you to do that and then give her the Charlotte's Web Copywork to work through.
What's Included in the Charlotte's Web Copywork?
The printable file contains eight pages of copywork for your student.
Each page includes 1-2 copywork exercises with quotes from the classic story:
The early summer days on a farm are the happiest and fairest days of the year. Lilacs bloom and make the air sweet, and then fade. Apple blossoms come with the lilacs, and the bees visit around among the apple trees. The days grow warm and soft.
On foggy mornings, Charlotte's web was truly a thing of beauty. This morning each thin strand was decorated with dozens of tiny beads of water. The web glistened in the light and made a pattern of loveliness and mystery, like a delicate veil.
Every day Wilbur would stand and look at the torn, empty web, and a lump would come to his throat. No one had ever had such a friend—so affectionate, so loyal, and so skillful.
As time went on, and the months and years came and went, he was never without friends . . . Charlotte's children and grandchildren and great grandchildren, year after year, lived in the doorway.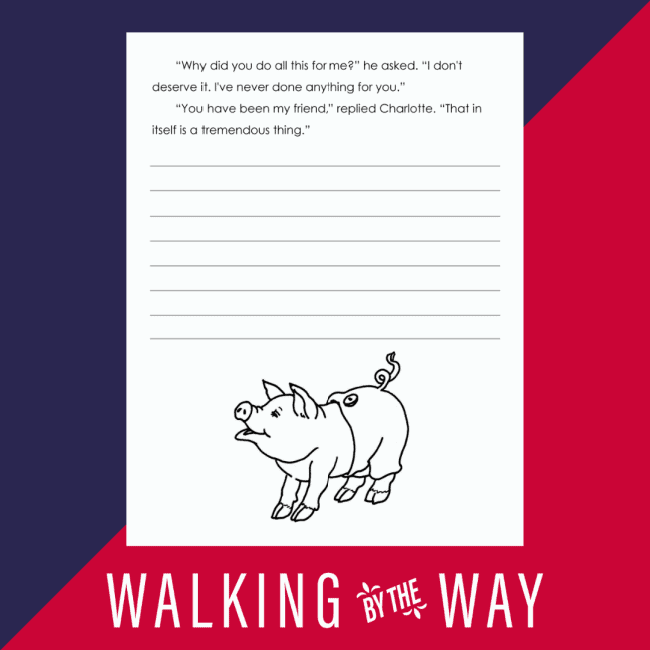 How to Use the Charlotte's Web Copywork
Print the pages.
Before your student starts, read the quote together and discuss it.
Ask your student to complete one copywork exercise each day. If desired, color the images on the pages.
When your student finishes the entire printable pack, consider binding it or adding it to a folder for a finished portfolio of copywork.
Get Your Free Set of Copywork Printables
Subscribe to the newsletter using the form below to receive your free set of copywork pages. You will need to confirm your subscription and then the printable file will be sent directly to your email.
More Free Copywork Pages
If you are looking for more copywork, be sure to check out my FREE Copywork Pages for Your Homeschool.