First graders have big ideas. Great ideas. But sometimes they struggle to get those ideas from their heads to their pens to their papers. Writing is hard work.
Make creative writing for Grade 1 easier with this Imaginary Animal Writing Activity.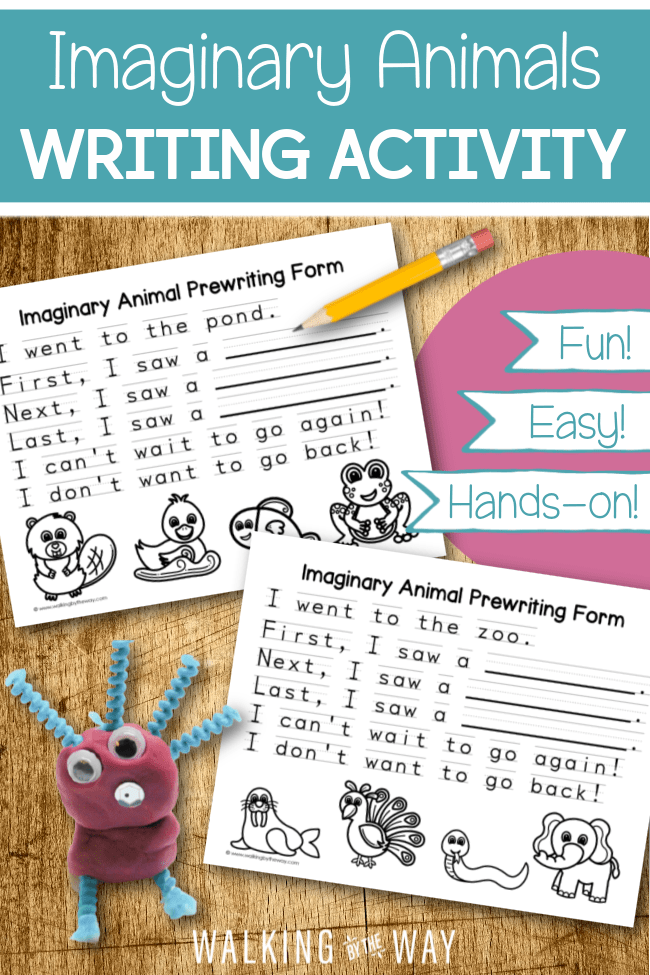 Your student will fill in the form and then publish their paragraph on their own paper.
Creative Writing for Grade 1 Lesson Preparation
Choose Prewriting Sheets
To prepare for the lesson, choose one of the pre-writing sheets for your class.
You can choose from five different settings:
If you wanted, you could print a variety of pre-writing pages and let your students choose which setting they want.
Gather Materials
You will want to choose a picture book about imaginary animals for this lesson. You should choose There's a Wocket in My Pocket by Dr. Seuss, Dr. Seuss' ABC, or another book with a variety of imaginary animals.
You will also need to gather some playdough, google eyes, and pipe cleaners. Sequins and feathers would be fun additions, but you don't have to have them.
Creative Writing for Grade 1 Lesson Plan
1. Read and Discuss a Picture Book
At the start of this lesson, choose a picture book to read that includes fun, imaginary creatures.
Discuss the wild and wacky creatures named and pictured throughout the story. Which ones do your students remember? Which names are their favorites?
Continue the discussion by asking your students if they have ever been to the zoo (farm, pond, park, or beach)? What animals did they see?
If your students could invent animals, what would they be? What would they look like? Encourage students to combine two animals and make them into one animal. For instance, what if you combined a hippo and a bird? Would it be a Flying Hippo? A Flippo?
Ask your students engaging questions and generate as many ideas as possible.
2. Create Imaginary Animals with Playdough and Accessories
Give your students playdough, googly eyes, and pipe cleaners. Let your students create imaginary animals.
If you want to be fancy, you can give students feathers and sequins (scales), too.
After students are done constructing their animals, if time permits, let them show and tell their creations to the class.

**Instead of playdough you could use Sculpey Clay if you want to bake their final creations.
3. Demonstrate How to Complete the Imaginary Animal Prewriting Form
Model for your students how to complete the form from start to finish. Modeling is extremely important for young writers, and it is okay if your student swipes a few of your ideas.
Emphasize the sentence choice at the end. Will your student want to go back, or is that zoo too strange?
4. Instruct Your Student to Complete the Prewriting Page
Your student will use creative thinking to invent three imaginary animals, creatures, or objects and name them. Remind your student that they can spell the animal names ANY way they want because they are creating them. This will remove the spelling pressure that kids often feel.
Remind your students that they have a choice at the end. Encourage them to circle their final sentence answers so that they won't get confused when they write their final copies.
You may want to explain to your students when to use a and when to use an. If their animals begin with a vowel, they will need an instead of a.
5. Students Will Compose Final Draft Paragraphs
Students will take their pre-writing pages and copy them on to the their own paper to compose their final drafts.
Final Draft Sample:
I went to the zoo. First, I saw a flying splizard. Next, I saw a purple birdle. Last, I saw an allipotamus. I can't wait to go again!
Download Your Imaginary Animal Writing Forms
Click on the link below to snag your free writing forms.
<< Imaginary Animals Writing Forms >>
More Creative Writing for Grade 1
Are you looking for additional creative writing lessons and activities for Grade 1? Try some of these writing activities:
Dialogue Dice Game
Try a dice writing game: I Want My Hat Back Writing Game
Build and Write Silly Alphabet Sentences
Check out this interactive writing activity from the Tip-Top Printables Shop.