Going from Thanksgiving to Christmas can be awkward in our culture. We have an amazing day of food and family and being thankful; followed up by a day of crazy shopping and ads that cry, "More, more, more!"
I'm not saying crazy shopping is wrong; I just wish that we could embrace the gratitude from Thanksgiving and live it in every day instead of jumping straight into the holiday of give me-give me.
This set of free printable Christmas thank you cards can help you cultivate more thanksgiving. Writing a thank you note will encourage your child to continually be thankful–even in the midst of the hustle and bustle that is Christmas.
Use the cards to thank friends and family members for the holiday gifts they gave.
What's Included in the Free Christmas Thank You Notes?
The printable cards in the file include four different options for you to choose from. Choose the option that best suits the needs of your kids.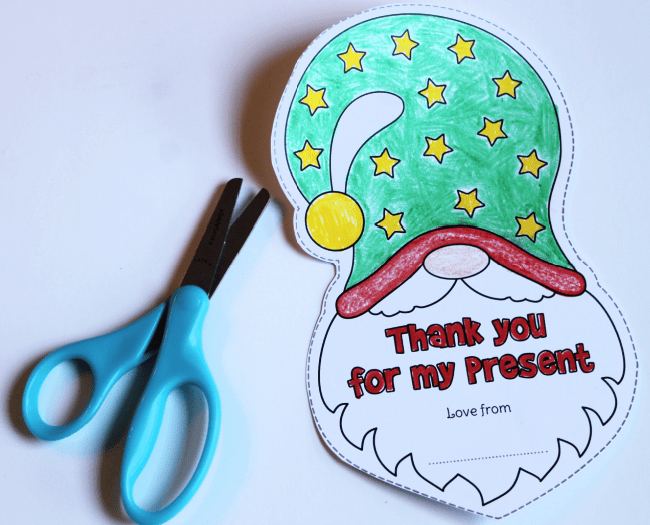 Option #1: Color the holiday gnome and add your name. This is the best option for a younger child.
Option #2: Color the gnome and add the recipient's name, what you are thankful for, and your name.
Option #3: Color the gnome and write your own letter of thanks on the blank lines provided.
Option #4: Color the gnome, design a pattern for its hat, and write your own letter of thanks on the lines provided.
Option #5: Blank gnome is provided (no lines) for the student to color, design a hat, and write whatever is desired in the blank areas.
This option is wonderful for a student who likes to craft and create a unique design and unique wording on the card.
The file also includes a word bank to help your student with spelling words and generating ideas for the card.
How to Use the Christmas Thank You Cards
The free printable cards are super simple to use.
Choose one of the writing templates and print it on cardstock.
Brainstorm with your student. Who gave your student a gift? Why does your student like it? Look at the word bank for additional ideas.
If your student is using an option with writing lines, have your student practice what to write on a piece of paper. Check your student's work for spelling and capitalization. Have your student copy the work onto the writing template.
Color the template and cut around the gnome shape.
Download Your Free Printable Christmas Thank You Cards
Simply click on the link below to snag your set of free printable Christmas thank you cards. Your kids will love creating notes for the people who gave them holiday gifts!
<<< Christmas Thank You Notes for Kids >>>