When my oldest son took his first history CLEP, he slid into the car after the exam and made a claim, "Mom, I knew the answers to multiple questions because of all of the historical fiction books I'd read as a kid."
He'd been reading historical fiction since elementary school, and he remembered historic details (places and people) because they were wrapped in the context of a story. This is the beauty of learning history through literature.
I felt justification for all the years I simply let him read (read, read!). I was thankful for all the books we'd read together, and I knew that beyond the act of reading growing his brain, a literature based way of learning taught him facts without flashcards or textbooks or tests. That's amazing. I'm grateful.
Now my youngest son is preparing to begin his homeschool high school journey. He is also a reader who has a growing interest in government and philosophy. Recently, we started discussing classes he'd like to take in his freshman year.
Beautiful Feet Books' Modern U.S. and World History Senior High Pack was one of the first history courses we looked at. I was immediately interested because of the great literature it includes. It looked AMAZING, and I already know that literature based programs work well for my students.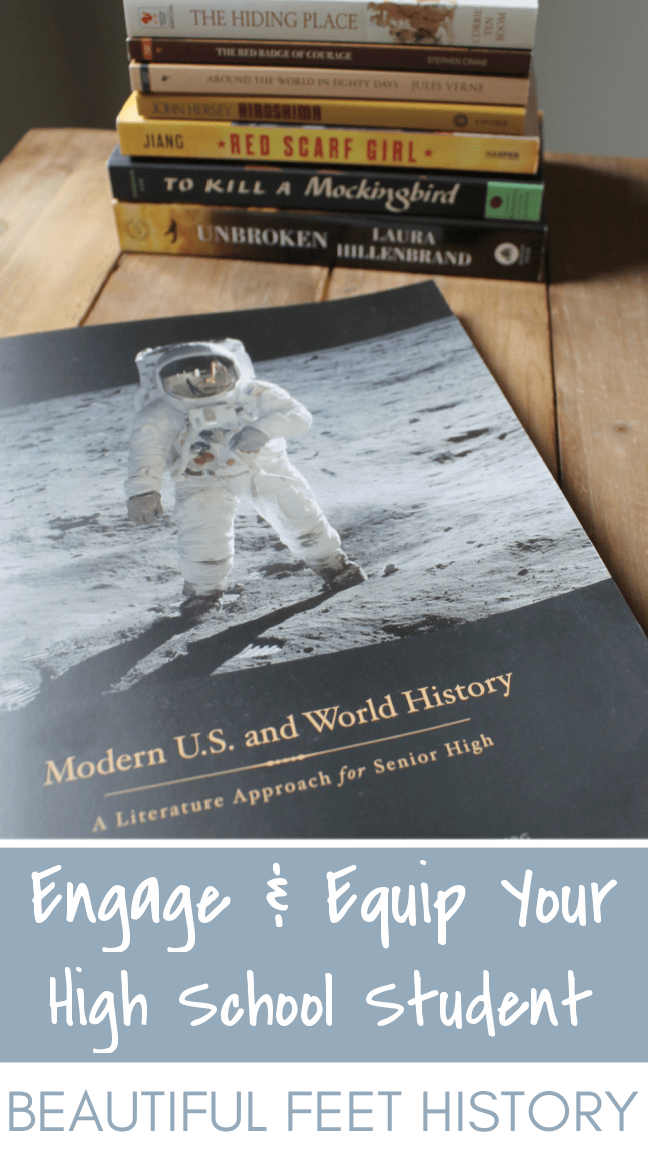 This post is sponsored by Beautiful Feet Books. I was compensated for the time I invested in this post. All opinions are mine and truthful.
Benefits of Learning History Through Literature
Beautiful Feet Books' Modern U.S. and World History is a literature based history program that will instill a love for history while fostering growth in academic areas such as vocabulary, reading comprehension, and analysis. It will also help you keep a connection to your high school student.
Improve Vocabulary and Reading Comprehension
Even though my son will be in high school, it is still important to see growth in vocabulary and reading comprehension.
The literature selections for Beautiful Feet's Modern U.S. and World History are rich in vocabulary and vary in reading level; they will challenge and prepare him for his future studies.
Boost Analytical Skills
The guide for Modern U.S. and World History includes several brain building activities that will equip students for experiences beyond high school.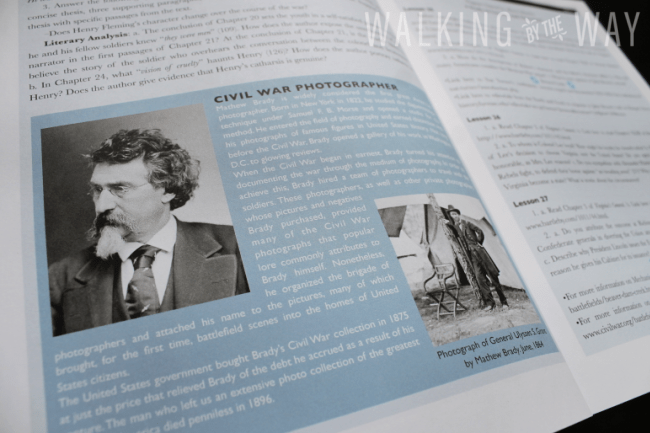 As students complete the activities, they will be challenged to think critically about the historical events in the books as well as the literary elements employed by the writers.
For example, after reading the two novels, Night and The Hiding Place, your student will be asked to compare and contrast.
Compare and contrast Betsie's and Corrie ten Boom's perspective on their [concentration camp] experiences with Elie Wiesel's perspective on his [concentration camp] experiences. What parts of their stories are similar and different? How does their suffering great cruelty, inhumanity, and loss, affect their perspective of God? How does the treatment Betsie and Corrie endure in the camps compare with Elie's?
Here is an additional example of how students are expected to analyze the literature:
In Chapter 19 [of To Kill a Mockingbird], during Tom Robinson's testimony, the author uses light as a metaphor. How?
These types of deep thinking questions are included for each literature selection. The analysis required to answer this is exactly the challenge I want for my son.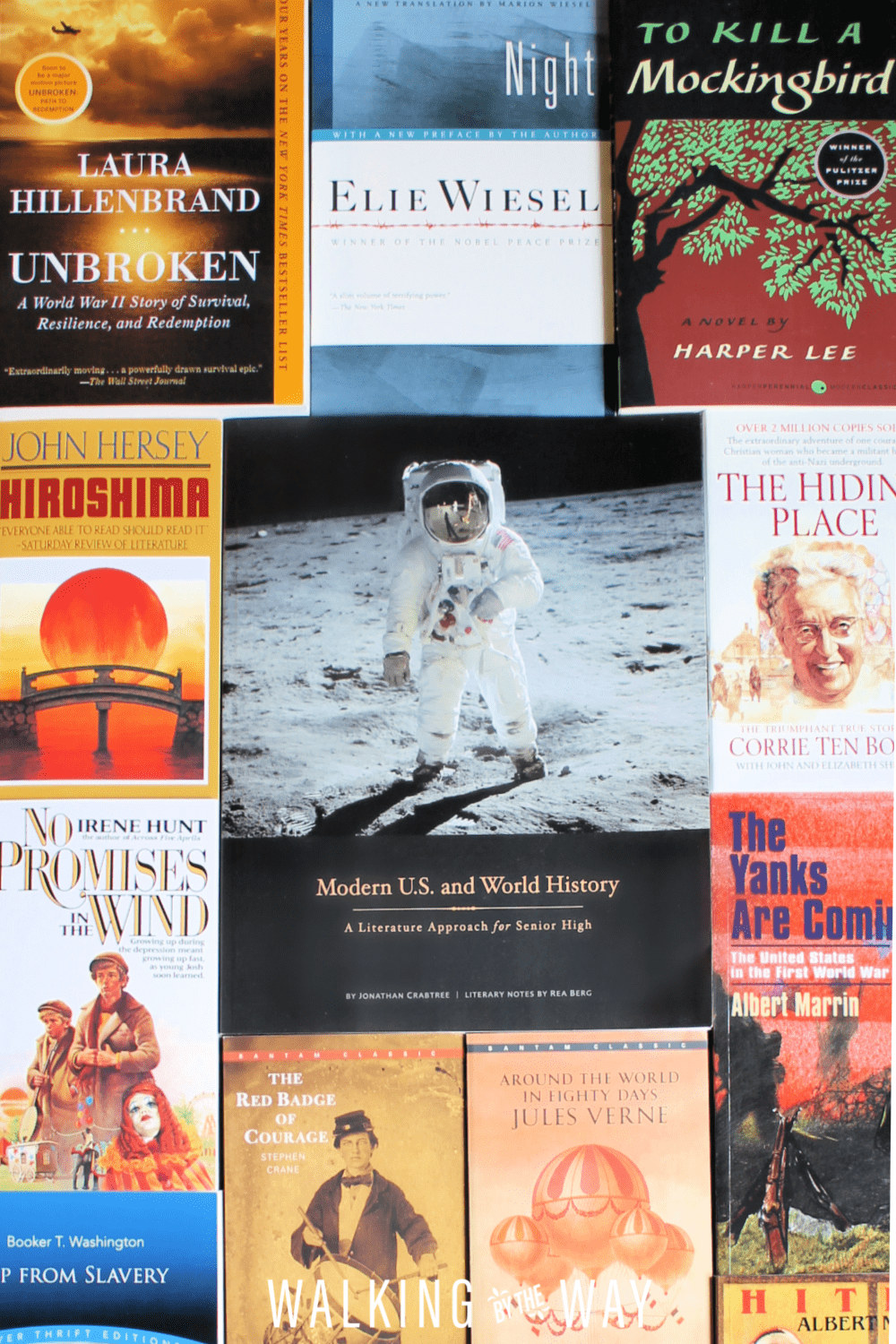 Build Family Relationships
As Simon works through this program, I plan to read some of the books with him. We already read one of the selections, Red Scarf Girl, in tandem; it sparked thoughtful conversations about the gripping story.
The topics and questions provided through Beautiful Feet's Modern U.S. and World History will challenge him, and they will also build our relationship as we explore the themes, characters, and historical settings.
Even though my son is in his teen years and his education at home is coming to a close, we can keep a strong connection through conversations about the engaging books used throughout this curriculum.
Beautiful Feet's Modern U.S. and World History Book List
Beautiful Feet's Modern U.S. and World History program includes a variety of amazing literature selections: classics, biographies, historical fiction, speeches, and more.
These books tackle tough topics throughout U.S. and world history: slavery, unfair treatment of immigrants, socialism, communism, The Holocaust, civil rights, and The Vietnam War.
Uncle Tom's Cabin by Harriet Beecher Stowe
Rifles for Watie by Harold Keith
The Red Badge of Courage by Stephen Crane
Virginia's General by Albert Marrin
Up from Slavery by Booker T. Washington
Around the World in Eighty Days by Jules Verne
A History of the Twentieth Century by Martin Gilbert
The Jungle by Upton Sinclair
All Quiet on the Western Front by Erich Remarque
The Yanks Are Coming by Albert Marrin
Stalin: Russia's Man of Steel by Albert Marrin
No Promises in the Wind by Irene Hunt
To Kill a Mockingbird by Harper Lee
Hitler by Albert Marrin
Churchill by Paul Johnson
The Hiding Place by Corrie Ten Boom
Night by Elie Wiesel
Unbroken by Laura Hillenbrand
Victory in the Pacific by Albert Marrin
Hiroshima by John Hersey
Lost Names by Richard E. Kim
Letter from a Birmingham Jail by Dr. Martin Luther King
I Have a Dream by Dr. Martin Luther King
America and Vietnam: The Elephant and the Tiger by Albert Marrin
Red Scarf Girl by Ji-li Jang
The Kite Runner by Khaled Hosseini
This list of literature will provide an engaging and deep dive into exploring history; I know my student will be a better reader and thinker by the time he finishes the program.
How to Individualize Beautiful Feet's Modern U.S. and World History
Beautiful Feet's Modern U.S. and World History is a rigorous program. It is worth a full year credit for literature and a full year of credit for history.
However, you can easily adapt it for your individual student, based their needs, strengths, and weaknesses.
Consider using audio books to help lighten the reading load.
Consider using some of the written work for oral discussion.
Consider replacing some of the mature books with books that are appropriate your student.
Since the curriculum is written for 11th-12th grade students, I decided to carefully consider the selections for my son since he will be in 9th grade.
Some of the books contain sexual content*, and two of them didn't make the cut for our family.
We are replacing All Quiet on the Western Front with Enduring Courage: Ace Pilot Eddie Rickenbacker and the Dawn of the Age of Speed. We are also replacing The Kite Runner with I Never Had It Made: An Autobiography of Jackie Robinson.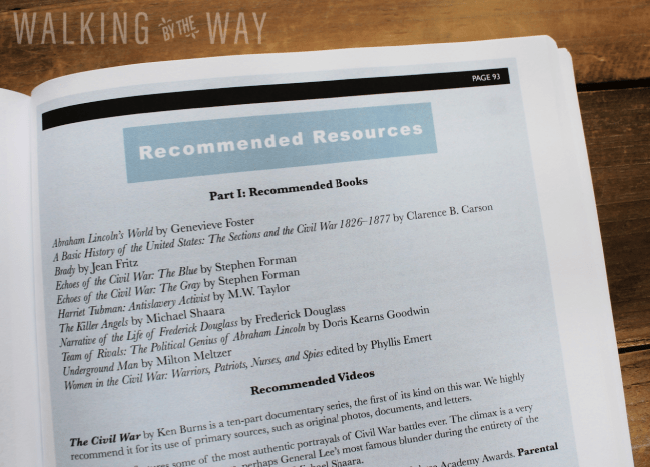 One amazing feature of this curriculum is that it includes a huge Recommended Resources guide at the back of the teacher's manual. The guide made it easy for me to choose book replacements.
I have also decided to add in ample movie and documentary suggestions from the guide. My son will watch and discuss these with his documentary-loving dad (another relationship building opportunity!).
*Note: If you want to get an overview of a book before you read it, try Common Sense Media, Squeaky Clean Reviews, or Plugged In.
Connect with Beautiful Feet Books
If you sometimes struggle with knowing how to determine if a book is worth reading, grab this freebie from Beautiful Feet Books: 5 Ways to Know If A Book Is Worth Sharing With Your Kids.
Learning history through literature is an engaging, memorable way to learn–even for a high school student.