I Corinthians 13 is known as the love chapter. It contains gobs of goodness for instructing us what love is and how we are to love others.
Grab this free set of I Corinthians 13 Copywork Pages and learn more about love with your student.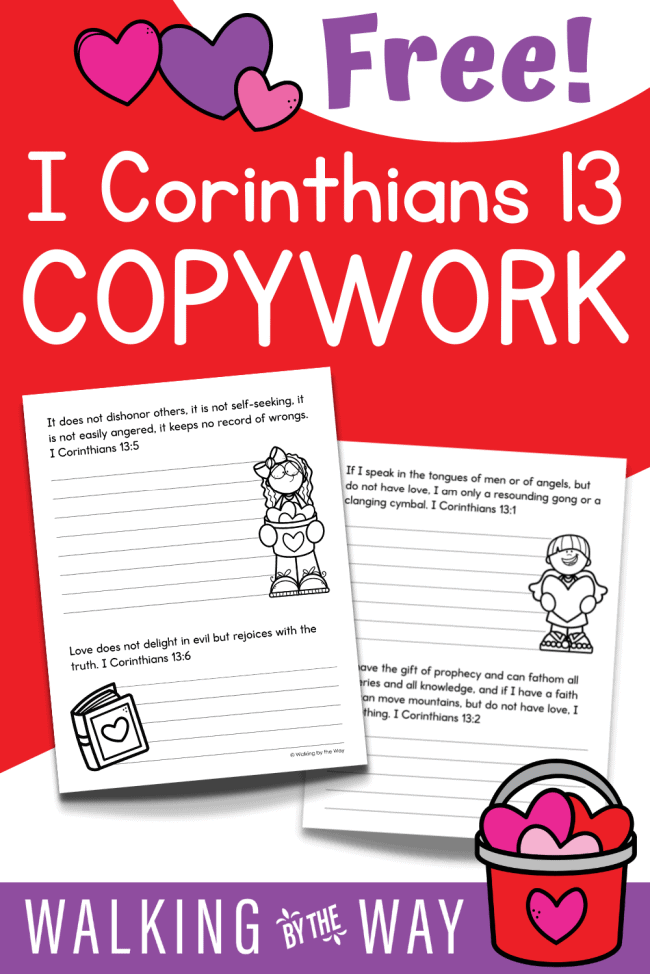 What's Included in the I Corinthians 13 Copywork?
This printable file has four pages of copywork for your student.
Each page includes two copywork exercises with these Bible verses from I Corinthians 13:
If I speak in the tongues of men or of angels, but do not have love, I am only a resounding gong or a clanging cymbal.

I Corinthians 13:1
 If I have the gift of prophecy and can fathom all mysteries and all knowledge, and if I have a faith that can move mountains, but do not have love, I am nothing.

I Corinthians 13:2
If I give all I possess to the poor and give over my body to hardship that I may boast, but do not have love, I gain nothing.

I Corinthians 13:3
Love is patient, love is kind. It does not envy, it does not boast, it is not proud.

I Corinthians 13:4
It does not dishonor others, it is not self-seeking, it is not easily angered, it keeps no record of wrongs.

I Corinthians 13:5
Love does not delight in evil but rejoices with the truth.

I Corinthians 13:6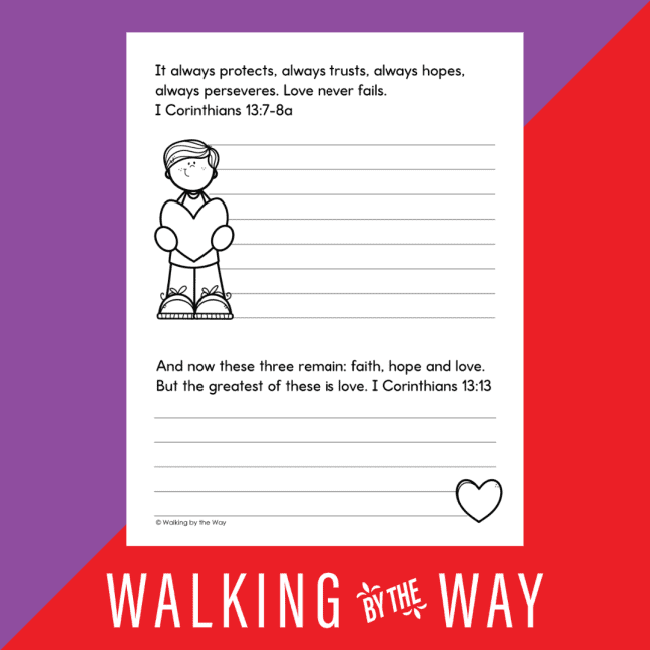 It always protects, always trusts, always hopes, always perseveres. Love never fails.

I Corinthians 13:7-8a
And now these three remain: faith, hope and love. But the greatest of these is love.

I Corinthians 13:13
This set of copywork has two versions.
You can print the manuscript version or the cursive version for your student.
How to Use the I Corinthians 13 Copywork
Print the pages.
Let your student copy one exercise each day.
Before your student starts, read the Bible verse together and discuss it.
When your student finishes the entire printable pack, consider binding it or adding it to a folder for a finished portfolio of copywork.
Get Your Free Set of Copywork Printables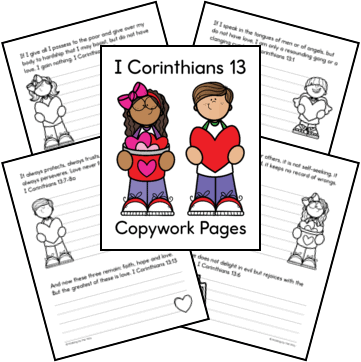 Subscribe to the newsletter using the form below to receive your free set of copywork pages. You will need to confirm your subscription and then the printable file will be sent directly to your email.
More Free Copywork Pages
If you are looking for more copywork, be sure to check out my FREE Copywork Pages for Your Homeschool.