Matthew is a fantastic book of the Bible to read with your student. It follows the life of Christ and shows us that Jesus is king.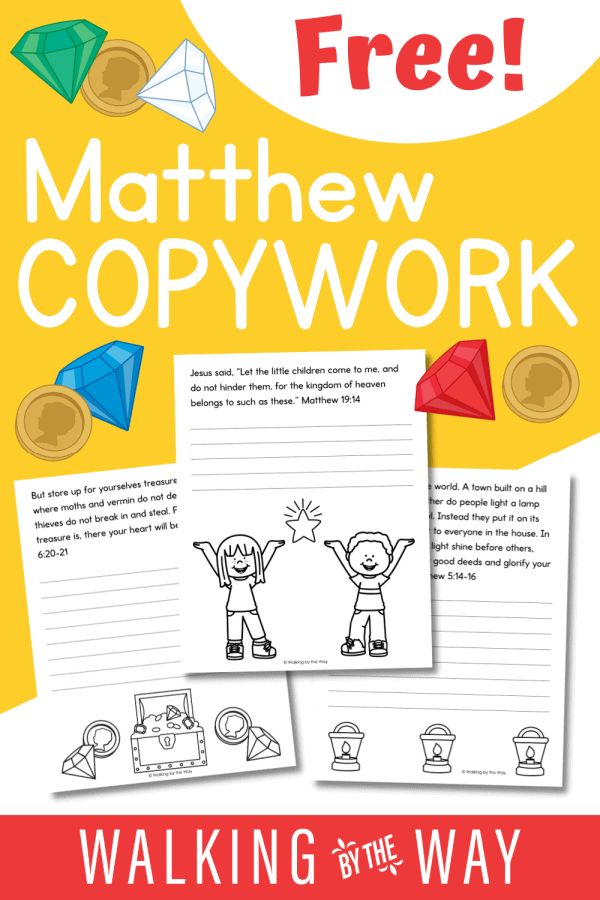 What's Included in the Matthew Copywork?
This printable file includes eight pages of copywork for your student.
Each page includes 1-2 copywork exercises with these Bible verses from the book of Matthew.
You are the light of the world. A town built on a hill cannot be hidden. Neither do people light a lamp and put it under a bowl. Instead they put it on its stand, and it gives light to everyone in the house. In the same way, let your light shine before others, that they may see your good deeds and glorify your Father in heaven.

Matthew 5:14-16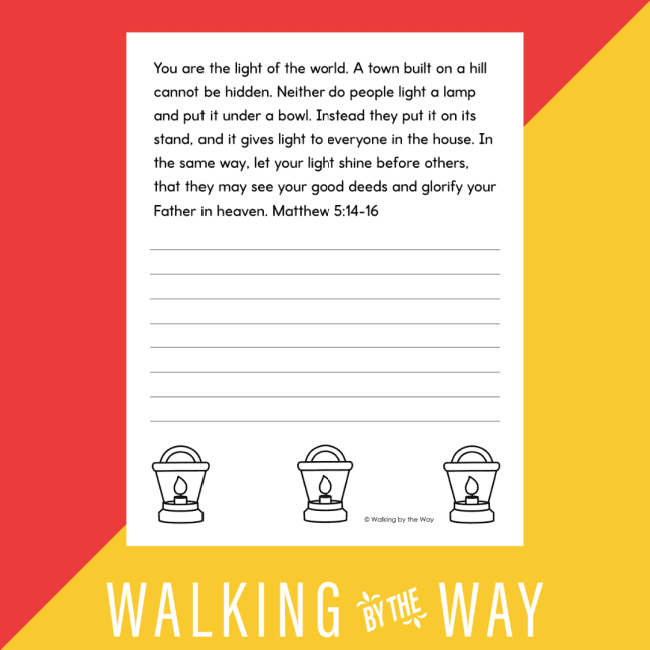 But store up for yourselves treasures in heaven, where moths and vermin do not destroy, and where thieves do not break in and steal. For where your treasure is, there your heart will be also.

Matthew 6:20-21
No one can serve two masters. Either you will hate the one and love the other, or you will be devoted to the one and despise the other. You cannot serve both God and money.

Matthew 6:24
But seek first his kingdom and his righteousness, and all these things will be given to you as well.

Matthew 6:33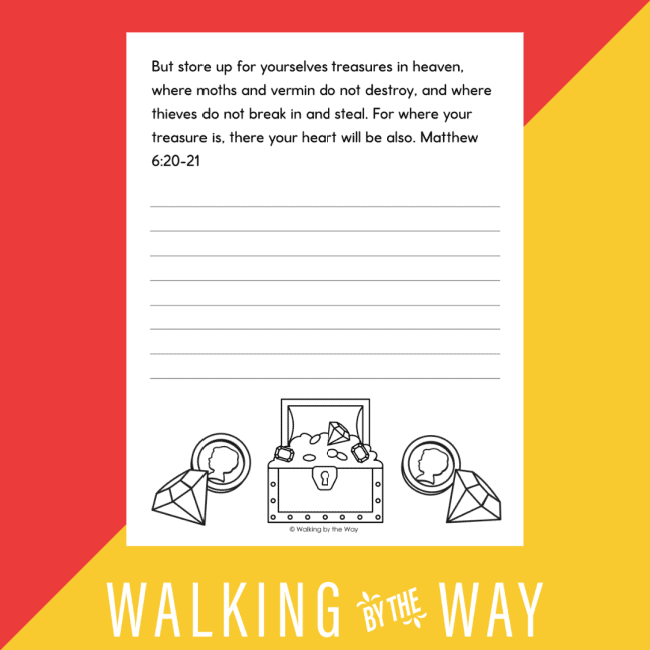 So in everything, do to others what you would have them do to you, for this sums up the Law and the Prophets.

Matthew 7:12
Then Peter came to Jesus and asked, "Lord, how many times shall I forgive my brother or sister who sins against me? Up to seven times?"

Jesus answered, "I tell you, not seven times, but seventy-seven times."

Matthew 18:21-22
Jesus said, "Let the little children come to me, and do not hinder them, for the kingdom of heaven belongs to such as these."

Matthew 19:14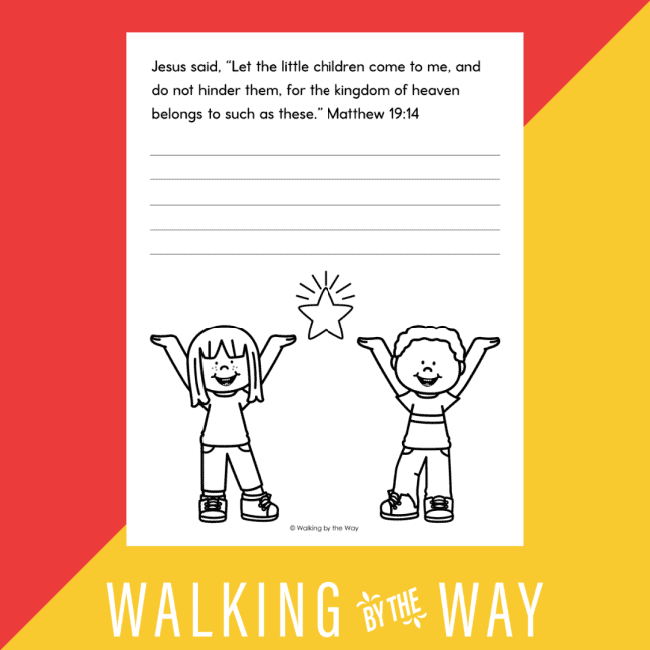 Jesus replied: "'Love the Lord your God with all your heart and with all your soul and with all your mind. This is the first and greatest commandment. And the second is like it: Love your neighbor as yourself."

Matthew 22:37-39
He is not here; he has risen, just as he said. Come and see the place where he lay.

Matthew 28:6
And surely I am with you always, to the very end of the age.

Matthew 28:20b
This set of copywork has two versions. You can print the manuscript version or the cursive version for your student.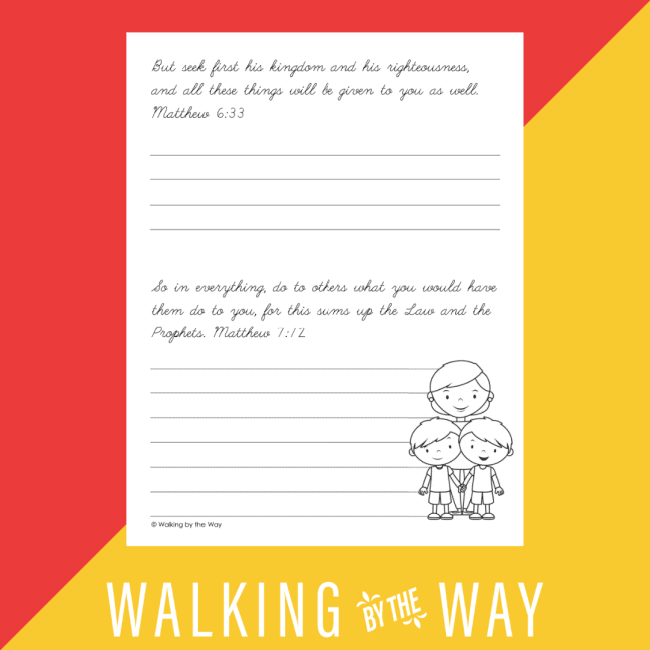 How to Use the Matthew Copywork
Choose the manuscript version or cursive version.
Print the corresponding pages.
Let your student copy one exercise each day.
Before your student starts, read the verse together and discuss it.
When your student finishes the entire printable pack, consider binding it or adding it to a folder for a finished portfolio of copywork.
Get Your Free Set of Copywork Printables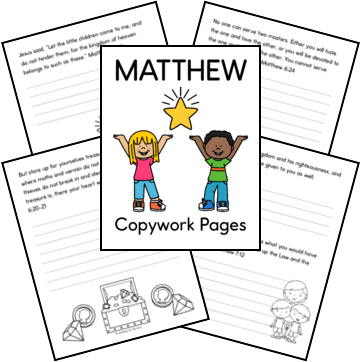 Subscribe to the newsletter using the form below to receive your free set of copywork pages. You will need to confirm your subscription and then the printable file will be sent directly to your email.
More Free Copywork Pages
If you are looking for more copywork, be sure to check out my FREE Copywork Pages for Your Homeschool.