As you read Mrs. Piggle-Wiggle by Betty MacDonald, you'll find yourself in a world not so different from your own.
Some of the children in Mrs. Piggle-Wiggle's neighborhood are developing bad habits and behaviors. When Mary turns into an Answer-Backer or Dick becomes Selfish or Allen decides to be a Slow-Eater-Tiny-Bite-Taker, Mrs. Piggle-Wiggle has the perfect cure. And her solutions always work, with plenty of laughs along the way.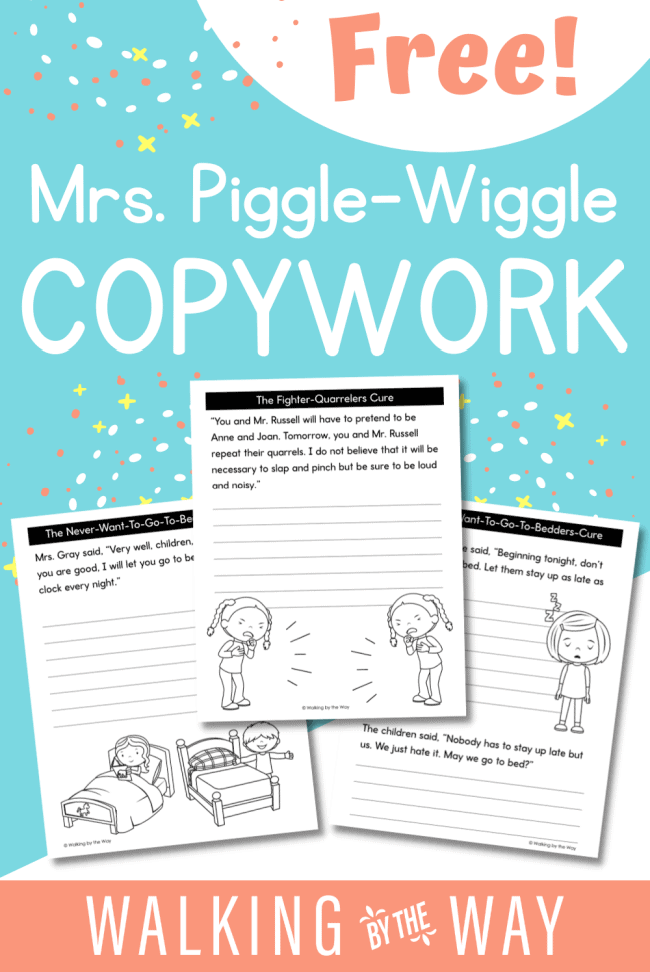 This funny book provides fun and engaging quotes for your student. Download our set of Mrs. Piggle-Wiggle Copywork Pages and get started.
What's Included in the Mrs. Piggle-Wiggle Copywork?
This printable file includes twelve pages of copywork for your student.
Each page includes 1-2 copywork exercises with quotes from the classic story, Mrs. Piggle-Wiggle by Betty MacDonald.
The most remarkable thing about Mrs. Piggle-Wiggle is her house, which is upside down. It is a little brown house, and sitting there in its tangly garden it looks like a small brown puppy lying on its back with its feet in the air.
When I wash dishes, I pretend that I am a beautiful princess with long, golden, curly hair, and apple-blossom skin and forget-me-not blue eyes. I have been captured by a wicked witch and my only chance to get free is to wash every single dish and have the whole kitchen sparkly clean before the clock strikes.
Penelope squawked, "I'll do it because I want to but not because you tell me to!"

Mary stuck out her tongue at Penelope who bounced around yelling, "Only snakes stick out their tongues!"

from The Answer-Backer Cure
Patsy gave a piercing shriek and ran from the bathroom stark naked and yelling, "I won't take a bath! I won't ever take a bath! I hate baths!"

"Then, let Patsy strictly alone for several weeks. When she has about half an inch of rich black dirt all over her and after she is asleep at night, scatter radish seeds on her arms and head. Press them in gently and then just wait."

Patsy awoke one morning and there on the back of her hand, in fact on the backs of both hands and on her arms and her FOREHEAD were GREEN LEAVES! Patsy tried to brush them off but they just bent over and sprang right up again.

from The Radish Cure
How to Use the Mrs. Piggle-Wiggle Copywork Pages
Print the pages.
Let your student copy one exercise each day.
Before your student starts, read the quote together and discuss it.
When your student finishes the entire printable pack, consider binding it or adding it to a folder for a finished portfolio of copywork.
Get Your Free Set of Copywork Printables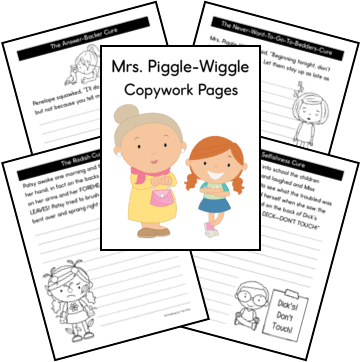 Subscribe to the newsletter using the form below to receive your free set of copywork pages. You will need to confirm your subscription and then the printable file will be sent directly to your email.
More Free Homeschool Copywork
If you are looking for more copywork, be sure to check out my FREE Copywork Pages for Your Homeschool.