The wonderfully written book, The Lion, the Witch, and the Wardrobe, includes adventure, fantasy, and big ideas such as bravery, sacrifice, and hope.
The tale is one of my favorites, and as I read it, I find it has gobs of good quotes. I compiled some of them for you and your student in this Narnia Copywork.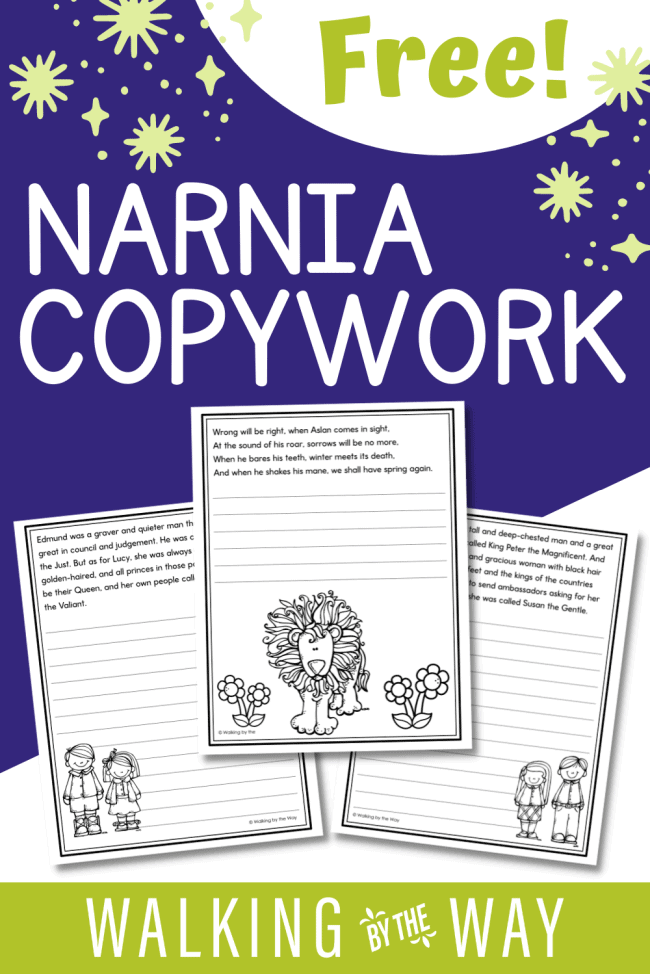 What's Included in the Narnia Copywork?
This printable file includes eleven pages of copywork for your student.
Each page includes 1-2 copywork exercises with these various quotes from the book, The Lion, the Witch, and the Wardrobe by C. S. Lewis.
This must be a simply enormous wardrobe!" thought Lucy, going still further in and pushing the soft folds of the coats aside to make room for her. Then she noticed that there was something crunching under her feet. "I wonder is that more mothballs?" she thought, stooping down to feel it with her hand. But instead of feeling the hard, smooth wood of the floor of the wardrobe, she felt something soft and powdery and extremely cold.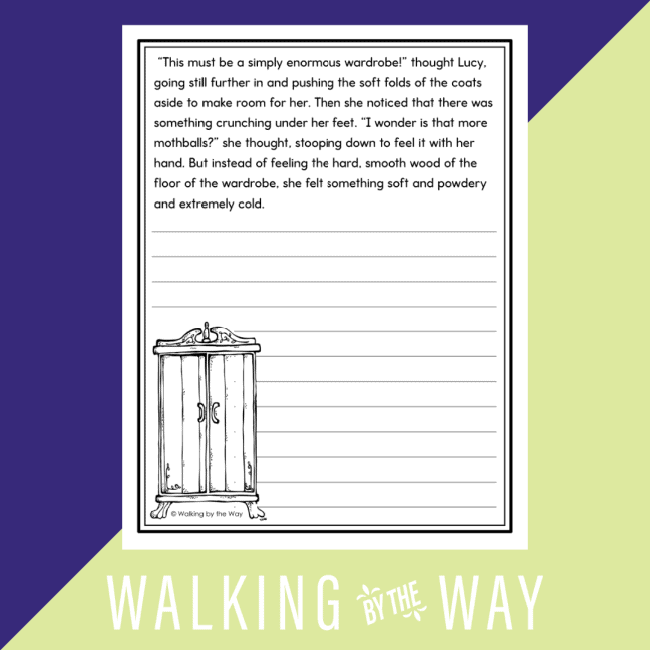 And now we come to one of the nastiest things in this story. Up to that moment Edmund had been feeling sick, and sulky, and annoyed with Lucy for being right, but he hadn't made up his mind what to do. When Peter suddenly asked him the question he decided all at once to do the meanest and most spiteful thing he could think of. He decided to let Lucy down.
Wrong will be right, when Aslan comes in sight,
At the sound of his roar, sorrows will be no more,
When he bares his teeth, winter meets its death,
And when he shakes his mane, we shall have spring again.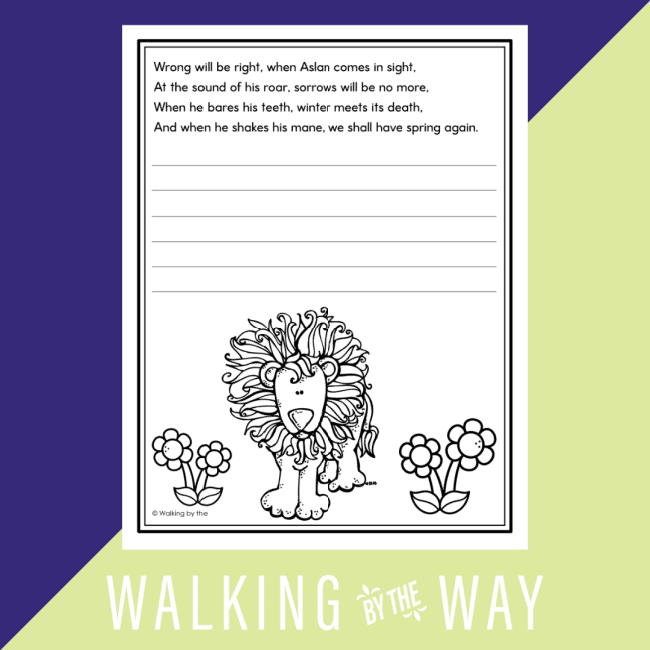 And Aslan stood up and when he opened his mouth to roar his face became so terrible that they did not dare to look at it. And they saw all the trees in front of him bend before the blast of his roaring as grass bends in a meadow before the wind.
How to Use The Lion, the Witch, and the Wardrobe Copywork
Print the pages.
Let your student copy one exercise each day.
Before your student starts, read the quote together and discuss it.
When your student finishes the entire printable pack, consider binding it or adding it to a folder for a finished portfolio of copywork.
Get Your Free Set of Narnia Copywork Printables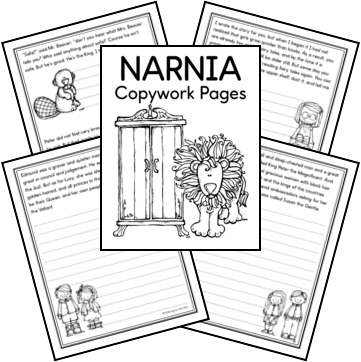 Subscribe to the newsletter using the form below to receive your free set of copywork pages. You will need to confirm your subscription and then the printable file will be sent directly to your email.
More Free Copywork Printables
If you are looking for more copywork, be sure to check out my FREE Copywork Pages for Your Homeschool.