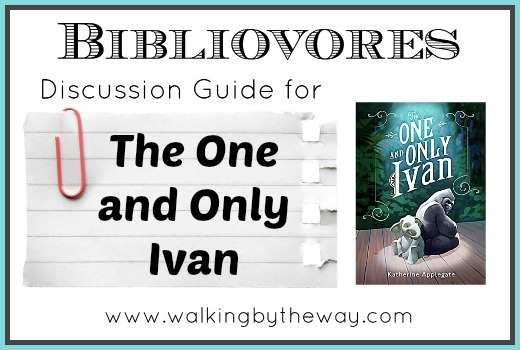 Our seventh book discussion for the Bibliovores Class was on The One and Only Ivan by Katherine Applegate.
Reactions
Pass out small papers and let students write one of the following on the paper: love it, like it, hate it. Collect and tally the vote on the board. Voting with the papers allows shy students to stay anonymous yet give their true opinions.
Fact vs. Fiction
We watched and discussed a video about the real Ivan. Read the author's note at the end of the book and discuss fact and fiction in the book.
Newbery Award Winners
Our class has already read and discussed Hitty: Her First Hundred Years as well as The Bronze Bow making this the third Newbery on our list.
The Newbery Medal was named for 18th century British bookseller John Newbery. It is awarded annually by the Association for Library Service to Children, to the author of the most distinguished contribution to American literature for children.
Ask your students to evaluate these three books. Why did these books receive Newbery medals? Are the books distinguished? In what ways?
Discussion Questions
How is the writing in this book unique? How does it work well for the story?
What do the animals believe about humans? Are they right or wrong? Give examples.
What do you think was Ivan's greatest challenge?
Compare and contrast Mack and George.
Theme is expressed through the characters' actions, words, and thoughts; it is a truth we can pull from the story. What are the themes in this book? Discuss.
How should we care for animals? Read Proverbs 12:10.
Did Mack regard his animals? Give examples.
This book gives us clues about the author's worldview. What are those clues? Do you agree or disagree with her worldview?