Tommy and his sister Annika have a new neighbor, and her name is Pippi Longstocking. She has crazy red pigtails, no parents to tell her what to do, a horse that lives on her porch, and a pet monkey named Mr. Nilsson. Whether Pippi's scrubbing her floors, doing arithmetic, or stirring things up at a fancy tea party, her flair for the outrageous always seems to lead to another adventure.
Join Pippi's wonderful adventures with this set of Pippi Longstocking Copywork Pages.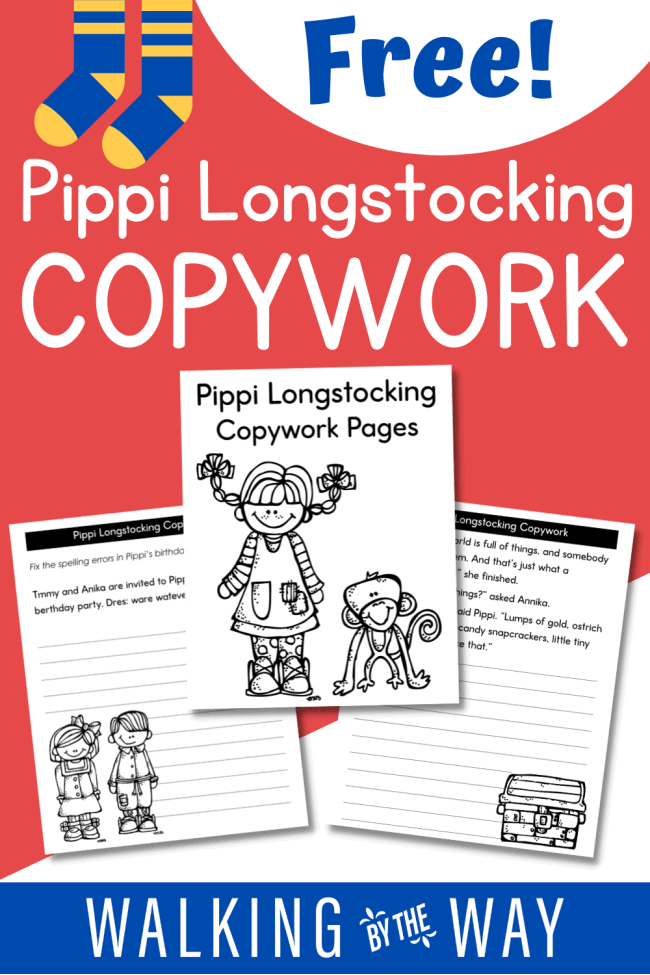 What's Included in the Pippi Longstocking Copywork?
This printable file includes 12 pages of copywork for your student.
Each page includes 1-2 copywork exercises with quotes from the classic book, Pippi Longstocking, by Astrid Lindgren.
Way out at the end of a tiny little town was an old overgrown garden, and in the garden was an old house, and in the house lived Pippi Longstocking.
She was so very strong that in the whole wide world there was not a single police officer as strong as she. Why, she could lift a whole horse if she wanted to! And she wanted to.
This is the way she looked: Her hair, the color of a carrot, was braided in two tight braids that stuck straight out. Her nose was the shape of a very small potato and was dotted all over with freckles. It must be admitted that the mouth under this nose was a very wide one, with strong white teeth.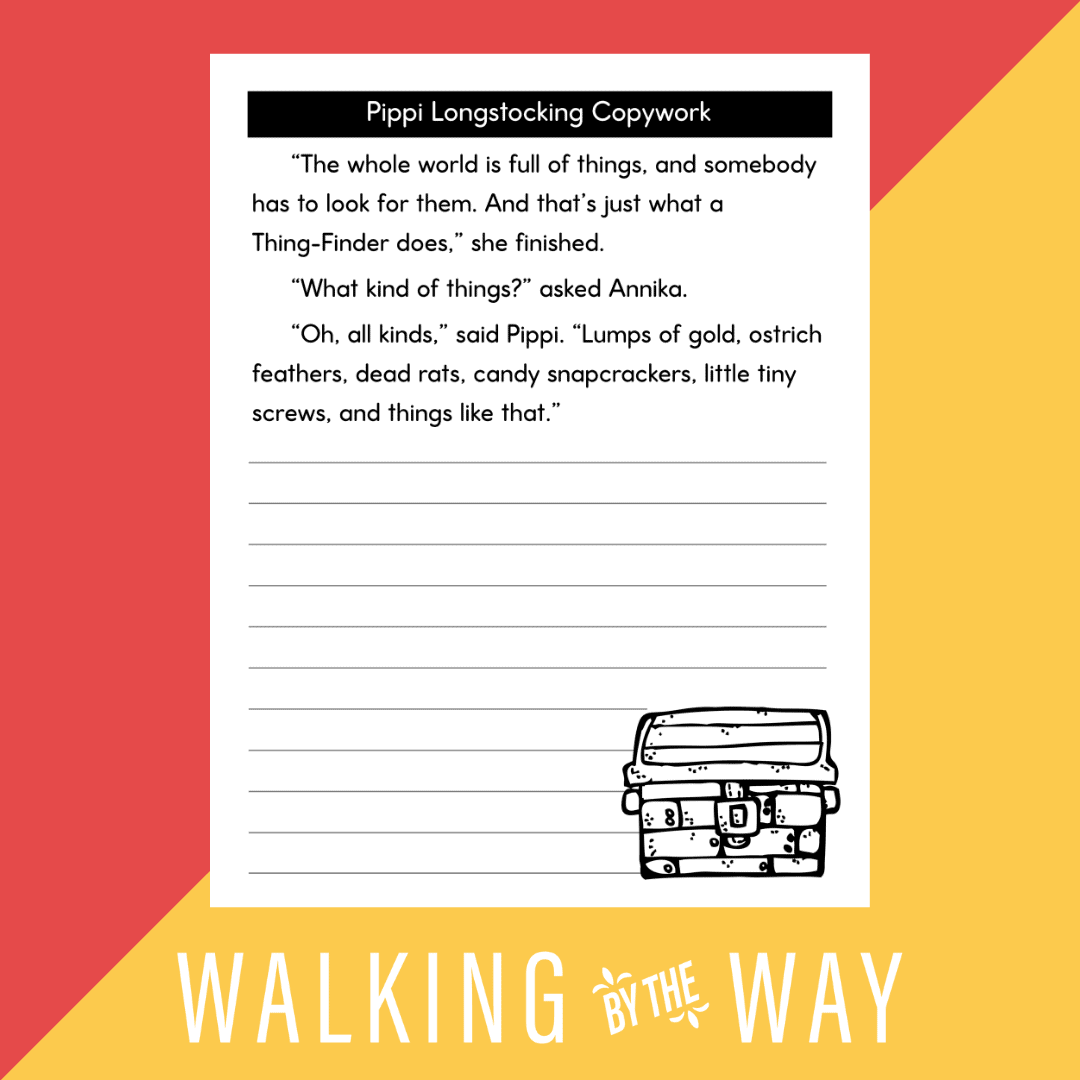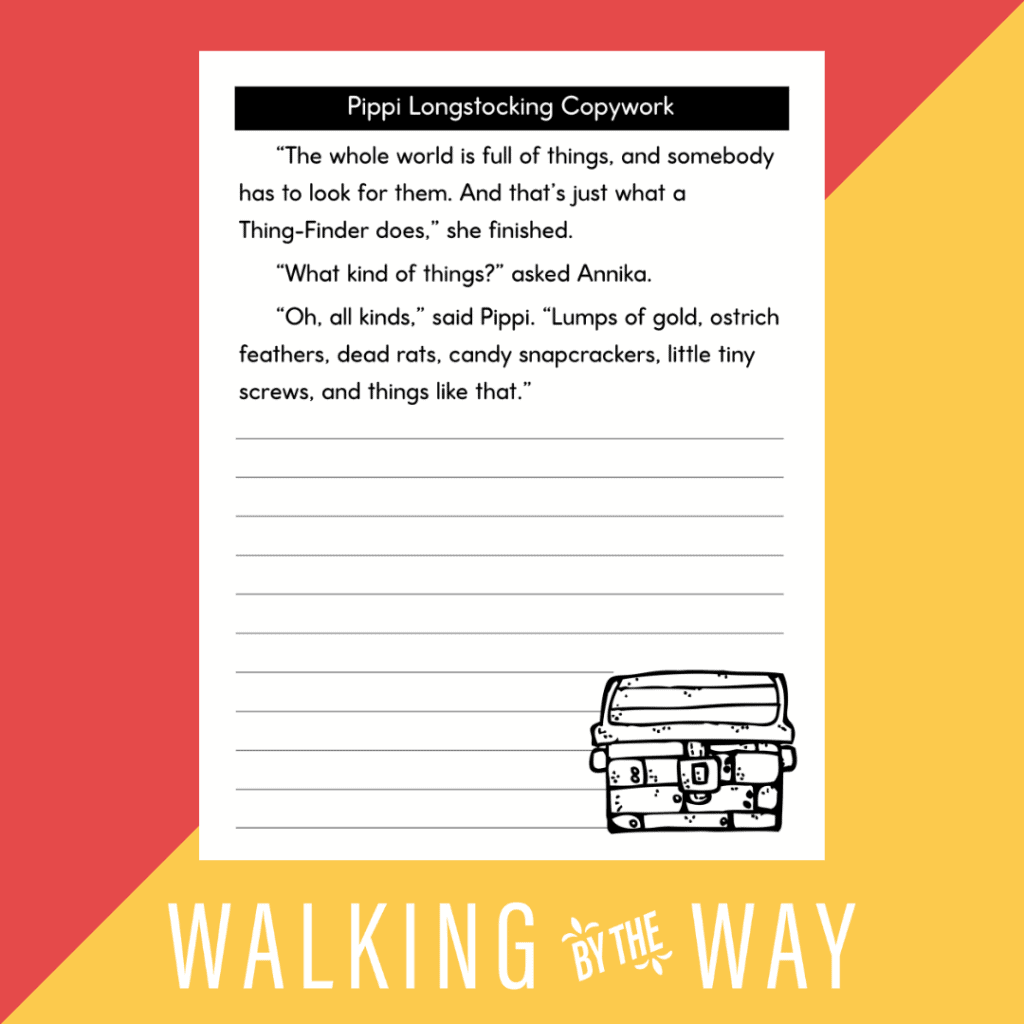 Her dress was rather unusual. Pippi herself had made it. She had meant it to be blue, but there wasn't quite enough blue cloth, so Pippi had sewed little red pieces on it here and there. On her long thin legs she wore a pair of long stockings, one brown and the other black, and she had on a pair of black shoes that were exactly twice as long as her feet.
Then she took three eggs and threw them up in the air. One fell down on her head and broke so that the yolk ran into her eyes, but the others she caught skillfully in a bowl, where they smashed to pieces.
How to Use the Pippi Longstocking Copywork
Print the pages.
Let your student copy one exercise each day.
Before your student starts, read the quote together and discuss it.
When your student finishes the entire printable pack, consider binding it or adding it to a folder for a finished portfolio of copywork.
Get Your Free Set of Copywork Printables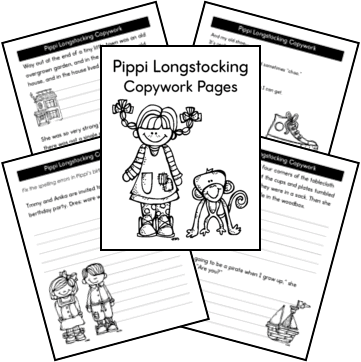 Subscribe to the newsletter using the form below to receive your free set of copywork pages. You will need to confirm your subscription and then the printable file will be sent directly to your email.
More Free Copywork Pages
If you are looking for more copywork, be sure to check out my FREE Copywork Pages for Your Homeschool.