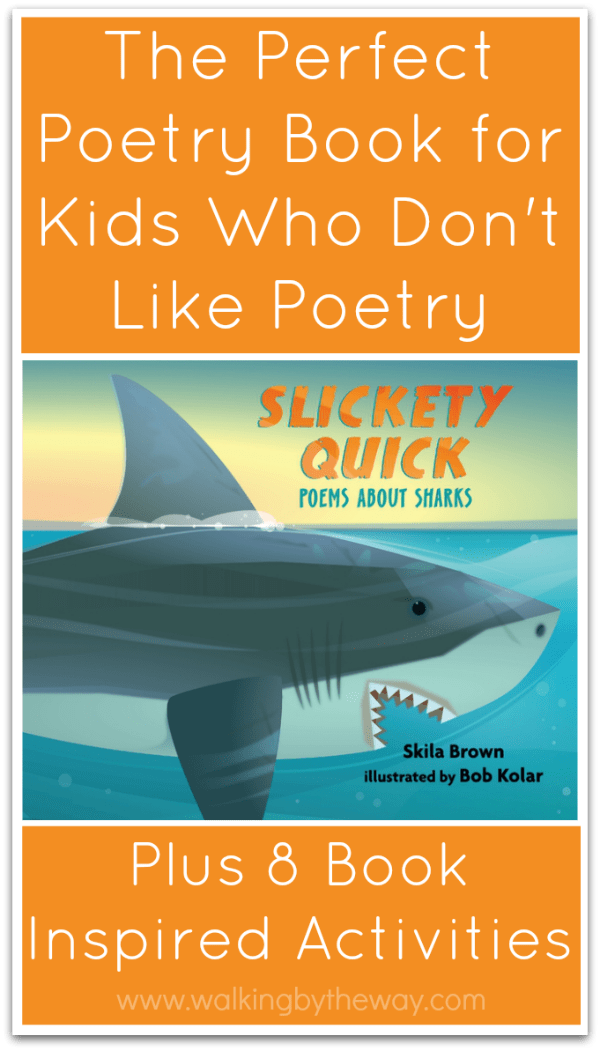 I've professed my love of poetry here on the blog in the past. I've given you my Ten Favorite Poetry Books for Children. But I don't think I've ever admitted that sometimes it can be difficult to bring my danger-loving, adventure-seeking kid into the wonderful world of versed words. Sometimes poetry for kids is tricky.
I found a solution when our local library hosted author Skila Brown; she came to present her new book, Slickety Quick: Poems about Sharks, which includes fourteen shark infested poems.
This is the perfect poetry book for Simon.
I ordered Slickety Quick: Poems about Sharks, and it came two days before the library program. Simon spied it, and we read together. I read the rhyming rhythmic poems about a crunching, gnashing tiger shark, the cheetah-torpedo-bullet fast mako shark, the monster-mouthed megamouth shark, the terrifying goblin shark, and a slickety quick cookie cutter shark. Poem after poem, Simon was intrigued by the vast differences between each shark. After I would read a poem, Simon would read the amazing shark facts found on each page.
At the library program, Skila Brown read her poems to us.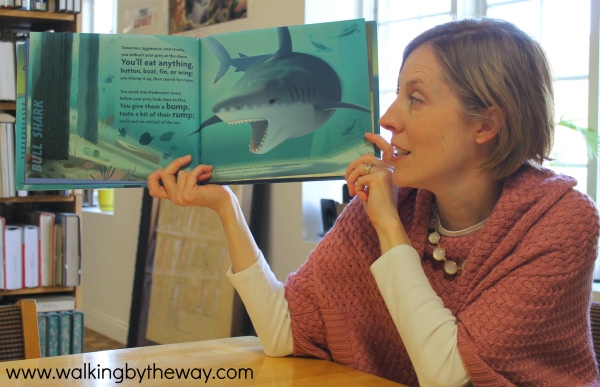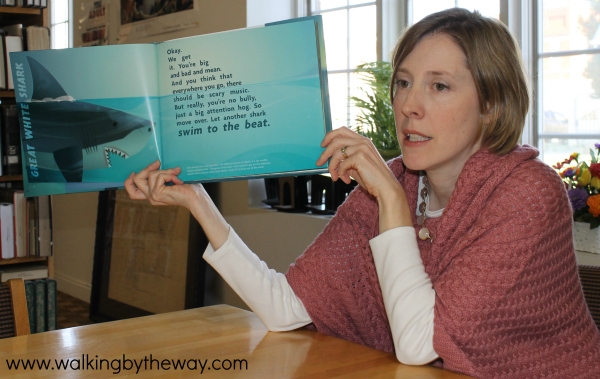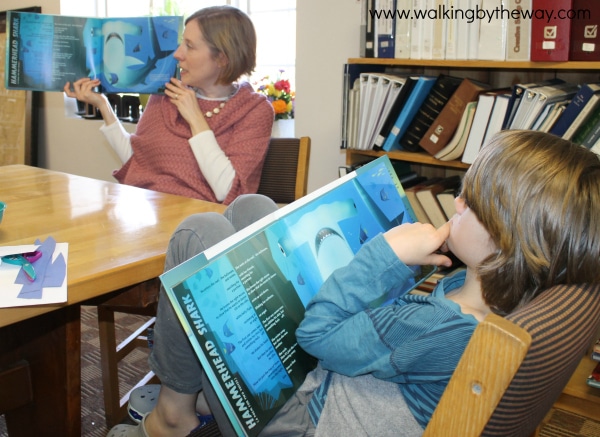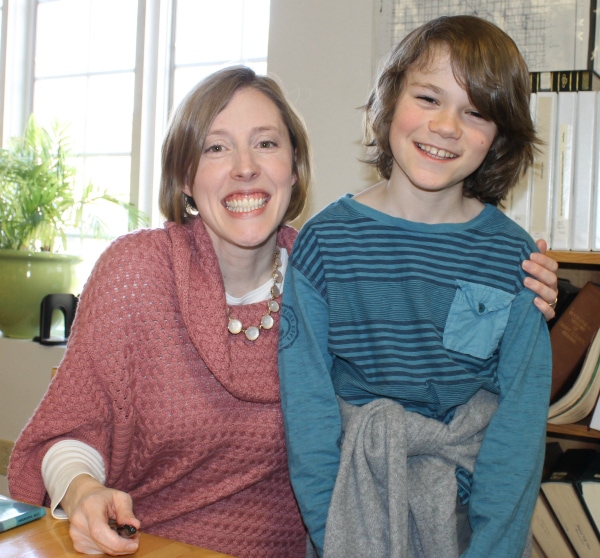 Skila was amazing. I had the opportunity to read the final poem, "Hammerhead Shark" (a poem for two voices), with her. To read this one, two people read at the same time. One person reads the voice of the hammerhead shark and the other person reads the voice of the angelfish. The words play together like music while everyone learns about the symbiotic relationship between these two sea creatures.
Inspired Learning from Slickety Quick: Poems about Sharks
A great book always lends itself to more learning opportunities. Here are eight ways to extend the learning for this book, but I am sure there are many more!
Write a Concrete Poem
Read the first poem together, "Great White Shark," Ask your student if he sees this poem as a shape. What is it? Look through the book and find other shape poems. Discuss them together. Encourage your student to write a shape (concrete) poem. You may even want to try the Theme Poem Web Interactive.
Learn about Rhyme Scheme
Read "Wobbegong" together. Find the words that rhyme. If your student is ready, help him write out the rhyme pattern on a piece of paper or introduce the concept of rhyme scheme. If you are feeling poetic, try writing a poem together that has the same rhyme scheme.
wobbegong (A)
along (A)
cave (B)
wave (B)
song (A)
wobbegong (A)
long (A)
bite (C)
right (C)
wrong (A)
Watch a Video of a Frilled Shark
Read "Frilled Shark" and watch this video about a frilled shark. Fascinating! Your student may also want to watch this video about the goblin shark after you read the corresponding poem. Find online photos and videos of the other sharks your student is interested in, too. As always, please preview videos before showing to children.
Discuss Choices Poets Make
Read "Mako Shark" together. Simon asked Skila why hadachance appears as one word. She told us she wanted the reader to read that really fast! Why would the author want that read quickly? Discuss with your student.
Make Crepes!
Read "Angel Shark." What is a crepe? Why did the author use that word to describe angel fish? Help your student understand the comparison by making crepes together. Try this recipe.
Memorize a Poem
Memorizing poetry is important in our homeschool. Choose a poem from the book to memorize together!
Fill a Shark Shape with Words
Use Tagxedo to fill a shark shape with sharkish words.
Write a Shark Report
Choose a favorite shark and do some research. If desired, use the free printable shark report form below. Your student can TYPE right on the form!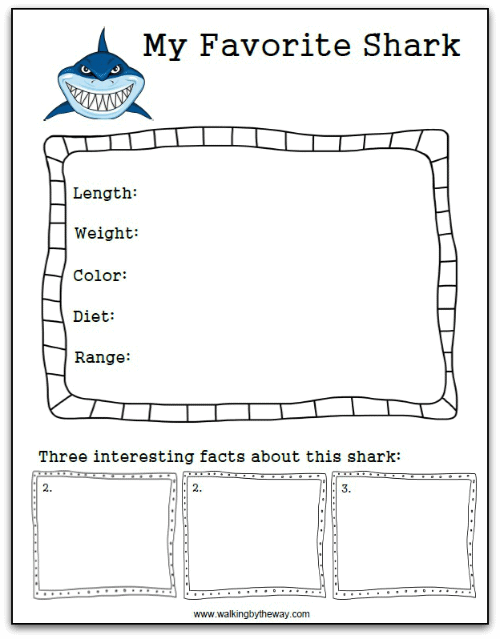 Download the FREE My Favorite Shark Report Form