Are you ready for a new set of copywork for your homeschool? Try these Proverbs Copywork Pages.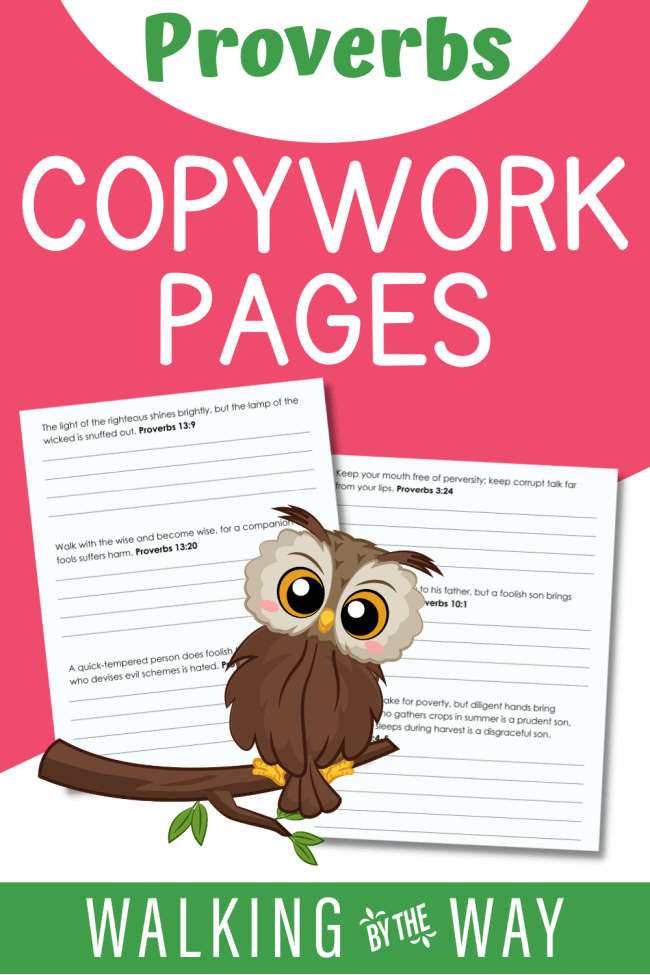 Proverbs are infused with wisdom. They causes us to think about our actions and relationships with others. Biblical Proverbs can help us implement and keep good habits in order to better serve God and other people.
What's Included in the Proverbs Copywork Pack?
This printable copywork pack includes the following verses and passages from the book of Proverbs:
Proverbs 11:28
Proverbs 12:22
Proverbs 13:3
Proverbs 1:8-9
Proverbs 3:5-6
Trust in the LORD with all your heart
And do not lean on your own understanding.
In all your ways acknowledge Him,
And He will make your paths straight.

Proverbs 3:5-6
Proverbs 14:21
Proverbs 15:1-2
Proverbs 16:16
Proverbs 25:18
Proverbs 3:23
Proverbs 3:7
Do not be wise in your own eyes; Fear the LORD and turn away from evil.

Proverbs 3:7
Proverbs 3:14-15
Proverbs 3:18-19
Proverbs 10:25
Proverbs 11:2
Proverbs 11:20
Proverbs 13:9
Proverbs 13:20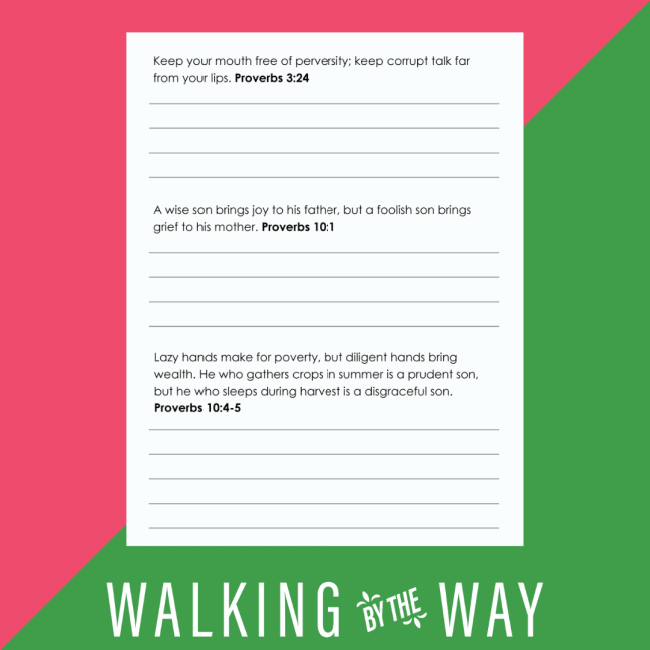 Walk with the wise and become wise, for a companion of fools suffers harm.

Proverbs 13:20
Proverbs 14:17
Proverbs 16:18-19
Proverbs 22:24-25
Proverbs 16:32
Proverbs 17:14
Proverbs 17:20
Proverbs 18:10
The name of the Lord is a fortified tower; the righteous run to it and are safe.

Proverbs 18:10
Proverbs 19:1
Proverbs 19:20
Proverbs 3:21-24
Proverbs 10:12
Proverbs 10:18
Proverbs 10:26
Proverbs 3:24
Proverbs 10:1
Proverbs 10:4-5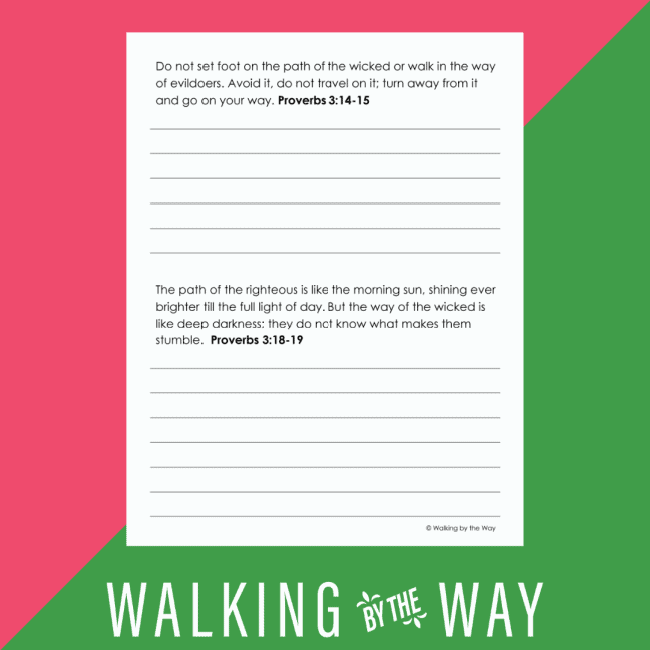 Lazy hands make for poverty, but diligent hands bring wealth. He who gathers crops in summer is a prudent son, but he who sleeps during harvest is a disgraceful son.

Proverbs 10:4-5
How to Use the Proverbs for Kids Copywork Pages
This printable pack of Proverbs Copywork pages includes 34 verses or passages to copy.
I recommend that you ask your student to copy one each day, so this pack would last 34 school days (or almost seven weeks).
Get Your Free Proverbs Copywork Printables
Use the form below to subscribe to the newsletter and to receive your free Proverbs Copywork Pages.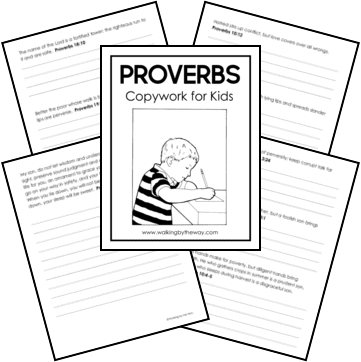 More Copywork Exercises
After you finish the Proverbs Copywork Pack, try some of my other copywork. You'll find lots of options here: Free Copywork Pages for Your Homeschool.