Sometimes kids lose a bit of their curiosity. And sometimes learning gets stagnant. But it doesn't have to stay static. You can keep kids curious.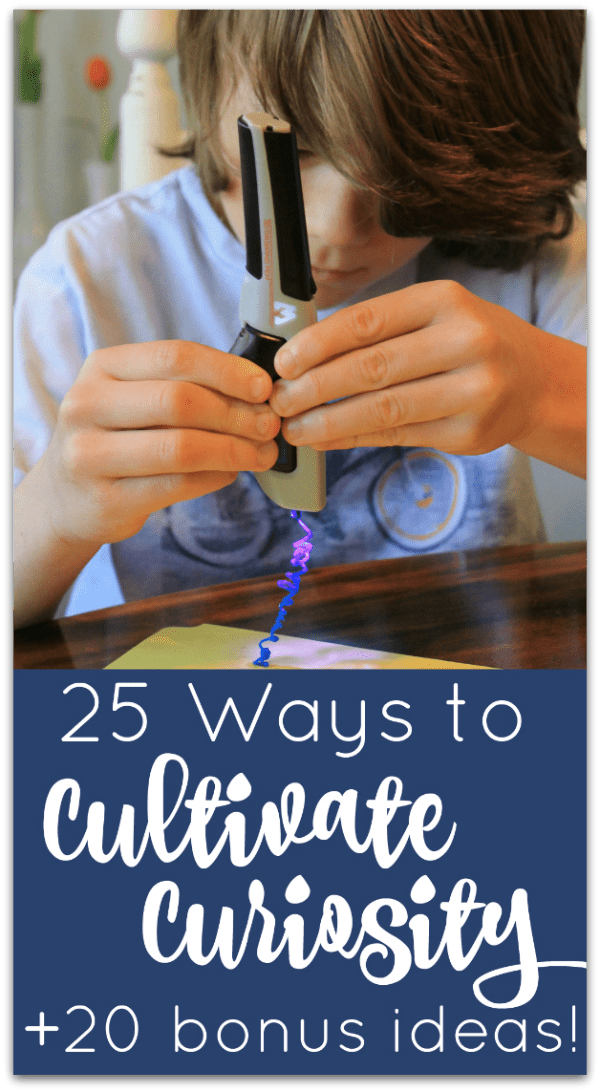 I'm often asked, "What if my child isn't interested in ANYthing?" What then?
If your child is bored or in the doldrums, tempt him with miscellaneous items — a tub of magnets & metal pieces, a math balance, an owl pellet, watercolor pencils & paper, a new game, an insect display box, or a blank notebook & fancy pen. Simply leave items for your student in a familiar place. You might be surprised how much he enjoys finding, examining, and exploring! Occasionally, I will even give one of these items as an unexpected gift making it a little more mysterious and fun.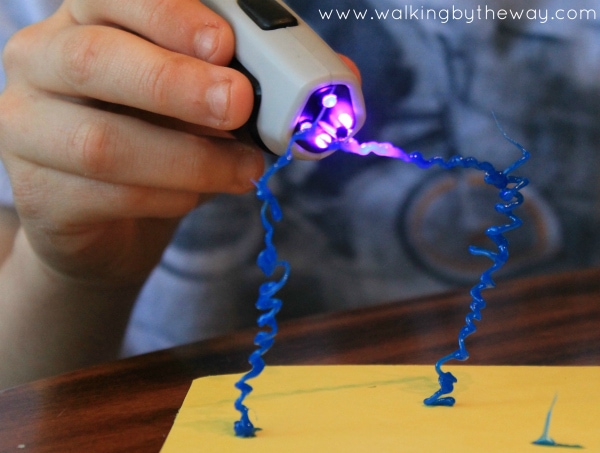 I surprised Simon with an AtmosFlare 3D pen; he loved it!
You can also choose an engaging activity to do together. Here are twenty-five different ways to stir the pot– ideas to get questions, answers, and curiosity gushing again. Pick and choose the activities you think your student will respond to, but don't be disappointed if your student doesn't swoon. Just keep trying.
Here are 25 ways to stir-up some curiosity!
1. cook up a recipe from another country (do this for your student or with your student)
2. go on a hike with binoculars
3. tackle a Kids Who Think challenge
4. watch a play or attend an orchestra concert
5. make suet or hang up bird feeders and wait for new feathered friends
6. create a famous-artist-inspired art project
7. tour a historic site (a battle site, an underground railroad house, the birthplace of a famous person, a boat ride on a famous river)
9. purchase a butterfly garden, a ladybug land, or an ant hill
10. play in a creek or walk the seashore
11. offer to house a critter your child finds (praying mantis, frog, beetle, crawdad, walking stick, spider); observe it for a few days before releasing it back into the wild
12. visit a pet shop, zoo, or farm (ask your child which one she'd like to go to)
13. buy a pocket microscope and examine household items
14. network with other homeschoolers and find a pen pal for your student (from another state or country)
15. encourage your student to start a collection
16. make an inventions box for your student to investigate
17. start a container garden and let your children decide what to grow
18. entice your student to compose mathematical word problems for you to solve
19. try something new (an art lesson, knitting, horse-back riding, the possibilities are endless!)
20. spend the day with someone who loves what they do or interview someone who has had an interesting life (grandparent, local artist, soldier, neighbor, family friend)
21. dissect something (a flower, a bug, an old telephone)
22. go star gazing (and borrow a telescope!)
23. conduct some science experiments
If you'd like, here is a printable list of 25 Ways to Cultivate Curiosity in Your Homeschool.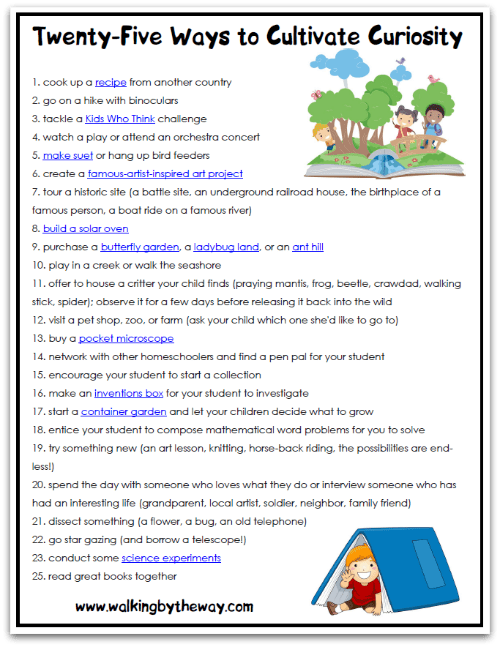 Download 25 Ways to Cultivate Curiosity
If you need even more ideas (who doesn't?!), here is another free tool for your homeschool: Twenty Tempting Things! Simply leave items out on the coffee table, on your student's desk, or in another area he is bound to bump into. Maybe he will take the bait!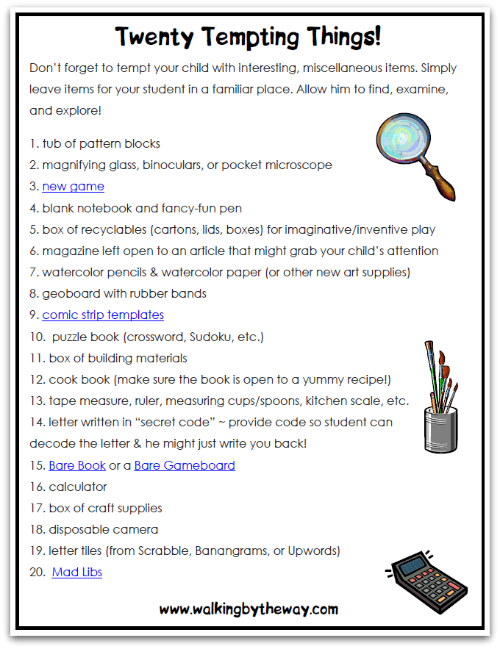 Download Twenty Tempting Things