I have finally pulled myself together and am ready to start posting about the preschool "program" I am using with Simon.
What is it?
This is a literature-based introduction to the alphabet curriculum for preschoolers. Well, it's not really a curriculum (such stuffy words for such little people don't really work for me). I guess it's more of a collection and organization of ideas.
My goals are simple. I want to expose my little guy to great books and introduce him to alphabet sounds while making fun memories together. I also want him to know that he gets special time with mom each day, too (school time isn't just for big brother).
Each week I will choose a good book to go with a letter of the alphabet. We read the book each day and work on our alphabet notebook, read go-along books, or do some kind of hands-on activity.
Alphabet Notebook
Simon creates one piece of letter art for each letter. We then paste it to the front of a file folder and fill the inside of the file folder with the other learning activities he does that relate to the literature/letter selection of the week. All the folders can be stored in a three ring binder.
You will need 26 regular sized file folders, a three hole punch, and scissors to get started on your alphabet notebook.
Three hole punch each file folder.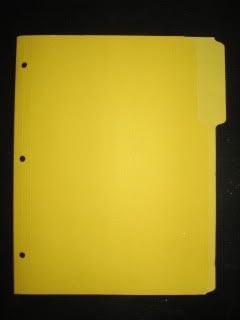 Cut the "extra" part off.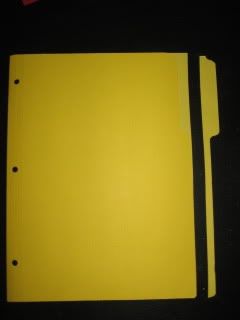 Your folder will be ready to add your alphabet art to the outside and your learning activities on the inside. (pictured below: bubbly blue B)
Book Basket
Each letter of the alphabet has "book basket" suggestions. These are not necessary but will enhance your time together. Don't stress about getting all the books on the list and feel free to substitute with other books you have available to you. Some of the books were selected because they relate to the main literature selection; other books are on the list because they emphasize the week's letter. Ask your student to find the letter in the titles of the books before you read them. Say the sounds together, too!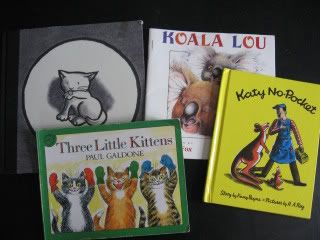 Let's Make a Memory
I tried to include one fun activity for each week. Of course, some of the literature units also have fun things to do. You don't have to do it all; please don't try to do it all, but I want to encourage you to try to do one *FUN* activity each week with your student. You will be blessed with these memories for many, many years.
Simon jumping on the J's during our J week.
Letter by Letter
I will blog about each Read to Me & ABC week that Simon and I have together including all our pictures and projects (with directions and even a supply list for you). I will link them on this post using the alphabet below.
A is for apple (The Apple Pie Tree by Zoe Hall)
B is for boat (My Blue Boat by Chris Demarest)
C is for carrot (The Carrot Seed by Ruth Krauss)
D is for dog (Angus Lost by Marjorie Flack)
E is for egg (Humpty Dumpty)
F is for feathers (Feathers for Lunch by Lois Ehlert)
G is for gift (Ask Mr. Bear by Marjorie Flack)
H is for hand (Hand, Hand, Fingers, Thumb by Al Perkins)
I is for instruments (Zin! Zin! Zin! A Violin by Lloyd Moss)
J is for jump (Five Little Monkeys by Eileen Christelow)
K is for kitten (Three Little Kittens by Paul Galdone)
L is for Ladybug (The Grouchy Ladybug by Eric Carle)
M is for moon (Goodnight Moon by Margaret Wise Brown)
N is for nap (The Napping House by Don and Audrey Wood)
O is for ocean and octopus (various books)
P is for pig (If You Give a Pig a Pancake by Laura Numeroff)
Q is for quick (I'm as Quick as a Cricket by Don and Audrey Wood)
R is for rainbow (A Rainbow of My Own by Don Freeman)
S is for snow (The Snowy Day by Ezra Jack Keats)
T is for teddy bear (Jesse Bear, What Will You Wear? by Nancy Carlstrom)
U is for Up! (Great Day for Up! by Dr. Seuss)
V is for vegetables (Growing Vegetable Soup by Lois Ehlert)
W is for water (Mrs. Wishy Washy by Joy Cowley)
X is for fox (Oh A-Hunting We Will Go by John Langstaff)
Y is for yellow (The Yellow Ball by Molly Bang)
Z is for zoo (Goodnight Gorilla by Peggy Ratham)