Creative writing for Grade 2 can be tricky.
Sammy sits at her desk ready to tackle the task of writing a story. She is staring at her blank piece of paper, and gripping her pencil.
She has fantastic ideas about silly monsters and funny dragons and pink princesses, but she is scared. When she starts to move her pencil, she is paralyzed by a 243 thoughts of capital letters, spelling words, and end punctuation.
Sammy forgets her fantastic ideas. She scribbles a few words about a princess finding a pink hat, but it doesn't resemble a real story. Sammy knows this, but Sammy just wants to finish the task.
So, let's be honest. Writing can be tricky for second graders. Creative writing can feel impossible.
At just seven or eight years old, some elementary students will decide that they are bad writers. Writing is too difficult, and an "I hate writing" attitude will emerge.
A Solution for Creative Writing for Grade 2
Is there a solution? I think there is. Let's give students more tools. Let's give them more words. Let's give them templates and even some ideas.
It's almost impossible to write a short story in three sentences. Of course it can be done, but it feels shallow.
Let's rethink our creative writing assignments. Let's make them manageable and satisfying—something a student like Sammy will be proud to compose.
Dragon Creative Writing Activity
If you need a simple, effective, engaging creating writing activity for Grade 2, try All About My Pet Dragon. This exercise is a simplified character sketch.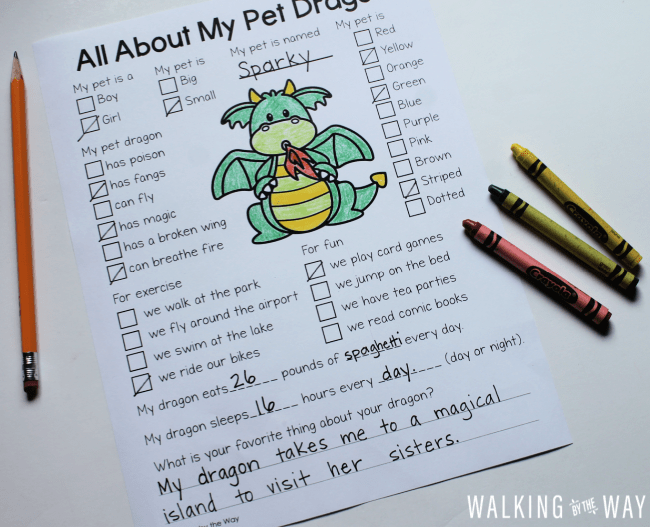 It includes a prewriting page with ample choices and writing prompts. Your student will be given ideas throughout the prewriting process, and the page also serves as a word bank.
Students be empowered to start moving their pencil immediately as they make choices about their pet dragon. Is the dragon big or small? What special abilities does the dragon possess? What color is the dragon?
If a student gets stuck, you can encourage him to color the dragon while he invents more ideas.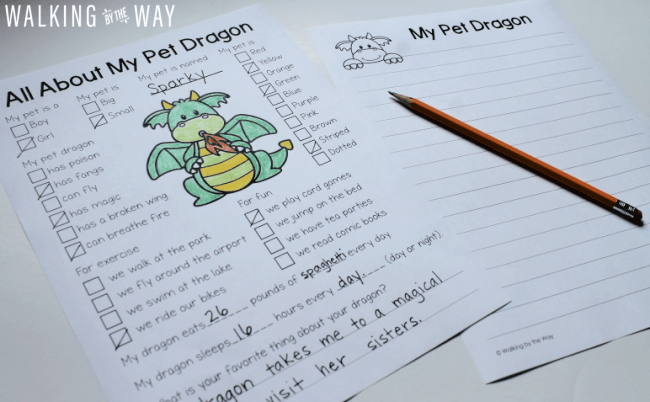 In addition to the pre-writing page, the file also includes two options for your student's pet dragon character sketch. One page includes lines only. The other page includes lines and a frame where your student can draw his pet dragon.
This activity will work best if you model for the student how to work through the pre-writing and how to put the pre-writing into sentences. You may even want to put some sentence starters on the board for your students to copy.
Example: Sparkle is my pet dragon. She is green with purple dots. She can fly and breathe fire. When we want to have fun, we jump on the bed. Sparkle eats 498 pounds of jellybeans every day. I love her because she is my friend.
Download the My Pet Dragon Creative Writing Activity
Subscribe to Walking by the Way's Newsletter in order to grab this free creative writing activity.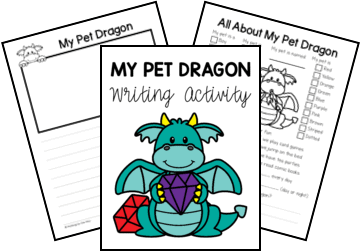 More Creative Writing for Grade 2
Are you looking for additional creative writing lessons for your student? Try some of these:
You will also find some engaging writing activities in my shop.