This unique creative writing lesson that may appeal to the most reluctant writer you know: Design a Circus Poster.
Paul Fleishman and Kevin Hawkes teamed together to create Sidewalk Circus, a fun story in which the people of the town, living their everyday lives, are seen as circus performers.
Design a Circus Poster Lesson Plan
Follow these simple instructions to get started with your circus poster creative writing project.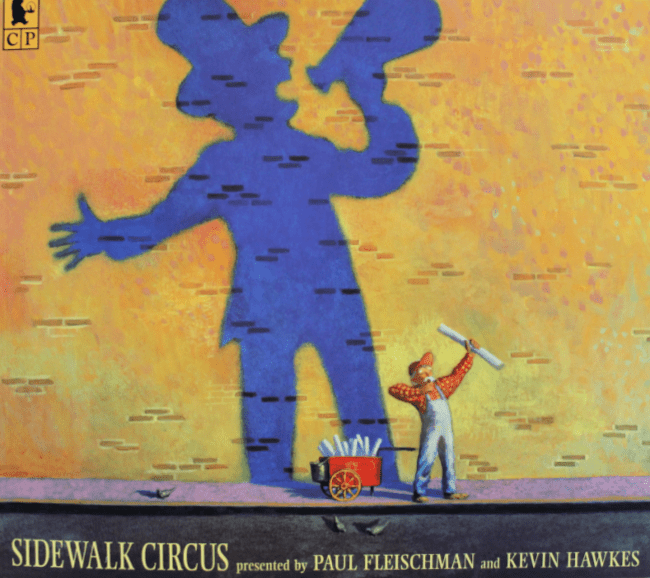 Read through Sidewalk Circus with your student and enjoy the fantastic festival presented to you.
Read Sidewalk Circus again. Observe and discuss the details in the art. Point out the circus posters. What do the circus posters have in common? (bright colors, superlative adjectives: tallest, greatest, loudest, etc.)
All writing has a purpose, and circus posters are a form of writing. Discuss the purpose of the circus posters. The purpose of a circus poster is to entice people to go to the big event.
Using the images in the download provided, continue noting the various parts of circus posters. What kinds of words are used? What colors? Look at some circus poster images online. What information is pertinent? (Time, date, place.) What information is great advertising? You will often see exaggerated phrases such as these: "The tallest animal on earth!" "The greatest rider the world has ever known!" Discuss the purpose of these phrases with your student.
Circus posters only have a few words. Remind your student to be wise with her word choices. You will need to choose power words that move people to action. This can be a tricky but fun challenge.
After your discussion, encourage your student to create a circus poster. Remind her to focus on her purpose.
Circus Poster Supplies
Since this creative writing activity includes an art component, make sure you have ample art supplies for your student.
Large piece of paper or poster board
Colored pencils
Markers
Crayons
Circus Poster Printable Instructions
Download the file to receive sample circus posters, instructions, and a circus poster word bank.
Circus Poster Word Bank
The printable includes these word bank words for your student:
tallest
strongest
greatest
magnificent
ferocious
most terrifying
marvelous
daredevil
dangerous
biggest
grandest
amusement
most fearless
fantastic
Brainstorm together and add a few more circus poster words to your list. Superlative adjectives are fantastic additions to this list.
Download Your Circus Poster Samples and Instructions
>>> Circus Poster Samples and Instructions >>>
More Creative Writing Lessons
Would you like to keep the creative writing flowing?
Any of the pictures in Sidewalk Circus could be used as a writing prompt. Encourage your student to choose one and to write a short story.
If your student loves the circus, try these creative writing prompt cards: Circus Writing Prompts