Do you need a new creative writing activity for your students?
Motivate your students to think and write creatively with these fairy tale writing prompts.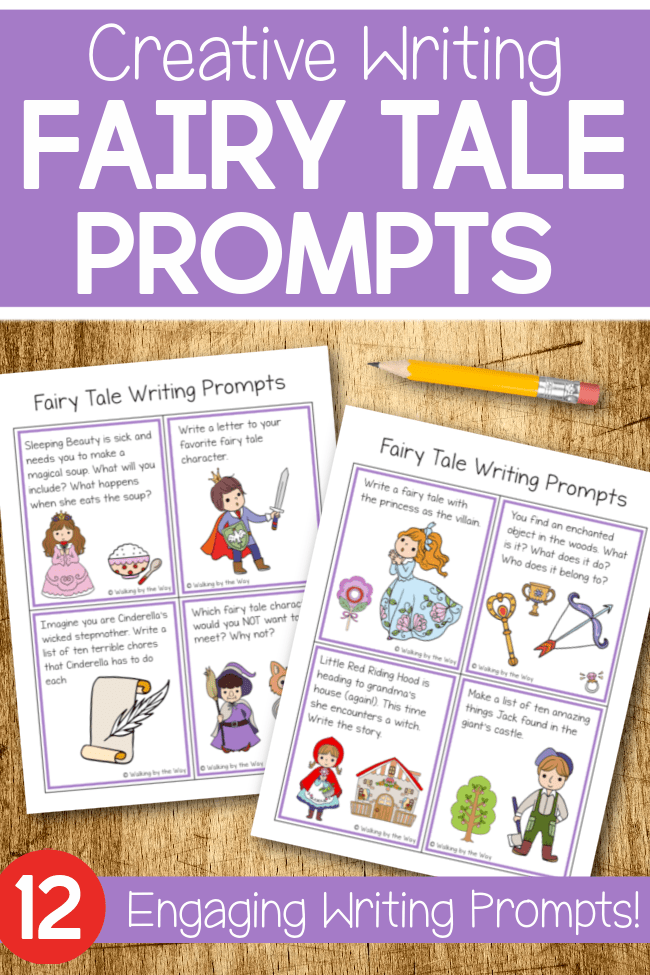 Fairy Tale Writing Prompts
This set of fairy tale writing prompt cards include these twelve imagination-boosting writing prompts:
Write a fairy tale with the princess as the villain.
You find an enchanted object in the woods. What is it? What does it do? Who does it belong to?
Little Red Riding Hood is heading to grandma's house (again!). This time she encounters a witch. Write the story.
Imagine that Jack got to go up the beanstalk several times. Make a list of ten amazing things he found in the giant's castle.
You are in the forest and you find a candy house. Draw what you see.
If you could be any fairy tale character, who would you choose? Why?
Write a story about Hansel and Gretel living in the candy house and meeting The Gingerbread Man. What adventure will they share together?
Goldilocks is on the loose in your neighborhood and she broke into your house while you were out. What did she do?
Sleeping Beauty is sick and needs you to make a magical soup. What ingredients will you include? What happens when she eats the soup?
Write a letter to your favorite fairy tale character.
Imagine you are Cinderella's wicked stepmother. Write a list of ten terrible chores that Cinderella has to do each day.
Which fairy tale character would you NOT want to meet? Why not?
How to Use the Fairy Tale Creative Writing Prompts
You can use these fairy tale writing prompt cards with a variety of ages.
Directions:
Print the prompt cards and cut out the cards.
Laminate the cards for durability. If desired, hole punch the cards and add them to a metal ring.
Consider reading some fairy tales to your student.
Let your student choose a card. (If you are homeschooling, you could add a bit of mystery by putting the cards in a jar and letting your student draw a card.)
If your student has a hard time writing, ask questions and dialogue ideas together before your student begins. You can also give your student the word bank card to help generate ideas.
Decide if you want to give your student a guideline (This needs to be at least four sentences.) If you do, be clear about your expectation.
Write!
Inspire Creative Writing with These Classic Fairy Tales
To give your students extra inspiration for their responses to the fairy tale writing prompts, try reading some of these stories before writing time.
Older students may enjoy Andrew Lang's collections of fairy tales.
Download Your Fairy Tale Writing Prompts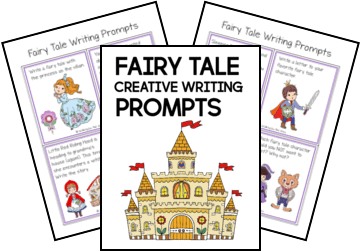 Subscribe to Walking by the Way's Newsletter in order to grab this free creative writing activity.
More Fairy Tale Writing Activities
Are you looking for more fairy tale fun? Try these writing activities:
Writing Backstories for Fairy Tales